Drug information of Tolnaftate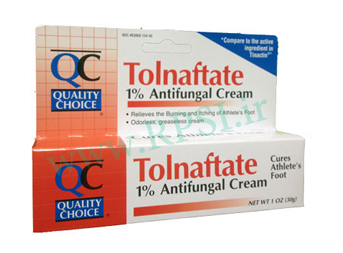 Mechanism of effect
Tolnaftate is a topical fungicide. Though its exact mechanism unknown, it is believed to prevent ergosterol biosynthesis by inhibiting squalene epoxidase.
Dosage
Adult and pediatric
Superficial Fungal Infections
Apply to affected area BID
May treat for 2-3 weeks but 4-6 weeks of therapy may be needed if skin is hyperkeratotic
Interactions
Points of recommendation
Use exactly as directed on the label, or as prescribed by your doctor. Do not use in larger or smaller amounts or for longer than recommended.
Do not take by mouth. Tolnaftate topical is for use only on the skin. Do not use this medicine on open wounds or on sunburned, windburned, dry, chapped, or irritated skin. If this medicine gets in your eyes, nose, mouth, rectum, or vagina, rinse with water.
Do not cover the treated skin area with a bandage that does not allow air circulation. You may use a light cotton-gauze dressing to protect your clothing over treated skin areas.
Wash your hands before and after applying this medicine, unless you are using it to treat a skin condition on your hands.
Clean and dry the skin before you apply tolnafate topical.
Call your doctor if your symptoms do not improve, or if they get worse.
Store at room temperature away from moisture and heat. Keep the tube tightly closed when not in use.
Apply the missed dose as soon as you remember. Skip the missed dose if it is almost time for your next dose. Do not use extra medicine to make up the missed dose.