Drug information of Estradiol Valerate
Estradiol Valerate
Generally refers to the 17-beta-isomer of estradiol , an aromatized C18 steroid with hydroxyl group at 3-beta- and 17-beta-position. Estradiol-17-beta is the most potent form of mammalian estrogenic steroids. In humans, it is produced primarily by the cyclic ovaries and the placenta.
It is also produced by the adipose tissue of men and postmenopausal women. The 17-alpha-isomer of estradiol binds weakly to estrogen receptors and exhibits little estrogenic activity in estrogen-responsive tissues. Various isomers can be synthesized.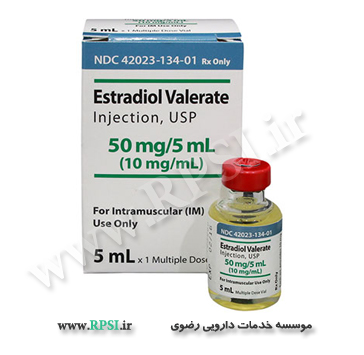 Mechanism of effect
Estradiol enters target cells freely (e.g., female organs, breasts, hypothalamus, pituitary) and interacts with a target cell receptor. When the estrogen receptor has bound its ligand it can enter the nucleus of the target cell, and regulate gene transcription which leads to formation of messenger RNA.
The mRNA interacts with ribosomes to produce specific proteins that express the effect of estradiol upon the target cell. Estrogens increase the hepatic synthesis of sex hormone binding globulin (SHBG) , thyroid-binding globulin (TBG), and other serum proteins and suppress follicle-stimulating hormone (FSH) from the anterior pituitary.

Pharmacodynamic
Estradiol , the principal intracellular human estrogen, is substantially more active than its metabolites, estrone and estriol, at the cellular level.
Pharmacokinetics
Absorption 43%
Volume of distribution Not Available
Protein binding : >95%
Metabolism : Exogenous estrogens are metabolized using the same mechanism as endogenous estrogens. Estrogens are partially metabolized by cytochrome P450.
Route of elimination : Estradiol , estrone and estriol are excreted in the urine along with glucuronide and sulfate conjugates.
Half life : 36 hours

Dosage
1. For treatment of moderate to severe vasomotor symptoms , vulval and vaginal atrophy associated with the menopause, the lowest dose and regimen that will control symptoms should be chosen and medication should be discontinued as promptly as possible.
Attempts to discontinue or taper medication should be made at 3-month to 6-month intervals. The usual initial dosage range is 1 to 2 mg daily of Estradiol adjusted as necessary to control presenting symptoms. The minimal effective dose for maintenance therapy should be determined by titration. Administration should be cyclic (e.g., 3 weeks on and 1 week off).
2. For treatment of female hypoestrogenism due to hypogonadism, castration, or primary ovarian failure :
Treatment is usually initiated with a dose of 1 to 2 mg daily of Estradiol, adjusted as necessary to control presenting symptoms; the minimal effective dose for maintenance therapy should be determined by titration.
3. For treatment of breast cancer, for palliation only, in appropriately selected women and men with metastatic disease :
Suggested dosage is 10 mg three times daily for a period of at least three months.
4. For treatment of advanced androgen-dependent carcinoma of the prostate, for palliation only :
Suggested dosage is 1 to 2 mg three times daily. The effectiveness of therapy can be judged by phosphatase determinations as well as by symptomatic improvement of the patient.
5. For prevention of osteoporosis:
When prescribing solely for the prevention of postmenopausal osteoporosis, therapy should be considered only for women at significant risk of osteoporosis and for whom non-estrogen medications are not considered to be appropriate.

Interactions
Thalidomide
,
Tranexamic acid
,
paritaprevir
,
carfilzomib
,
dasabuvir
,
ombitasvir
,
pomalidomide
,
etertinate
,
Benralizumab
,
sirukumab
,
RESLIZUMAB
,
alirocumab
Alerts
If any of these warning signals (or any other unusual symptoms) happen while you are using estrogens, call your doctor immediately:
• Abnormal bleeding from the vagina (possible uterine cancer)
• Pains in the calves or chest, sudden shortness of breath, or coughing blood (possible clot in the legs, or lungs)
• Severe headache or vomiting, dizziness, faintness, changes in vision or speech, weakness or numbness of an arm or leg (possible clot in the brain or eye)
• Breast lumps (possible breast cancer; ask your doctor or health professional to show you how to examine your breasts monthly)
• Yellowing of the skin or eyes (possible liver problem)
• Pain, swelling, or tenderness in the abdomen (possible gallbladder problem)

Points of recommendation
Estrogens should be used at the lowest dose possible for your treatment only as long as needed. You and your healthcare provider should talk regularly (for example, every 3 to 6 months) about the dose you are taking and whether you still need treatment with Estradiol .