Drug information of Acetic acid
Acetic acid
Acetic acid is a product of the oxidation of ethanol and of the destructive distillation of wood. It is used locally, occasionally internally, as a counterirritant and also as a reagent. Acetic acid otic (for the ear) is an antibiotic that treats infections caused by bacteria or fungus.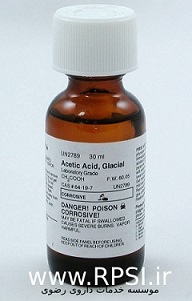 Mechanism of effect
Acetic acid is anti-bacterial and anti-fungal.
Pharmacodynamic
Acetic acid is an antibiotic.
Pharmacokinetics
Acetic acid otic is a medicine for the ear and don't absorb.
Dosage
Carefully remove all cerumen and debris to allow Acetic Acid Otic Solution to contact infected surfaces directly. To promote continuous contact, insert a wick of cotton saturated with the solution into the ear canal; the wick may also be saturated after insertion. Instruct the patient to keep the wick in for at least 24 hours and to keep it moist by adding 3 to 5 drops of the solution every 4 to 6 hours.
The wick may be removed after 24 hours but the patient should continue to instill 5 drops of Acetic Acid Otic Solution 3 or 4 times daily thereafter, for as long as indicated. In pediatric patients, 3 to 4 drops may be sufficient due to the smaller capacity of the ear canal.
Alerts
Discontinue promptly if sensitization or irritation occurs.
Transient stinging or burning may be noted occasionally when the solution is first instilled into the acutely inflamed ear.
Points of recommendation
You should not use acetic acid if you are allergic to it, or if you have a hole in your ear drum (ruptured ear drum).
To make sure this medicine is safe for you, tell your doctor if you have:
severe ear pain;
hearing problems; or
Tell your doctor if you are pregnant or breast-feeding a baby.
For best results, remove any ear wax or other debris before using this medicine. Ask your doctor about safe methods of ear wax removal.
If you miss a dose of acetic acid, apply it as soon as possible. However, if it is almost time for your next dose, skip the missed dose and go back to your regular dosing schedule.
Do not stop treatment abruptly.
If your condition does not improve within 5 to 7 days, or if it becomes worse, check with your doctor.
This medicine is for use only in the ears. Avoid getting the medicine in your eyes, mouth, and nose, or on your lips. Rinse with water if this medicine gets in or on these areas.
Do not use other ear medications unless your doctor tells you to.