Drug information of Chloral hydrate
Chloral hydrate
A hypnotic and sedative used in the treatment of insomnia. The safety margin is too narrow for chloral hydrate to be used as a general anesthetic in humans, but it is commonly used for that purpose in animal experiments. It is no longer considered useful as an anti-anxiety medication.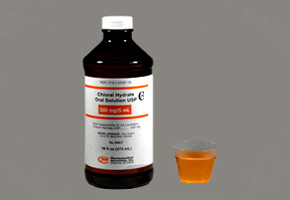 Mechanism of effect
Unknown; produces central nervous system depression
Pharmacokinetics
Absorption
Onset: 30-60 min
Duration: 4-8 hr
Peak Plasma Levels: 7-10 mcg/mL
Metabolism
Metabolized by alcohol dehydrogenase, glucuronidation
Metabolites: trichloroethanol
Elimination
Half-Life: 8-11 hr (active metabolite)
Excretion: Mostly in urine; some feces
Dosage
Adult
Insomnia
Indicated for use as hypnotic for simple insomnia; rarely used for this indication
500 mg to 1 g PO 15-30 minutes before bedtime; for short-term use only (ie, up to 2 weeks); not to exceed 2 g/24hr
Sedative/Anxiety
250 mg PO PC q8hr; not to exceed 2 g/day
Pediatric
Sedation for Procedures (Off-label)
50-75 mg/kg PO 30-60 min before procedure; may repeat in 30 min if necessary
Not to exceed 120 mg/kg or 1 g/dose in infants or 2 g/dose in children
(Sedation/Anxiety (Off-label
May be used prior to procedure or EEG evaluation
25-50 mg/kg/day PO divided q6-8hr; not to exceed 500 mg/dose
Interactions
Tramadol
,
Methadone
,
Warfarin
,
fentanyl
,
Buprenorphine
,
Sodium Oxybate
,
Hydrocodone
,
Butorphanol
,
hydromorphone
,
nalbuphine
,
meperidine
,
codeine
,
Pentazocine
,
Sufentanil
,
Alfentanil
,
Mefloquine
,
Tapentadol
,
Remifentanil
,
Levorphanol
,
Oxycodone
,
propoxyphene
,
morphine
,
Acetaminophen and benzhydrocodone
,
Oxymorphone
,
lasmiditan
,
Bromazepam
Alerts
Potential toxic dose <6 years old: 50 mg/kg
Use with caution in porphyria
Use caution in long term care patients, elderly, and neonates
Use not recommended for >2 weeks
Abrupt discontinuation may cause withdrawal symptoms
Points of recommendation
Follow all directions on your prescription label. Your doctor may occasionally change your dose to make sure you get the best results. Do not take this medicine in larger or smaller amounts or for longer than recommended.
Chloral hydrate may be habit-forming. Never share chloral hydrate with another person, especially someone with a history of drug abuse or addiction. Keep the medication in a place where others cannot get to it.
Take this medicine with a full glass of water.
To treat insomnia, take the medicine 15 to 30 minutes before your normal bedtime. Chloral hydrate should be given only for a short time. This medicine may become less effective after 1 or 2 weeks of use.
To use as a sedative, chloral hydrate is usually taken 3 times per day after meals.
To treat alcohol or drug withdrawal, chloral hydrate is usually taken every 6 hours.
This medication can cause unusual results with certain medical tests. Tell any doctor who treats you that you are using chloral hydrate.
Call your doctor if your symptoms do not improve, or if they get worse while using chloral hydrate.
Do not stop using chloral hydrate suddenly after long-term use, or you could have unpleasant withdrawal symptoms. Ask your doctor how to avoid withdrawal symptoms when you stop using chloral hydrate.
Store at room temperature away from moisture, heat, and light. Do not freeze. Keep the bottle tightly closed when not in use.
Take the missed dose as soon as you remember. Skip the missed dose if it is almost time for your next scheduled dose. Do not take extra medicine to make up the missed dose.