Drug information of Aripiprazole
Aripiprazole
Aripiprazole is an antipsychotic medication. It works by changing the actions of chemicals in the brain. Aripiprazole is used to treat the symptoms of psychotic conditions such as schizophrenia and bipolar disorder (manic depression). It is also used together with other medications to treat major depressive disorder in adults. Aripiprazole is also used to treat irritability and symptoms of aggression, mood swings, temper tantrums, and self-injury related to autistic disorder in children who are at least 6 years old.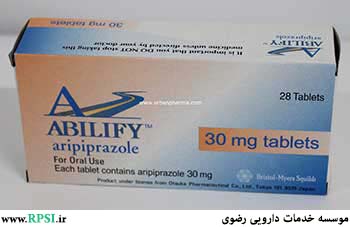 Mechanism of effect
The mechanism of action of aripiprazole in schizophrenia or bipolar mania is unknown.However, the efficacy of aripiprazole could bemediated through a combination of partial agonist activity at D2 and 5-HT1A receptors and antagonist activity at 5-HT2A receptors. Actions at receptors other than D2, 5-HT1A, and 5-HT2A may explain some of the other clinical effects of aripiprazole (e.g., the orthostatic hypotension observed with aripiprazole may be explained by its antagonist activity at adrenergic alpha1 receptors).
Pharmacodynamic
Aripiprazole is a psychotropic agent belonging to the chemical class of benzisoxazole derivatives and is indicated for the treatment of schizophrenia.
Pharmacokinetics
Aripiprazole is well absorbed after administration of the tablet. with peak plasma concentrations occurring within 3 hours to 5 hours; the absolute oral bioavailability of the tablet formulation is 87%. aripiprazole and its major metabolite are greater than 99% bound to serum proteins, primarily to albumin. Aripiprazole is metabolized primarily by three biotransformation pathways: dehydrogenation, hydroxylation, and N-dealkylation. Less than 1% of unchanged aripiprazole was excreted in the urine and approximately 18% of the oral dose was recovered unchanged in the feces. Half life: 75-146 hours.
Dosage
Usual Adult Dose for Schizophrenia Immediate-release: Initial Dose: 10 or 15 mg orally once a day Target Dose: 10 to 15 mg per day; effective dose range 10 to 30 mg per day; however, clinical trials have not found doses exceeding 10 or 15 mg per day to be more effective; dose increases, if needed should be at 2-week intervals to allow time to achieve steady state Maximum Dose: 30 mg per day Once monthly IM formulation: -Prior to initiating extended-release therapy, establish tolerability with oral formulation; it may take up to 2 weeks to fully assess tolerability due to the half-life of aripiprazole. -This drug should be administered by a health care professional Initial dose: 400 mg IM -During the initial dose period, antipsychotic treatment should continue for 14 consecutive days to maintain therapeutic antipsychotic drug concentrations; give oral aripiprazole 10 to 20 mg orally once a day for 14 days OR for patients already stable on another oral antipsychotic and known to tolerate aripiprazole, continue treatment for 14 days. Maintenance Dose: 400 mg IM once a month and no sooner than 26 days after the previous injection -if there are adverse reactions, consider a dose reduction to 300 mg IM once a month Usual Pediatric Dose for Schizophrenia Age: 13 years or older: Initial Dose: 2 mg orally once a day After 2 days: Titrate to 5 mg orally once a day After 4 days: Titrate to 10 mg orally once a day Target Dose: 10 mg orally once a day; effective dose range 10 to 30 mg per day; however, clinical trials have not found doses exceeding 10 mg per day to be more effective; dose increases, if needed should be in 5 mg increments at 2-week intervals in order to allow time to achieve steady state Maximum Dose: 30 mg per day
Side effects
nausea
,
Headache
,
insomnia
,
constipation
,
dizziness
,
vomiting
,
Increased risk of suicidal thinking
,
neutropenia
,
leukopenia
,
anxiety
,
Tremor
,
dysphagia
,
orthostatic hypotension
,
Dyskinesia
,
extrapyramidal effects
Interactions
Amlodipine
,
Amitriptyline
,
Acetaminophen
,
Erythromycin
,
Acetylcholine
,
Isoxsuprine
,
Desmopressin
,
Diazepam
,
Diltiazem
,
Rabeprazole
,
Ranitidine
,
Zolpidem
,
Cetirizine
,
Cinacalcet
,
Glibenclamide
,
Gliclazide
,
Lapatinib
,
Lidocaine
,
Methyldopa
,
Medroxyprogesterone
,
Nitrazepam
,
Nifedipine
,
Nimodipine
,
Vinorelbine
,
Carbamazepine
,
Clobazam
,
Clozapine
,
Flecainide
,
Bicalutamide
,
Disulfiram
,
Bisoprolol
,
Rifabutin
,
Sodium Oxybate
,
Tapentadol
,
safinamide
,
codeine
,
Apomorphine
,
sparfloxacin
,
Mefloquine
,
Peginterferon alfa-2b
,
Felodipine
,
Acetaminophen and benzhydrocodone
,
Miglitol
,
Lopinavir and Ritonavir
,
Oxymorphone
,
Lorlatinib
,
glycopyrrolate topical
,
Bromopride
,
Benorilate
,
Naltrexone and Bupropion
,
Gefitinib
,
Bromazepam
,
Abametapir
Alerts
NCREASED MORTALITY IN ELDERLY PATIENTS WITH DEMENTIA-RELATED PSYCHOSIS and SUICIDAL THOUGHTS AND BEHAVIORS WITH ANTIDEPRESSANT DRUGS Elderly patients with dementia-related psychosis treated with antipsychotic drugs are at an increased risk of death. Aripiprazole is not approved for the treatment of patients with dementia-related psychosis. Antidepressants increased the risk of suicidal thoughts and behavior in children, adolescents, and young adults in short-term studies.
Points of recommendation
1- Aripiprazole can be taken with or without food. 2- Your doctor will need to check your progress while you are using aripiprazole. 3- This medication may impair your thinking or reactions. Be careful if you drive or do anything that requires you to be alert. 4- Avoid getting up too fast from a sitting or lying position, or you may feel dizzy. Get up slowly and steady yourself to prevent a fall. 5- Avoid becoming overheated or dehydrated. Drink plenty of fluids, especially in hot weather and during exercise.