Drug information of combivent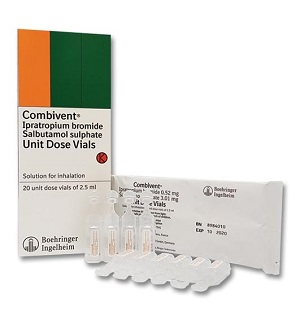 Mechanism of effect
Ipratropium bromide
Ipratropium bromide is an anticholinergic (parasympatholytic) agent which, based on animal studies, appears to inhibit vagally-mediated reflexes by antagonizing the action of acetylcholine, the transmitter agent released at the neuromuscular junctions in the lung. Anticholinergics prevent the increases in intracellular concentration of Ca++ which is caused by interaction of acetylcholine with the muscarinic receptors on bronchial smooth muscle.
Albuterol sulfate
In vitro
studies and in vivo pharmacology studies have demonstrated that albuterol has a preferential effect on beta
2
-adrenergic receptors compared with isoproterenol. While it is recognized that beta
2
-adrenergic receptors are the predominant receptors on bronchial smooth muscle, recent data indicate that there is a population of beta
2
-receptors in the human heart which comprise between 10% and 50% of cardiac beta-adrenergic receptors. The precise function of these receptors, however, is not yet established
Activation of beta
2
-adrenergic receptors on airway smooth muscle leads to the activation of adenylyl cyclase and to an increase in the intracellular concentration of cyclic-3',5'-adenosine monophosphate (cyclic AMP). This increase of cyclic AMP leads to the activation of protein kinase A, which inhibits the phosphorylation of myosin and lowers intracellular ionic calcium concentrations, resulting in relaxation. Albuterol relaxes the smooth muscles of all airways, from the trachea to the terminal bronchioles
Pharmacodynamic
Ipratropium bromide
The bronchodilation following inhalation of ipratropium bromide is primarily a local, site-specific effect, not a systemic one.
Controlled clinical studies have demonstrated that ipratropium bromide does not alter either mucociliary clearance or the volume or viscosity of respiratory secretions.
Pharmacokinetics
Ipratropium bromide
Much of an administered dose is swallowed as shown by fecal excretion studies. Ipratropium bromide is a quaternary amine. It is not readily absorbed into the systemic circulation either from the surface of the lung or from the gastrointestinal tract as confirmed by blood level and renal excretion studies. Plasma levels of ipratropium bromide were below the assay sensitivity limit of 100 pg/mL.
The half-life of elimination is about 2 hours after inhalation or intravenous administration. Ipratropium bromide is minimally bound (0 to 9% in vitro) to plasma albumin and α1-acid glycoprotein. It is partially metabolized to inactive ester hydrolysis products. Following intravenous administration, approximately one-half of the dose is excreted unchanged in the urine. Autoradiographic studies in rats have shown that ipratropium bromide does not penetrate the blood-brain barrier.
Albuterol sulfate
Albuterol is longer acting than isoproterenol in most patients because it is not a substrate for the cellular uptake processes for catecholamines nor for metabolism by catechol-O-methyl transferase. Instead, the drug is conjugatively metabolized to albuterol 4'-O-sulfate.
In a pharmacokinetic study in 12 healthy male volunteers of two inhalations of albuterol sulfate, 103 mcg dose/inhalation through the mouthpiece, peak plasma albuterol concentrations ranging from 419 to 802 pg/mL (mean 599 ± 122 pg/mL) were obtained within three hours post-administration. Following this single-dose administration, 30.8 ± 10.2% of the estimated mouthpiece dose was excreted unchanged in the 24-hour urine. Since albuterol sulfate is rapidly and completely absorbed, this study could not distinguish between pulmonary and gastrointestinal absorption.
Intravenous pharmacokinetics of albuterol were studied in a comparable group of 16 healthy male volunteers; the mean terminal half-life following a 30-minute infusion of 1.5 mg was 3.9 hours with a mean clearance of 439 mL/min/1.73 m².
Intravenous albuterol studies in rats demonstrated that albuterol crossed the blood-brain barrier and reached brain concentrations amounting to about 5% of the plasma concentrations. In structures outside the blood-brain barrier (pineal and pituitary glands), the drug achieved concentrations more than 100 times those in whole brain.
Studies in pregnant rats with tritiated albuterol demonstrated that approximately 10% of the circulating maternal drug was transferred to the fetus.
Drug indications
COMBIVENT Inhalation Aerosol is indicated for use in patients with chronic obstructive pulmonary disease (COPD) on a regular aerosol bronchodilator who continue to have evidence of bronchospasm and who require a second bronchodilator.
Dosage
The dose of COMBIVENT® Inhalation Aerosol is two inhalations four times a day. Patients may take additional inhalations as required; however, the total number of inhalations should not exceed 12 in 24 hours. Safety and efficacy of additional doses of COMBIVENT Inhalation Aerosol beyond 12 puffs/24 hours have not been studied. Also, safety and efficacy of extra doses of ipratropium or albuterol in addition to the recommended doses of Combivent® (ipratropium bromide and albuterol sulfate) Inhalation Aerosol have not been studied. It is recommended to "test-spray" three times before using for the first time and in cases where the aerosol has not been used for more than 24 hours. Avoid spraying into eyes.
Drug contraindications
COMBIVENT Inhalation Aerosol is contraindicated in patients with a history of hypersensitivity to soya lecithin or related food products such as soybean and peanut. COMBIVENT Inhalation Aerosol is also contraindicated in patients hypersensitive to any other components of the drug product or to atropine or its derivatives.
Side effects
Combivent (ipratropium bromide and albuterol sulfate) is an inhaler that is a combination of an anticholinergic bronchodilator and a selective beta2-adrenergic bronchodilator used to treat and prevent symptoms (wheezing and shortness of breath) caused by ongoing lung disease (chronic obstructive pulmonary disease-COPD which includes bronchitis and emphysema). Side effects of Combivent include:
headache,
dizziness,
nausea,
dry mouth,
shaking (tremors),
nervousness, or
cold symptoms such as stuffy nose, sneezing, cough, or sore throat.
Interactions
COMBIVENT Inhalation Aerosol has been used concomitantly with other drugs, including sympathomimetic bronchodilators, methylxanthines, and oral and inhaled steroids, commonly used in the treatment of chronic obstructive pulmonary disease. With the exception of albuterol, there are no formal studies fully evaluating the interaction effects of COMBIVENT Inhalation Aerosol and these drugs with respect to safety and effectiveness.
Anticholinergic agents
There is potential for an additive interaction with concomitantly used anticholinergic medications. Therefore, avoid co-administration of COMBIVENT Inhalation Aerosol with other anticholinergic-containing drugs.
Beta-adrenergic agents
Caution is advised in the co-administration of COMBIVENT Inhalation Aerosol and other sympathomimetic agents due to the increased risk of adverse cardiovascular effects.
Beta-receptor blocking agents and albuterol inhibit the effect of each other. Beta-receptor blocking agents should be used with caution in patients with hyperreactive airways.
Diuretics
The ECG changes and/or hypokalemia which may result from the administration of non-potassium sparing diuretics (such as loop or thiazide diuretics) can be acutely worsened by beta-agonists, especially when the recommended dose of the beta-agonist is exceeded. Although the clinical significance of these effects is not known, caution is advised in the co-administration of beta-agonist-containing drugs, such as COMBIVENT Inhalation Aerosol, with non-potassium sparing diuretics. Consider monitoring potassium levels.
Monoamine oxidase inhibitors or tricyclic antidepressants
COMBIVENT Inhalation Aerosol should be administered with extreme caution to patients being treated with monoamine oxidase inhibitors or tricyclic antidepressants or within two weeks of discontinuation of such agents because the action of albuterol on the cardiovascular system may be potentiated. Consider alternative therapy in patients taking MAOs or tricyclic antidepressants.
Alerts
Paradoxical Bronchospasm: COMBIVENT Inhalation Aerosol can produce paradoxical bronchospasm that can be life-threatening. If it occurs, the preparation should be discontinued immediately and alternative therapy instituted. It should be recognized that paradoxical bronchospasm, when associated with inhaled formulations, frequently occurs with the first use of a new canister.
Cardiovascular Effect: The albuterol sulfate contained in COMBIVENT Inhalation Aerosol, like other beta-adrenergic agonists, can produce a clinically significant cardiovascular effect in some patients, as measured by pulse rate, blood pressure and/or symptoms. If these symptoms occur, discontinuation of the drug may be indicated. There is some evidence from post-marketing data and published literature of rare occurrences of myocardial ischemia associated with albuterol. In addition, beta-adrenergic agents have been reported to produce electrocardiogram (ECG) changes, such as flattening of the T wave, prolongation of the QTc interval, and ST segment depression. Therefore, COMBIVENT Inhalation Aerosol should be used with caution in patients with cardiovascular disorders, especially coronary insufficiency, cardiac arrhythmias and hypertension.
Do Not Exceed Recommended Dose: Fatalities have been reported in association with excessive use of inhaled sympathomimetic drugs, in patients with asthma. The exact cause of death is unknown, but cardiac arrest following an unexpected development of a severe acute asthmatic crisis and subsequent hypoxiais suspected.
Immediate Hypersensitivity Reactions: Immediate hypersensitivity reactions may occur after administration of ipratropium bromide or albuterol sulfate, as demonstrated by urticaria, angioedema, rash, bronchospasm, anaphylaxis, and oropharyngeal edema. If such a reaction occurs, therapy with COMBIVENT Inhalation Aerosol should be stopped at once and alternative treatment should be considered.
Storage Conditions: The contents of Combivent® (ipratropium bromide and albuterol sulfate) Inhalation Aerosol are under pressure. Do not puncture. Do not use or store near heat or open flame. Exposure to temperatures above 120°F may cause bursting. Never throw the container into a fire or incinerator. Keep out of reach of children
Points of recommendation
Effects Seen with Anticholinergic Drugs: COMBIVENT Inhalation Aerosol contains ipratropium bromide and, therefore, should be used with caution in patients with narrow-angle glaucoma, prostatic hyperplasia, or bladder-neck obstruction.
Effects Seen with Sympathomimetic Drugs: Preparations containing sympathomimetic amines such as albuterol sulfate should be used with caution in patients with convulsive disorders, hyperthyroidism, or diabetes mellitus and in patients who are unusually responsive to sympathomimetic amines. Beta-adrenergic agents may also produce significant hypokalemiain some patients (possibly through intracellular shunting) which has the potential to produce adverse cardiovascular effects. The decrease in serum potassium is usually transient, not requiring supplementation.
Use in Hepatic or Renal Disease: COMBIVENT Inhalation Aerosol has not been studied in patients with hepatic or renal insufficiency. It should be used with caution in those patient populations.
Patients should be cautioned to avoid spraying the aerosol into their eyes and be advised that this may result in precipitation or worsening of narrow-angle glaucoma, mydriasis, increased intraocular pressure, acute eye pain or discomfort, temporary blurring of vision, visual halos or colored images in association with red eyes from conjunctival and corneal congestion. Patients should also be advised that should any combination of these symptoms develop, they should consult their physician immediately.