Drug information of Exemestane
Exemestane
Exemestane lowers estrogen levels in postmenopausal women, which may slow the growth of certain types of breast tumors that need estrogen to grow in the body. Exemestane is used to treat breast cancer in postmenopausal women. It is often given to women whose cancer has progressed even after surgery, radiation, or other cancer medications have been tried without success.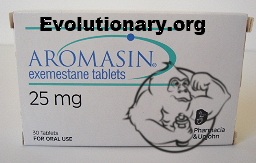 Mechanism of effect
Exemestane is an irreversible, steroidal aromatase inactivator, structurally related to the natural substrate androstenedione.
Pharmacodynamic
The selective AIs (SAIs) selectively reduce levels of estrogen without interfering with levels of other steroid hormones that are produced by the adrenal gland.
Pharmacokinetics
Following oral administration, exemestane appeared to be absorbed more rapidly in women with breast cancer than in the healthy women, with a mean -tmax of 1.2 hours in the women with breast cancer and 2.9 hours in healthy women. Approximately 42% of radiolabeled exemestane was absorbed from the gastrointestinal tract. Exemestane is distributed extensively into tissues. Exemestane is 90% bound to plasma proteins. Exemestane is extensively metabolized. Following administration of radiolabeled exemestane to healthy postmenopausal women, the cumulative amounts of radioactivity excreted in urine and feces were similar (42 ± 3% in urine and 42 ± 6% in feces over a 1-week collection period). The amount of drug excreted unchanged in urine was less than 1% of the dose.
Dosage
Usual Adult Dose for Breast Cancer
25 mg orally once a day
Side effects
nausea
,
Headache
,
insomnia
,
dizziness
,
fatigue
,
flushing
,
Depression
,
Alopecia
,
Arthralgia
,
back pain
,
Visual abnormalities
Alerts
1-Monitor patients for bone mineral density loss and treat as appropriate.
2-Routine assessment of 25-hydroxy vitamin D levels prior to the start of aromatase inhibitor treatment should be performed, due to the high prevalence of vitamin D deficiency in women with early breast cancer (EBC). Women with vitamin D deficiency should receive supplementation with vitamin D.
3-EXEMESTANE should not be coadministered with estrogen-containing agents as these could interfere with its pharmacologic action.
4-EXEMESTANE is not indicated for the treatment of breast cancer in premenopausal women.
Points of recommendation
1-Advise patients that EXEMESTANE lowers the level of estrogen in the body. This may lead to reduction in bone mineral density (BMD) over time. The lower the BMD, the greater the risk of osteoporosis and fracture
2-This drug should be administered after a meal.
3-Exemestane may cause dizziness, asthenia, and somnolence. Patients should avoid driving or operating machinery if they experience these adverse effects.