Drug information of Cratagol
Cratagol
Cratagol used for Congestive heart failure (Stage II NYHA) Hypertension atherosclerosis , arrhythmia and angina pectoris Each coated tablet contains 240 mg of dry extract of leaves and flowers of crataegus (Hawthorn), standardized on the basis of 4-6 mg vitexin -2- ramnoside Active ingredients : The major compounds are : Flavonoids, hyperoside , vitexin rhamnoside , rutin, apigenin, procyanidins , epicatechin , catechin .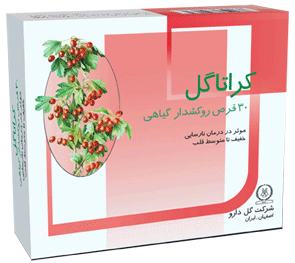 Mechanism of effect
Because of its strong cardiac activity , hawthorn has been suggested to be of use in congestive heart failureand cardiac performance The flavonoids cause an increase in coronary flow and heart rate and a positive inotropic effect . In isolated animal hearts , the inhibition of the enzyme 3:5' – cyclic adenosine menophosphate phosphodiestrase may by a mechanism by which hawthorn exerts its cardiac actions
Dosage
Take 2 to 3 tablets a day with some water .
Pregnancy level
Forbidden