Drug information of Sitagliptin
Sitagliptin
Sitagliptin is an oral diabetes medicine that helps control blood sugar levels. It works by regulating the levels of insulin your body produces after eating. Sitagliptin is for people with type 2 diabetes. Sitagliptin is sometimes used in combination with other diabetes medications, but is not for treating type 1 diabetes.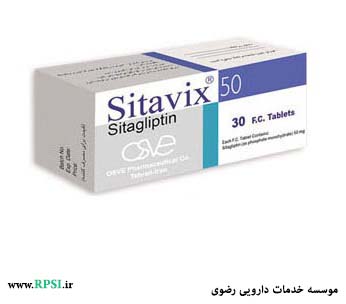 Mechanism of effect
Sitagliptin inhibits dipeptidyl peptidase IV (DPP-IV) enzyme resulting in prolonged active incretin levels. Incretin hormones (eg, glucagon-like peptide-1 [GLP-1] and glucose-dependent insulinotropic polypeptide [GIP]) regulate glucose homeostasis by increasing insulin synthesis and release from pancreatic beta cells and decreasing glucagon secretion from pancreatic alpha cells. Decreased glucagon secretion results in decreased hepatic glucose production. Under normal physiologic circumstances, incretin hormones are released by the intestine throughout the day and levels are increased in response to a meal; incretin hormones are rapidly inactivated by the DPP-IV enzyme.
Pharmacokinetics
Absorption:Rapid, Not extensively metabolized, Excretion: Urine 87% (~79% as unchanged drug, 16% as metabolites); feces 13%.Time to Peak: 1 to 4 hours. Protein Binding: 38%.
Dosage
Diabetes mellitus, type 2: Adults: Oral: 100 mg once daily
Concomitant use with insulin and/or insulin secretagogues (eg, sulfonylureas): Reduced dose of insulin and/or insulin secretagogues may be needed
Interactions
Enalapril
,
insulin
,
Cyclosporine
,
Gliclazide
,
Glimepiride
,
Losartan
,
Lisinopril
,
Valsartan
,
Captopril
,
chlorpropamide
,
Thyrotropin alfa
,
teriflunomide
,
Vorinostat
,
Sarecycline
,
Alclometasone
,
flurandrenolide
Alerts
1-Use with caution in patients with moderate to severe renal dysfunction and end-stage renal disease (ESRD) requiring hemodialysis or peritoneal dialysis; dosing adjustment required.
2- HbA1c, serum glucose; renal function prior to initiation and periodically during treatment
3- Arthralgia, Hypersensitivity reactions, Pancreatitis may occure.
Points of recommendation
Administer without regard to meals.
Pregnancy level
HAVE NOT BEEN ESTABLISHED