Drug information of Imipenem
Imipenem
Semisynthetic thienamycin that has a wide spectrum of antibacterial activity against gram-negative and gram-positive aerobic and anaerobic bacteria, including many multiresistant strains. It is stable to beta-lactamases. Clinical studies have demonstrated high efficacy in the treatment of infections of various body systems. Its effectiveness is enhanced when it is administered in combination with cilastatin, a renal dipeptidase inhibitor.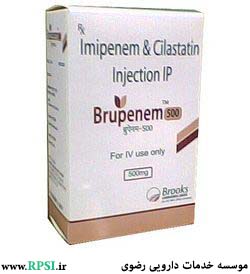 Mechanism of effect
Imipenem acts as an antimicrobial through the inhibition of cell wall synthesis of various gram-positive and gram-negative bacteria. This inhibition of cell wall synthesis in gram-negative bateria is attained by binding to pencillin binding proteins (PBPs).
Pharmacodynamic
Imipenem is a beta-lactam antibiotic belongings to the subgroup of carbapenems. Imipenem has a broad spectrum of activity against aerobic and anaerobic Gram positive as well as Gram negative bacteria. It is particularly important for its activity against Pseudomonas aeruginosa and the Enterococcus species. Imipenem is rapidly degraded by the renal enzyme dehydropeptidase when administered alone, and is always co-administered with cilastatin to prevent this inactivation.
Pharmacokinetics
Imipenem is not effectively absorbed from the gastrointestinal tract and therefore must be administered parenterally. 20% binds to plasma proteins. Metabolism: Renal. Half life: 1 hour.
Dosage
Usual Adult Dose for Bacteremia 500 mg IV every 6 hours or 1 g IV every 6 to 8 hours (based on imipenem content), depending on the nature and severity of the infection Maximum dose: 50 mg/kg/day or 4 g/day, whichever is less Duration: 14 days, depending on the nature and severity of the infection Usual Pediatric Dose for Bacteremia IV: Non-CNS infections: (based on imipenem content) Less than 7 days, less than 1500 g: 20 to 25 mg/kg IV every 12 hours Less than 7 days, 1500 g or more: 25 mg/kg IV every 12 hours 1 to 4 weeks, less than 1200 g: 25 mg/kg IV every 12 hours 1 to 4 weeks, 1200 g or more: 25 mg/kg IV every 8 hours 4 weeks to 3 months: 25 mg/kg IV every 6 hours 3 months or older: 15 to 25 mg/kg IV every 6 hours Maximum dose: 2 g/day for fully susceptible organisms and 4 g/day for moderately susceptible organisms IM: Safety and efficacy of IM imipenem-cilastatin have not been established in pediatric patients below the age of 12 years.
Side effects
nausea
,
dizziness
,
vomiting
,
Seizures
,
rash
,
Diarrhea
,
urticaria
,
pruritus
,
hypotension
,
fever
,
Injection-site reaction
,
somnolence
Alerts
1-SERIOUS AND OCCASIONALLY FATAL HYPERSENSITIVITY (ANAPHYLACTIC) REACTIONS HAVE BEEN REPORTED IN PATIENTS RECEIVING THERAPY WITH BETA-LACTAMS. 2-Seizures and other CNS adverse experiences, such as confusional states and myoclonic activity, have been reported during treatment with imipenem 3-Pseudomembranous colitis has been reported with nearly all antibacterial agents, including imipenem-cilastatin sodium, and may range in severity from mild to life threatening. Therefore, it is important to consider this diagnosis in patients who present with diarrhea subsequent to the administration of antibacterial agents.
Points of recommendation
1-Patients should be counseled that antibacterial drugs including IMIPENEMshould only be used to treat bacterial infections. They do not treat viral infections (e.g., the common cold). 2-the medication should be taken exactly as directed. 3-While IMIPENEM possesses the characteristic low toxicity of the beta-lactam group of antibiotics, periodic assessment of organ system functions, including renal, hepatic, and hematopoietic, is advisable during prolonged therapy.