Drug information of Bosentan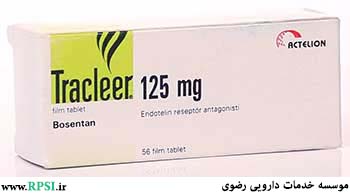 Mechanism of effect
Antagonizes endothelin receptor by binding to endothelin A and endothelin B receptors in the endothelium and vascular smooth muscle
Pharmacodynamic
Bosentan belongs to a class of drugs known as endothelin receptor antagonists (ERAs). Patients with PAH have elevated levels of endothelin, a potent blood vessel constrictor, in their plasma and lung tissue. Bosentan blocks the binding of endothelin to its receptors, thereby negating endothelin's deleterious effects.
Pharmacokinetics
T max is 3 to 5 h. Absolute bioavailability is approximately 50%. Steady state is reached in 3 to 5 days. Vd is approximately 18 L. More than 98% protein bound (mainly albumin) Metabolized in the liver. There are 3 metabolites, one of which contributes 10% to 20% of bosentan's effects. Bosentan induces CYP2C9, CYP3A4, and possibly CYP2C19; it may induce its own metabolism. Half-life is approximately 5 h. Eliminated by biliary excretion; less than 3% is recovered in urine. Cl is 4 L/h.
Dosage
Pulmonary Arterial Hypertension Adults PO 62.5 mg twice daily for 4 wk, then increase to maintenance dosage of 125 mg twice daily. In patients with a body weight less than 40 kg, the recommended maintenance dosage is 62.5 mg twice daily.
Side effects
Headache
,
Angioedema
,
Hepatic dysfunction
,
rash
,
flushing
,
thrombocytopenia
,
neutropenia
,
leukopenia
,
anemia
,
edema
,
sinusitis
,
respiratory tract infection
,
Arthralgia
,
syncope
,
Hypersensitivity
,
liver failure
,
jaundice
Interactions
Alprazolam
,
Amlodipine
,
Ethosuximide
,
Ethinyl estradiol+ drospirenone
,
Ergotamine-C
,
Erythromycin
,
Ipratropium bromide
,
Ifosfamide
,
Ivermectin
,
Amlodipine/Atorvastatine
,
Tadalafil
,
Sildenafil
,
Simvastatin
,
Cyclosporine
,
Lovastatin
,
Contraceptive LD
,
Warfarin
,
Ketoconazole
,
Clarithromycin
,
Contraceptive
,
Contraceptive DE
,
Contraceptive HD
,
Trazodone
,
Tolterodine
,
Diazepam
,
Rabeprazole
,
Zolpidem
,
Flurazepam
,
Granisetron
,
Lapatinib
,
Methyldopa
,
Medroxyprogesterone
,
Nifedipine
,
Nimodipine
,
Vincristin
,
Vinorelbine
,
Clonazepam
,
Solifenacin
,
Enzalutamide
,
Disulfiram
,
Bisoprolol
,
Rosuvastatin
,
Ranolazine
,
Praziquantel
,
Axitinib
,
ritonavir
,
saquinavir
,
nelfinavir
,
Indinavir
,
Ribociclib
,
brigatinib
,
Peginterferon alfa-2b
,
Copanlisib
,
lumacaftor and Ivacaftor
,
Ulipristal
,
Dabrafenib
,
cobicistat
,
Sofosbuvir and velpatasvir
,
Apremilast
,
Erdafitinib
,
Ixazomib
,
Tasimelteon
,
Doravirine
,
Roflumilast
,
tezacaftor/ivacaftor
,
Treprostinil
,
Istradefylline
,
Clorazepate
,
Lopinavir and Ritonavir
,
Cabozantinib
,
Cariprazine
,
ELBASVIR/GRAZOPREVIR
,
glasdegib
,
Abemaciclib
,
Triphasic
,
bedaquiline
,
Gefitinib
,
Remdesivir
,
Cannabidiol
,
zanubrutinib
,
Elexacaftor, Tezacaftor, and Ivacaftor
,
voxelotor
,
Avapritinib
,
Netupitant
,
Capmatinib
,
Dienestrol
Alerts
1-Because of the risk of liver injury and birth defects, bosentan is available only through a special restricted distribution program called the Tracleer Access Program (TAP) 2-Avoid using bosentan in patients with elevated aminotransferases (greater than 3 times the ULN) at baseline because monitoring liver injury may be more difficult. Stop treatment if liver aminotransferase elevations are accompanied by clinical symptoms of liver injury (eg, abdominal pain, fever, jaundice, nausea, unusual lethargy or fatigue, vomiting) or increases in bilirubin 2 times or more the ULN. 3-Pregnancy must be excluded before the start of treatment with bosentan
Points of recommendation
1-Ensure that liver enzymes are measured before starting therapy and monthly during treatment 2-Ensure that Hgb is measured after 1 and 3 mo of therapy and then every 3 mo for duration of treatment 3-Obtain monthly follow-up urine or serum pregnancy tests in women of childbearing potential. 4-Advise patient to take in the morning and evening as prescribed, without regard to meals 5-Instruct patient to stop taking drug and immediately report any of these symptoms to health care provider: abdominal pain, fatigue, fever, nausea, jaundice, unusual lethargy, vomiting