Drug information of Alteplase
Alteplase
Treating blood clots in the lungs. It is also used to improve heart function and survival following a heart attack. It is also used to improve recovery and reduce disability in certain patients who have had a stroke.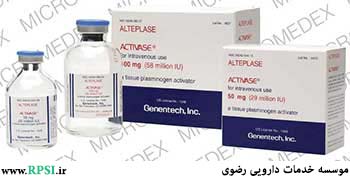 Mechanism of effect
Alteplase binds to fibrin in a thrombus and converts the entrapped plasminogen to plasmin. It also produces limited conversion of plasminogen in the absence of fibrin.
Pharmacodynamic
Aids in dissolution of blood clots
Pharmacokinetics
C max is 3 to 4 mg/L., Vd is 2.8 to 4.6 L and doubles at steady state. Initial t ½ is less than 5 min. Plasma Cl is 380 to 570 mL/min; total body Cl is 34.3 to 38.4 L/h. More than 80% is cleared from plasma within 10 min.
Dosage
Acute Ischemic Stroke Adults IV The recommended dose is 0.9 mg/kg (max, 90 mg) infused over 60 min with 10% of the total dose administered as an initial IV bolus over 1 min. The safety and efficacy of this regimen with coadministration of heparin and aspirin during the first 24 h after symptom onset has not been investigated. Doses 0.9 mg/kg may be associated with an increased incidence of ICH. Do not use doses more than 0.9 mg/kg (max, 90 mg). Pulmonary Embolism Adults IV 100 mg administered over 2 h. Initiate or reinstate heparin therapy near the end of or immediately following the alteplase infusion when the partial thromboplastin time or thrombin time returns to twice normal or less. Acute MI Administer as soon as possible after the onset of symptoms. Do not use a dose of 150 mg because it has been associated with an increase in intracranial bleeding. Accelerated infusion The recommended dose is based upon patient weight; do not exceed 100 mg. For patients weighing more than 67 kg, the recommended dose administered is 100 mg as a 15 mg IV bolus, followed by 50 mg infused over the next 30 min and then 35 mg infused over the next 60 min. For patients weighing 67 kg or less, the recommended dose is administered as a 15 mg IV bolus, followed by 0.75 mg/kg infused over the next 30 min not to exceed 50 mg and then 0.5 mg/kg over the next 60 min not to exceed 35 mg. (The safety and efficacy of this accelerated infusion of alteplase regimen has only been investigated with coadministration of heparin and aspirin). 3-h infusion 100 mg given as 60 mg (34.8 million units) in the first hour (with 6  to 10 mg given as a bolus over the first 1 to 2 min), 20 mg (11.6 million units) over the second hour and 20 mg (11.6 million units) over the third hour. For smaller patients (less than 65 kg), use a dose of 1.25 mg/kg given over 3 h as described above.
Side effects
nausea
,
vomiting
,
allergic reaction
,
chronic heart failure
,
cardiac arrhythmias
,
edema
,
fever
,
pulmonary embolism
,
deep vein thrombosis
,
Sepsis
,
venous thromboembolic event
,
hemorrhage
,
pleural effusion
,
GI bleeding
Interactions
Acetaminophen+caffein+acetylsalic
,
Dipyridamole
,
Dipyridamol+aspirin
,
Nitroglycerin
,
Heparin
,
Warfarin
,
Tanacetum parthenium , Feverfew
,
Curcuma
,
Apixaban
,
Phenindione
,
Desirudin
,
Ginkgo biloba
,
Fosinopril
,
Tositumomab
,
Ibritumomab tiuxetan
,
Human Prothrombin
,
Betrixaban
,
Ramucirumab
,
Cordyceps
,
Anisindione
,
Aprotinin
,
Omacetaxine
,
Benorilate
,
Dasatinib
,
zanubrutinib
,
cangrelor
,
defibrotide
Alerts
1-Do not administer alteplase if patient is on warfarin and INR is greater than 1.7 or PT is greater than 15 sec; 2-Cholesterol embolism May occur rarely in patients treated with thrombolytic agents
Points of recommendation
1-Initiate treatment for stroke only within 3 h after onset of symptoms and after exclusion of intracranial hemorrhage. 2-Do not add any other medications to infusion solution. 3-Store unopened vials in refrigerator (36° to 46°F). 4-Caution patient to avoid getting out of bed without assistance during treatment.