Drug information of Dalfampridine
Dalfampridine
Dalfampridine is a potassium channel blocker. Dalfampridine is used to improve walking in patients with multiple sclerosis (MS).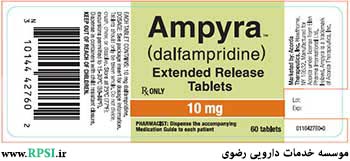 Mechanism of effect
Unknown. Is a broad-spectrum potassium channel blocker that has been shown to increase conduction of action potentials in demyelinated axons.
Pharmacodynamic
Dalfampridine is a board-spectrum lipophillic potassium channel blocker and binds favourably to the open state than closed state of the potassium channel in the CNS. Its pharmacological target are the potassium channels exposed in MS patients. Does not prolong the QTc interval.
Pharmacokinetics
Rapidly and completely absorbed from the GI tract. Relative bioavailability is 96%. Largely unbound to plasma proteins (97% to 98%); Dalfampridine and metabolites elimination is nearly complete after 24 h, with 95.9% of the dose recovered in urine and 0.5% recovered in feces. The elimination half-life is 5.2 to 6.5 h and the plasma half-life is about 7.6 h.
Dosage
Usual Adult Dose for Multiple Sclerosis Maximum recommended dose: 10 mg every 12 hours, taken with or without food
Side effects
nausea
,
Headache
,
insomnia
,
constipation
,
dizziness
,
asthenia
,
paresthesia
,
dyspepsia
,
Urinary tract infection
,
back pain
,
Pain
,
Nasopharyngitis
Alerts
1-Contraindicated in patients with a history of seizures. Discontinue therapy and do not restart in patients who experience a seizure while on treatment. 2- not to take dalfampridine with other forms of 4–aminopyridine (4–AP, fampridine) because the active ingredient is the same. 3- Safety and effectiveness have not been established in pediatric patients (less than 18 years of age).
Points of recommendation
• May administer with or without food. • Doses should be taken approximately 12 h apart. • Tablets should only be taken whole; do not divide, crush, chew, or dissolve. • Store at 77°F.