Drug information of Procarbazine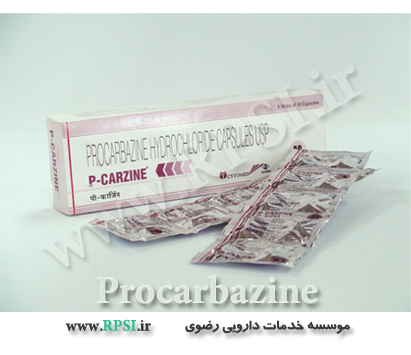 Mechanism of effect
Precise mechanism(s) of cytotoxic action unknown; may inhibit protein, RNA, and DNA synthesis by inhibiting transmethylation of methyl groups of methionine into t-RNA.
Pharmacodynamic
May directly damage DNA; hydrogen peroxide formed during auto-oxidation of the drug may attack protein sulfhydryl groups contained in residual protein tightly bound to DNA. Cytotoxic effects limited to tissues with high rates of cellular proliferation; effects only evident in cells actively synthesizing DNA.Also has MAO inhibiting properties.
Pharmacokinetics
Rapidly and completely absorbed; peak plasma concentrations attained within 1 hour following oral administration. Oral administration may result in plasma concentrations similar to those achieved following IV administration of the drug. Readily crosses the blood-brain barrier; rapidly equilibrates between plasma and CSF following oral administration.
Distributed into liver, kidneys, intestinal wall, and skin following IV administration. Not known whether procarbazine is distributed into milk. Metabolized principally in liver and kidneys. Excreted in urine as metabolites.
Dosage
Usual Adult Dose for Hodgkin's Disease
For administration as a single agent: To minimize the nausea and vomiting experienced by a high percentage of patients beginning procarbazine therapy , single or divided doses of 2 to 4 mg/kg/day for the first week are recommended. Daily dosage should then be maintained at 4 to 6 mg/kg/day until maximum response is obtained or until the white blood count falls below 4000 or the platelets fall below 100,000.
When maximum response is obtained, the dose may be maintained at 1 to 2 mg/kg/day. Upon evidence of hematologic or other toxicity, the drug should be discontinued until there has been satisfactory recovery. After toxic side effects have subsided, therapy may then be resumed at the discretion of the physician, based on clinical evaluation and appropriate laboratory studies, at a dosage of 1 to 2 mg/kg/day.
Usual Adult Dose for Anaplastic Astrocytoma
60 mg/m2 orally once a day on days 8 through 21, when administered as a part of the regimen which also includes lomustine (CeeNU) and vincristine. The PCV regimen may be continued for 29 days.
Usual Adult Dose for Glioblastoma Multiforme
60 mg/m2 orally once a day on days 8 through 21, when administered as a part of the regimen which also includes lomustine (CeeNU) and vincristine. The PCV regimen may be continued for 29 days.

Side effects
nausea
,
Headache
,
insomnia
,
dry mouth
,
constipation
,
vomiting
,
Seizures
,
vertigo
,
Diarrhea
,
asthenia
,
urticaria
,
hypotension
,
Cough
,
blood in stool
,
anorexia
,
gastritis
,
pneumonia
,
Photosensitivity
,
hallucinations
,
Diplopia
,
weakness
,
tiredness
,
Abdominal pain
,
Leukopenia
,
thrombocytopenia
,
Infection
,
Rash
,
Syncope
Interactions
Amitriptyline
,
Ergotamine-C
,
Expectorant
,
Imipramine
,
Phenylpropanolamine
,
Pseudoephedrine
,
Tetrabenazine
,
Sibutramine
,
Methyl phenidate
,
Tapentadol
,
rasagiline
,
Nefazodone
,
Pentazocine
,
Almotriptan
,
Diethylpropion
,
eletriptan
,
Dolasetron
,
Palonosetron
,
Varicella-Zoster Vaccines
,
lisdexamfetamine
,
Doxapram
,
Alphagan
,
Desvenlafaxine
,
Milnacipran
,
acrivastine+pseudoephedrine
,
Doxylamine
,
Dexfenfluramine
,
chlorcyclizine + pseudoephedrine
,
chlorcyclizine + phenylephrine
,
Adenovirus types 4 and 7 live, oral
,
Butorphanol
,
Acetaminophen and benzhydrocodone
,
Dipipanone
,
Difenoxin
,
cholera vaccine live
,
Oxymorphone
,
Levomilnacipran
,
Guanadrel
,
Ethchlorvynol
,
entacapone
,
phendimetrazine
,
nivolumab
,
Typhoid vaccine (live), oral
,
Meningococcal conjugate vaccine
,
Rabies Vaccine
,
nalbuphine
,
chlorcyclizine
,
Dimetindene
,
Nesiritide
Alerts
Procarbazine possesses some MAO inhibitory activity; avoid concomitant use with certain food or prescription and OTC drugs.
Leukopenia, anemia, and thrombocytopenia occur frequently. Myelosuppression often occurs 2–8 weeks after beginning treatment. Leukopenia may require hospitalization for appropriate treatment to prevent systemic infection.
May cause fetal harm; teratogenicity demonstrated in animals. Avoid pregnancy during therapy. If used during pregnancy or if patient becomes pregnant, apprise of potential fetal hazard.
Secondary malignancies (e.g., acute myeloid leukemia, lung cancer, malignant myelosclerosis) reported in patients receiving procarbazine in combination with other chemotherapy and/or radiation therapy. Increased risk of secondary lung cancer reported in patients receiving procarbazine in combination with tobacco products; discontinue tobacco use.
Generalized allergic reactions reported. If hypersensitivity reaction occurs, discontinue therapy.
Severe nausea and vomiting occur frequently. Discontinue therapy if stomatitis (e.g., small ulceration or persistent soreness around the mouth) or diarrhea (frequent bowel movements or watery stools) occurs.
Discontinue therapy if paresthesia, neuropathy, or confusion occurs.
Highly toxic drug; administer only under constant supervision of a qualified clinician experienced in cancer chemotherapy.

Points of recommendation
To make sure this medicine is safe for you, tell your doctor if you have:
• If you have an allergy to procarbazine or any other part of procarbazine.
• If you are allergic to any drugs like this one, any other drugs, foods, or other substances. Tell your doctor about the allergy and what signs you had, like rash; hives; itching; shortness of breath; wheezing; cough; swelling of face, lips, tongue, or throat; or any other signs.
• If you have any of these health problems: Low white blood cell count, low platelet count, or very bad anemia.
• If you take any drugs (prescription or OTC, natural products, vitamins) that must not be taken with this medicine, like certain drugs that are used for coughs and colds, low mood (depression), or weight loss. There are many drugs that must not be taken with procarbazine .
• If you are breast-feeding. Do not breast-feed while you take this medicine .
Avoid driving and doing other tasks or actions that call for you to be alert until you see how this medicine affects you.
To lower the chance of feeling dizzy or passing out, rise slowly if you have been sitting or lying down. Be careful going up and down stairs.
You may bleed more easily. Be careful and avoid injury. Use a soft toothbrush and an electric razor.
You may have more chance of getting an infection. Wash hands often. Stay away from people with infections, colds, or flu.
Other cancers have happened when procarbazine was used with cancer drugs. Talk with the doctor.
If you are pregnant or you get pregnant while taking this medicine, call your doctor right away.
Take with a full glass of water. Take with or without food.
How this medicine is taken may change based on blood work results, side effects, and how well the drug is working.
Some foods and drinks like cheese and red wine, when taken with procarbazine, may cause very risky effects such as sudden high blood pressure. To avoid these problems, get a list of foods to avoid.
If this medicine is stopped, follow diet for at least 2 more weeks.
Take a missed dose as soon as you think about it. If it is close to the time for your next dose, skip the missed dose and go back to your normal time.Do not take 2 doses at the same time or extra doses.