Drug information of Piroxicam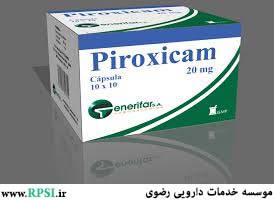 Mechanism of effect
The mechanism of action of Piroxicam, like that of other NSAIDs, is not completely understood but may be related to prostaglandin synthetase inhibition.
Pharmacodynamic
Piroxicam capsules are a non-steroidal anti-inflammatory drug (NSAID) that exhibits anti-inflammatory, analgesic, and antipyretic activities in animal models.
Pharmacokinetics
Piroxicam is well absorbed following oral administration. Ninety-nine percent of plasma Piroxicam is bound to plasma proteins. Piroxicam is excreted into human milk. Metabolism of Piroxicam occurs by hydroxylation at the 5 position of the pyridyl side chain and conjugation of this product Piroxicam and its biotransformation products are excreted in urine and feces, with about twice as much appearing in the urine as in the feces
Dosage
Usual Adult Dose for Pain 20 mg orally once a day or 10 mg orally twice a day. The recommended maximum daily dose is 20 mg. Usual Pediatric Dose for Pain 0.2 to 0.3 mg/kg orally once a day. Maximum daily dose is 15 mg. Usual Adult Dose for Osteoarthritis 20 mg orally once a day or 10 mg orally twice a day. The recommended maximum daily dose is 20 mg.
Side effects
nausea
,
Headache
,
dry mouth
,
constipation
,
abdominal pain
,
dizziness
,
vomiting
,
Diarrhea
,
Dyspnea
,
pruritus
,
Hypertension
,
edema
,
fever
,
Infections
,
anorexia
,
Sepsis
,
renal failure
,
Cystitis
,
flatulence
,
Asthma
,
Tinnitus
Interactions
Amitriptyline
,
Amikacin
,
Atenolol
,
Labetalol
,
Lithium carbonate
,
Warfarin
,
Voriconazole
,
Tanacetum parthenium , Feverfew
,
Gentamicin
,
Drospirenone
,
Sotalol
,
Cyclosporine
,
Metoprolol
,
Carvedilol
,
Bisoprolol
,
Donepzil
,
Meglumine Compound
,
Phenindione
,
Desirudin
,
Travoprost
,
Ginkgo biloba
,
Eprosartan
,
Trandolapril
,
Pemetrexed
,
Tositumomab
,
Ibritumomab tiuxetan
,
Benazepril
,
aminolevulinic acid oral
,
Aminolevulinic acid topical
,
Diatrizoate (Amidotrizoic acid)
,
Betrixaban
,
Ramucirumab
,
Bromfenac
,
Ioxaglate
,
Netonal
,
Iothalamate Meglumine
,
Dasatinib
,
Florbetapir F18
,
Aminohippurate Sodium
Alerts
1-Clinical trials of several COX-2 selective and nonselective NSAIDs of up to three years duration have shown an increased risk of serious cardiovascular (CV) thrombotic events, myocardial infarction, and stroke, which can be fatal. 2-NSAIDs, including Piroxicam capsules, can lead to onset of new hypertension or worsening of preexisting hypertension, either of which may contribute to the increased incidence of CV events. 3-Fluid retention and edema have been observed in some patients taking NSAIDs. Piroxicam capsules should be used with caution in patients with fluid retention or heart failure. 4-NSAIDs, including Piroxicam capsules, can cause serious gastrointestinal (GI) adverse events including inflammation, bleeding, ulceration, and perforation of the stomach, small intestine, or large intestine, which can be fatal.
Points of recommendation
1-In late pregnancy, as with other NSAIDs, Piroxicam capsules should be avoided because it may cause premature closure of the ductus arteriosus. 2-Patients with asthma may have aspirin-sensitive asthma. The use of aspirin in patients with aspirin-sensitive asthma has been associated with severe bronchospasm which can be fatal. 3-Patients should promptly report signs or symptoms of unexplained weight gain or edema to their physicians.