Drug information of Trastuzumab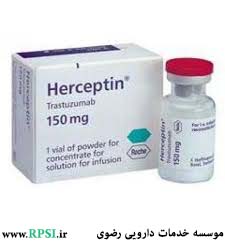 Mechanism of effect
Recombinant DNA-derived humanized monoclonal antibody that selectively binds with high affinity to the extracellular domain of human epidermal growth receptor 2 (HER2). It inhibits the proliferation of human tumor cells that overexpress HER2 and mediates antibody-dependent cellular cytotoxicity.
Pharmacodynamic
Used in the treatment of HER2-positive breast cancer. HER2 protein overexpression is observed in 25%-30% of primary breast cancers.Trastuzumab has been shown, in both in vitro assays and in animals, to inhibit the proliferation of human tumorcells that overexpress HER2. It is a mediator of antibody dependent cellular cytotoxicity, in that the binding of the antibody to HER2 overexpressing cells leads to preferential cell death
Pharmacokinetics
Peak and trough plasma concentrations at steady state (between weeks 16 and 32) approximately 123 and 79 mcg/mL, respectively Volume of distribution :44 mL/kg Most likely removed by opsonization via the reticuloendothelial system. Half life:average 28.5 days.
Dosage
Breast Cancer, Adjunctive Treatment Adults Administer according to 1 of the following doses and schedules for a total of 52 wk of therapy During and Following Paclitaxel, Docetaxel, or Docetaxel/Carboplatin IV Start with 4 mg/kg infused over 90 min, then administer in weekly doses of 2 mg/kg infused over 30 min during chemotherapy for the first 12 wk (paclitaxel or docetaxel) or for 18 wk (docetaxel/carboplatin). One wk after the last weekly dose of trastuzumab, administer trastuzumab 6 mg/kg infused over 30 to 90 min every 3 wk. As a Single Agent Within 3 Wk Following Completion of Multimodality Anthracycline-Based Chemotherapy Regimens IV Start with 8 mg/kg infused over 90 min, then administer 6 mg/kg infused over 30 to 90 min every 3 w Breast Cancer, Metastatic Treatment Adults IV Start with 4 mg/kg infused over 90 min alone or in combination with paclitaxel, followed by once-weekly doses of 2 mg/kg infused over 30 min until disease progression. Metastatic Gastric Cancer Adults IV Start with 8 mg/kg as an IV infusion over 90 min, then administer 6 mg/kg infused over 30 to 90 min every 3 wk until disease progression.
Side effects
nausea
,
Headache
,
insomnia
,
Tachycardia
,
abdominal pain
,
dizziness
,
vomiting
,
allergic reaction
,
rash
,
Depression
,
Diarrhea
,
Dyspnea
,
asthenia
,
Chills
,
pruritus
,
Throat irritation
,
leukopenia
,
anemia
,
chronic heart failure
,
cardiac arrhythmias
,
palpitations
,
paresthesia
,
peripheral neuritis
,
neuropathy
,
acne
,
Rhinitis
,
dyspepsia
,
Urinary tract infection
,
edema
,
Peripheral edema
,
Cough
,
sinusitis
,
respiratory tract infection
,
fever
Interactions
Anti-thymocyte
,
Budesonide
,
Azathioprine
,
Asparaginase
,
Epirubicin
,
Erlotinib
,
Estramustine
,
Streptozocin
,
Capecitabine
,
Carboplatin
,
mercaptopurine
,
Prednisolone
,
Etoposide
,
Melphalan
,
Mitoxantrone
,
Natalizumab
,
Nilotinib
,
Hydrocortisone
,
Vinorelbine
,
Cyclophosphamide
,
Fludarabine phosphate
,
Glatiramer acetate
,
Lomustine
,
Mycophenolate mofetil
,
Methylprednisolone
,
Docetaxel
,
Doxorubicin
,
Sunitinib
,
Sorafenib
,
Cytarabine
,
Cyclosporine
,
Tretinoin
,
Triamcinolone
,
Topotecan
,
Thioguanine
,
Gemcitabine
,
Desoxycorticosterone
,
Oxaliplatin
,
Ifosfamide
,
Imatinib
,
Infliximab
,
Paclitaxel
,
Thalidomide
,
Temozolomide
,
Rituximab
,
Fingolimod
,
Carboplatin
,
cladribine
,
Interferon beta-1a
,
Sarilumab
,
thiotepa
,
Pemetrexed
,
Nicardipine
,
Baricitinib
,
Betrixaban
,
Floxuridine
,
Ustekinumab
,
Lopinavir and Ritonavir
,
Carmustine
,
Temsirolimus
,
Abemaciclib
,
Blinatumomab
,
Dasatinib
,
Gemtuzumab
,
Remdesivir
,
Meningococcal conjugate vaccine
,
Benralizumab
,
RESLIZUMAB
,
secukinumab
,
Abametapir
,
alirocumab
Alerts
Cardiomyopathy Administration can result in decreased LVEF and CHF. Risk is greatest when coadministered with anthracycline-containing chemotherapy regimens. Embryofetal toxicity Exposure during pregnancy can result in oligohydramnios and oligohydramnios sequence resulting in pulmonary hypoplasia, skeletal abnormalities and neonatal death. Infusion reactions and pulmonary toxicity Administration can result in serious and fatal infusion reactions and pulmonary toxicity. Usually, symptoms occur during or within 24 h of administration. In patients experiencing dyspnea or clinically important hypotension, interrupt treatment and monitor until signs and symptoms resolve. Consider discontinuing therapy for infusion reactions manifesting as anaphylaxis, angioedema, interstitial pneumonitis, or acute respiratory distress syndrome.
Points of recommendation
For IV infusion only. Not for IV push or bolus administration. The solution should be free of visible particulates, clear to slightly opalescent, and colorless to pale yellow. Do not mix or dilute with other drugs, or administer through an IV line containing dextrose solutions. Reconstitute each vial with 20 mL of bacteriostatic water for injection to yield a multidose solution containing trastuzumab 21 mg/mL. For patients with known hypersensitivity to benzyl alcohol, the preservative in bacteriostatic water for injection, reconstitute with sterile water for injection to yield a single-use solution. Swirl gently to aid reconstitution. Do not shake. Slight foaming of the product may be present upon reconstitution. Allow vial to stand undisturbed for approximately 5 min. Add appropriate volume of diluted trastuzumab solution to an infusion bag containing 250 mL of sodium chloride 0.9% injection. Gently invert the bag to mix the solution.