Drug information of Trifluridine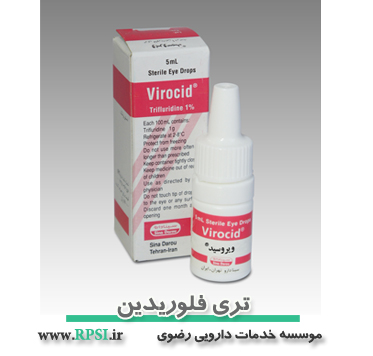 Mechanism of effect
Exact mechanism of antiviral activity of trifluridine not completely known;appears to interfere with viral DNA synthesis and viral replication.
( Irreversibly inhibits thymidylate synthetase, an enzyme required for DNA synthesis; competitively inhibits DNA polymerases.)
Pharmacodynamic
Incorporates into viral and, to a lesser extent, cellular DNA and inhibits DNA synthesis at relatively low concentrations. Also exhibits mutagenic, teratogenic, and antineoplastic activities.
Pharmacokinetics
Systemic absorption following topical application of trifluridine 1% ophthalmic solution appears to be negligible. Intraocular penetration is increased in patients with epithelial defect in the cornea or with stromal or uveal inflammation.
Dosage
• Instill one drop of Trifluridine Ophthalmic Solution , 1% onto the cornea of the affected eye every 2 hours while awake for a maximum daily dosage of nine drops until the corneal ulcer has completely re-epithelialized .
Following re-epithelialization, treatment for an additional 7 days of one drop every 4 hours while awake for a minimum daily dosage of five drops is recommended.
• If there are no signs of improvement after 7 days of therapy or complete re-epithelialization has not occurred after 14 days of therapy, other forms of therapy should be considered.
Continuous administration of Trifluridine Ophthalmic Solution, 1% for periods exceeding 21 days should be avoided because of potential ocular toxicity.
Alerts
• Trifluridine Ophthalmic Solution, 1% should be prescribed only for patients who have a clinical diagnosis of herpetic keratitis .
• Trifluridine Ophthalmic Solution, 1% may cause mild local irritation of the conjunctiva and cornea when instilled, but these effects are usually transient .
• The drug should not be prescribed for nursing mothers unless the potential benefits outweigh the potential risks.
• Trifluridine Ophthalmic Solution, 1% should be used during pregnancy only if the potential benefit justifies the potential risk to the fetus.
Points of recommendation
To make sure this medicine is safe for you, tell your doctor if you have :
• you have an allergy to Trifluridine or any other part of this medicine.
• If you are allergic to any drugs like this one, any other drugs, foods, or other substances. Tell your doctor about the allergy and what signs you had, like rash; hives; itching; shortness of breath; wheezing; cough; swelling of face, lips, tongue, or throat; or any other signs.
Use trifluridine as ordered by your doctor. Read all information given to you. Follow all instructions closely.
• To gain the most benefit, do not miss doses.
• Use as you have been told, even if your signs get better.
• For the eye only.
• Wash your hands before and after use.
• Do not touch the container tip to the eye, lid, or other skin.
• Tilt your head back and drop drug into the eye.
• After use, keep your eyes closed. Put pressure on the inside corner of the eye. Do this for 1 to 2 minutes. This keeps the drug in your eye.
Use a missed dose as soon as you think about it. If it is close to the time for your next dose, skip the missed dose and go back to your normal time. Do not use 2 doses or extra doses.