Drug information of Thiothixene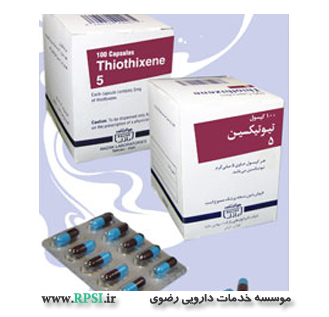 Mechanism of effect
Precise mechanism(s) of antipsychotic action not determined, but may be principally related to antidopaminergic effects.
Pharmacodynamic
Exhibits weak anticholinergic, antihistaminic, α-adrenergic, and sedative effects and strong extrapyramidal effects ; appears to possess antiemetic activity. Acts principally at subcortical levels on the reticular formation, hypothalamus, and limbic system.
Pharmacokinetics
• Rapidly and well absorbed from GI tract following oral administration.
• Peak plasma concentrations usually occur within 1–3 hours.
• Antipsychotic effects usually are apparent within 2–4 weeks after initiation of oral therapy and optimum therapeutic response usually occurs within 6 months or longer.
• Widely distributed into body tissues. Crosses placenta in animals; considered likely to cross placenta in humans. Not known if distributed into human milk but distribution into breast milk considered llikely.
• Plasma Protein Bindingis >99%. Principally metabolized in the liver; undergoes extensive oxidative first-pass metabolism to form thiothixene sulfoxide and N-desmethylthiothixene.
• Excreted mainly in feces via biliary elimination as unchanged drug and as demethyl, sulfoxide, demethylated sulfoxide, and hydroxylated metabolites.
Dosage
Usual Adult Dose for Schizophrenia
**Mild Conditions:
-Initial dose: 2 mg orally 3 times a day
-Maintenance dose: 15 mg orally per day
**Severe Conditions:
-Initial dose: 5 mg orally 2 times a day
-Maintenance dose: 20 to 30 mg orally per day
-Maximum dose: 60 mg orally per day
Usual Pediatric Dose for Schizophrenia
Age 12 years and older :
**Mild Conditions:
-Initial dose: 2 mg orally 3 times a day
-Maintenance dose: 15 mg orally per day
**Severe Conditions:
-Initial dose: 5 mg orally 2 times a day
-Maintenance dose: 20 to 30 mg orally per day
-Maximum dose: 60 mg orally per day
**Comments:
-Dosing should be individually adjusted depending on the chronicity and severity of symptoms.
-In general, small doses should be used initially and gradually increased to the optimal effective level based on patient response.
-Some patients have been successfully maintained on once-a-day therapy.
Side effects
nausea
,
Headache
,
dry mouth
,
constipation
,
Seizures
,
vertigo
,
Diarrhea
,
urticaria
,
Peripheral edema
,
Gynecomastia
,
decreased libido
,
nasal stuffiness
,
Psychotic reactions
,
difficulty urinating
,
skin rush
,
increased liver enzymes in the blood
Interactions
Acetylcholine
,
Epinephrine
,
Isoniazid
,
Propranolol
,
Cimetidine
,
Phenobarbital
,
Phenytoin
,
lithium
,
Metoclopramide
,
fentanyl
,
potassium citrate
,
Sodium Oxybate
,
Tapentadol
,
safinamide
,
teriflunomide
,
Apomorphine
,
Mefloquine
,
Acetaminophen and benzhydrocodone
,
Oxymorphone
,
glycopyrrolate topical
,
Cannabidiol
,
vemurafenib
Alerts
- Elderly patients with dementia-related psychosis treated with antipsychotic drugs are at an increased risk of death. Thiothixene is not approved for the treatment of patients with dementia-related psychosis.
- Tardive dyskinesia, a syndrome consisting of potentially irreversible, involuntary, dyskinetic movements may develop in patients treated with antipsychotic drugs, including Thiothixene . Although the prevalence of the syndrome appears to be highest among the elderly, especially elderly women, it is impossible to rely upon prevalence estimates to predict, at the inception of antipsychotic treatment, which patients are likely to develop the syndrome.
- A potentially fatal symptom complex sometimes referred to as Neuroleptic Malignant Syndrome (NMS) has been reported in association with antipsychotic drugs, including Thiothixene . Clinical manifestations of NMS are hyperpyrexia, muscle rigidity, altered mental status and evidence of autonomic instability (irregular pulse or blood pressure, tachycardia, diaphoresis, and cardiac dysrhythmias).
- The use of Thiothixene in children under 12 years of age is not recommended because safe conditions for its use have not been established.
- Use with caution in patients with cardiovascular disease.
- Caution as well as careful adjustment of the dosages is indicated when Thiothixene is used in conjunction with other CNS depressants.
- Also, careful observation should be made for pigmentary retinopathy and lenticular pigmentation (fine lenticular pigmentation has been noted in a small number of patients treated with Thiothixene for prolonged periods). Blood dyscrasias (agranulocytosis, pancytopenia, thrombocytopenic purpura), and liver damage (jaundice, biliary stasis), have been reported with related drugs.
- Antipsychotic drugs, including Thiothixene , elevate prolactin levels; the elevation persists during chronic administration.
Points of recommendation
To make sure this medicine is safe for you, tell your doctor if you have:
• If you have an allergy to this medicine or any other part of it.
• If you are allergic to any drugs like this one, any other drugs, foods, or other substances. Tell your doctor about the allergy and what signs you had, like rash; hives; itching; shortness of breath; wheezing; cough; swelling of face, lips, tongue, or throat; or any other signs.
• If you have any of these health problems: Blood problems or bone marrow disease.
• If you are very sleepy
• If your child is younger than 12 years of age. Do not give this medicine to a child younger than 12 years of age.
- Avoid driving and doing other tasks or actions that call for you to be alert until you see how this medicine affects you.
- To lower the chance of feeling dizzy or passing out, rise slowly over a few minutes when sitting or lying down. Be careful climbing stairs.
- Low white blood cell counts have happened with drugs like this one. This may lead to a higher chance of getting an infection. Deadly infections have rarely happened. Tell your doctor if you have ever had a low white blood cell count. Call your doctor right away if you have signs of infection like fever, chills, or sore throat. Talk with your doctor .
- This medicine may raise the chance of seizures in some people, including people who have had seizures in the past. Talk to your doctor to see if you have a greater chance of seizures while taking thiothixene .
- This medicine may cause the results of some pregnancy tests to be wrong. Talk with the doctor.
- Take a missed dose as soon as you think about it.If it is close to the time for your next dose, skip the missed dose and go back to your normal time. Do not take 2 dose.