Drug information of Gemcitabine
Gemcitabine
Gemcitabine is a cancer medicine that interferes with the growth and spread of cancer cells in the body.Gemcitabine is used to treat cancers of the pancreas, lung, ovary, and breast.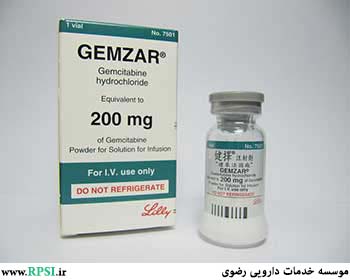 Mechanism of effect
Gemcitabine is an antineoplastic anti-metabolite. Anti-metabolites masquerade as purine or pyrimidine - which become the building blocks of DNA. They prevent these substances becoming incorporated in to DNA during the "S" phase (or DNA synthesis phase of the cell cycle), stopping normal development and division
Pharmacodynamic
Gemcitabine kills cells undergoing DNA synthesis and blocks the progression of cells through the G1/S-phase boundary. Gemcitabine is metabolized by nucleoside kinases to diphosphate (dFdCDP) and triphosphate (dFdCTP) nucleosides. Gemcitabine diphosphate inhibits ribonucleotide reductase, an enzyme responsible for catalyzing the reactions that generate deoxynucleoside triphosphates for DNA synthesis, resulting in reductions in deoxynucleotide concentrations, including dCTP. Gemcitabine triphosphate competes with dCTP for incorporation into DNA. The reduction in the intracellular concentration of dCTP by the action of the diphosphate enhances the incorporation of Gemcitabine triphosphate into DNA (self-potentiation). After the Gemcitabine nucleotide is incorporated into DNA, only one additional nucleotide is added to the growing DNA strands, which eventually results in the initiation of apoptotic cell death
Pharmacokinetics
The volume of distribution was increased with infusion length. Volume of distribution of Gemcitabine was 50 L/m2 following infusions lasting <70 minutes. For long infusions, the volume of distribution rose to 370 L/m2.Gemcitabine plasma protein binding is negligible. The active metabolite, Gemcitabine triphosphate, can be extracted from peripheral blood mononuclear cells. The half-life of the terminal phase for Gemcitabine triphosphate from mononuclear cells ranges from 1.7 to 19.4 hours Clearance of Gemcitabine was affected by age and gender
Dosage
Usual Adult Dose for Pancreatic Cancer For the first-line treatment : 1000 mg/m² intravenously one time over 30 minutes. May repeat at weekly intervals for up to 7 weeks, followed by one week of rest. If toxicity occurs, a dose should be held. Subsequent cycles should consist of weekly cycles for 3 consecutive weeks, out of every 4 weeks Usual Adult Dose for Non-Small Cell Lung Cancer In combination with cisplatin: Two schedules have been investigated and the optimum schedule has not been determined. With the 4 week schedule, gemcitabine should be administered intravenously at 1000 mg/m2 over 30 minutes on days 1, 8, and 15 of each 28 day cycle. With the 3 week schedule, gemcitabine should be administered intravenously at 1250 mg/m2 over 30 minutes on days 1 and 8 of each 21 day cycle. Usual Adult Dose for Breast Cancer In combination with paclitaxel: Gemcitabine 1250 mg/m2 intravenously over 30 minutes on days 1 and 8 of each 21 day cycle. Gemcitabine is given in combination with paclitaxel. Paclitaxel should be administered at 175 mg/m2 on day 1 as a 3 hour intravenous infusion before gemcitabine administration.
Side effects
nausea
,
Hematuria
,
vomiting
,
Hepatic dysfunction
,
rash
,
Dyspnea
,
thrombocytopenia
,
neutropenia
,
anemia
,
paresthesia
,
edema
,
Flu-like symptoms
,
Alopecia
,
Infections
,
somnolence
,
hemorrhage
,
Phosphate Alkaline increased
,
stomatitis
,
Increased ALT
,
Increased AST
,
Hyperbilirubinemia
,
Proteinuria
Alerts
1- Myelosuppression manifested by neutropenia, thrombocytopenia, and anemia occurs with Gemcitabine 2- Pulmonary toxicity, including interstitial pneumonitis, pulmonary fibrosis, pulmonary edema, and adult respiratory distress syndrome (ARDS), has been reported 3- Hemolytic Uremic Syndrome to include fatalities from renal failure or the requirement for dialysis can occur in patients treated with Gemcitabine for Injection. 4- Drug-induced liver injury, including liver failure and death, has been reported 5- Gemcitabine for Injection can cause fetal harm when administered to a pregnant woman 6- Gemcitabine for Injection is not indicated for use in combination with radiation therapy 7- Capillary leak syndrome (CLS) with severe consequences has been reported 8- Posterior reversible encephalopathy syndrome (PRES) has been reported
Points of recommendation
1- Advise patients of the risks of low blood cell counts and the potential need for blood transfusions and increased susceptibility to infections. Instruct patients to immediately contact their healthcare provided for development of signs or symptoms of infection, fever, prolonged or unexpected bleeding, bruising, or shortness of breath 2- Advise patients of the risks of pulmonary toxicity including respiratory failure and death. Instruct patients to immediately contact their healthcare provider for development of shortness of breath, wheezing, or cough 3- Advise patients of the risks of hemolytic-uremic syndrome and associated renal failure. Instruct patients to immediately contact their healthcare provider for changes in the color or volume of urine output or for increased bruising or bleeding 4- Advise patients of the risks of hepatic toxicity including liver failure and death. Instruct patients to immediately contact their healthcare provider for signs of jaundice or for pain/tenderness in the right upper abdominal quadrant