Drug information of Donepzil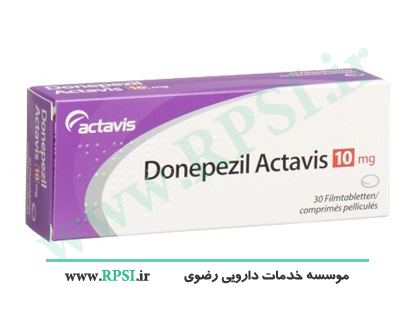 Mechanism of effect
donepzil acts by enhancing cholinergic function. This is accomplished by increasing the concentration of acetylcholine through reversible inhibition of its hydrolysis by acetylcholinesterase.
Pharmacodynamic
Current theories on the pathogenesis of the cognitive signs and symptoms of Alzheimer's disease attribute some of them to a deficiency of cholinergic neurotransmission. Donepezil hydrochloride is postulated to exert its therapeutic effect by enhancing cholinergic function .
Pharmacokinetics
The rate and extent of absorption of Donepezil hydrochloride tablets are not influenced by food .The elimination half life of Donepezil is about 70 hours . Donepezil is approximately 96% bound to human plasma proteins, mainly to albumins. Donepezil is both excreted in the urine intact and extensively metabolized to four major metabolites, two of which are known to be active, and a number of minor metabolites, not all of which have been identified . Donepezil is metabolized by CYP 450.
Dosage
Usual Adult Dose for Alzheimer's Disease
Initial dose: 5 mg orally once a day, in the evening prior to retiring
Mild to moderate Alzheimer's disease :
-Maintenance dose: 10 mg orally once a day, after the patient has been on an initial dose of 5 mg once a day for 4 to 6 weeks
Moderate to severe Alzheimer's disease :
-Maintenance dose: 23 mg orally once a day, after the patient has been on a dose of 10 mg once a day for at least 3 months
Comments: A higher dose of 10 mg may or may not provide a statistically significantly greater clinical benefit than a 5 mg dose. Prescriber and patient's preference should be considered .

Side effects
nausea
,
Headache
,
insomnia
,
dizziness
,
vomiting
,
flushing
,
vertigo
,
Diarrhea
,
urticaria
,
Hypertension
,
weight decrease
,
anorexia
,
Tremor
,
eczema
,
flatulence
,
difficulty urinating
,
tiredness
,
Abdominal pains
,
gastrointestinal hemorrhage
Interactions
Atropine sulfate systemic
,
Ipratropium bromide
,
Propantheline
,
Trazodone
,
Tranylcypromine
,
Tolterodine
,
Doxepin
,
Dipyridamole
,
Sertraline
,
Clozapine
,
Bisoprolol
,
Ibuprofen
,
Indomethacin
,
Piroxicam
,
Diclofenac
,
Rifampin
,
Phenobarbital
,
Phenytoin
,
Galantamine
,
Ketoconazole
,
Aspirin
,
Quinidine
,
Scopolamine
,
pilocarpine oral
,
Huperzine A
,
Lorlatinib
,
Gefitinib
,
Dimetindene
,
Umeclidinium
Alerts
Donepezil hydrochloride, as a cholinesterase inhibitor, is likely to exaggerate succinylcholine-type muscle relaxation during anesthesia.Because of their pharmacological action, cholinesterase inhibitors may have vagotonic effects on the sinoatrial and atrioventricular nodes.
This effect may manifest as bradycardia or heart block in patients both with and without known underlying cardiac conduction abnormalities. increase gastric acid secretion due to increased cholinergic activity.
Therefore, patients should be monitored closely for symptoms of active or occult gastrointestinal bleeding, especially those at increased risk for developing ulcers, e.g., those with a history of ulcer disease or those receiving concurrent nonsteroidal anti-inflammatory drugs (NSAIDs). Cholinomimetics are believed to have some potential to cause generalized convulsions. Because of their cholinomimetic actions, cholinesterase inhibitors should be prescribed with care to patients with a history of asthma or obstructive pulmonary disease.
Points of recommendation
Some medical conditions may interact with donepezil. Tell your doctor or pharmacist if you have any medical conditions, especially if any of the following apply to you :
• if you are pregnant, planning to become pregnant, or are breast-feeding
• if you are taking any prescription or nonprescription medicine, herbal preparation, or dietary supplement
• if you have allergies to medicines, foods, or other substances
• if you have a history of certain heart problems (eg, fast, slow, or irregular heartbeat; sick sinus syndrome), stomach or bowel problems (eg, ulcer, blockage), liver or kidney problems, lung or breathing problems (eg, asthma, chronic obstructive pulmonary disease [COPD]), muscle problems, low thyroid hormone levels, or urinary blockage
• if you have brain lesions or tumors, increased pressure in the brain, a recent head injury, or a history of seizures (eg, epilepsy)
• if you have Parkinson disease, trouble swallowing tablets, or metabolism problems