Drug information of Dapsone
Dapsone
Dapsone , is an antibiotic commonly used in combination with rifampicin and clofazimine for the treatment of leprosy . It is a second-line medication for the treatment and prevention of pneumocystis pneumonia and for the prevention of toxoplasmosis in those who have poor immune function.
Additionally, it has been used for acne, dermatitis herpetiformis, and various other skin conditions.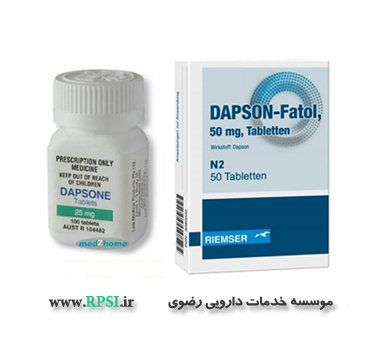 Mechanism of effect
The mechanism of action in Dermatitis herpetiformis has not been established. By the kinetic method in mice, Dapsone is bactericidal as well as bacteriostatic against Mycobacterium leprae. Antibacterial activity of dapsone is inhibited by p-aminobenzoic acid (PABA).
Therefore, it probably has a mechanism of action similar to that of sulfonamides which involves inhibition of folic acid synthesis in susceptible organisms.
Pharmacodynamic
Stimulates neutrophil motility andinhibits spontaneous and induced synthesis of prostaglandin E2 by polymorphonuclear leukocytes obtained from healthy individuals or patients with leprosy. May inhibit alternate pathway of complement activation and interfere with the myeloperoxidase-H2O2-halide-mediated cytotoxic system within neutrophils.
Pharmacokinetics
Dapsone , when given orally, is rapidly and almost completely absorbed. About 85 percent of the daily intake is recoverable from the urine mainly in the form of water-soluble metabolites. Excretion of the drug is slow and a constant blood level can be maintained with the usual dosage.
Dosage
Usual Adult Dose for Leprosy – Lepromatous
50 to 100 mg orally once a day for 2-5 years.
Usual Adult Dose for Leprosy – Tuberculoid
100 mg orally once a day for 6 months. Rifampin is additionally recommended to reduce the incidence of dapsone resistance. If the disease relapses, this regimen should be repeated.
Usual Adult Dose for Dermatitis Herpetiformis
50 mg orally once a day continued on a life-long basis. Dosage may be advanced to 300 mg/day. Dosage reduction to a minimum maintenance level as soon as possible is recommended.
Usual Adult Dose for Pneumocystis Pneumonia
100 mg orally once a day for 14 to 21 days. Used in combination with trimethoprim.
Usual Adult Dose for Pneumocystis Pneumonia Prophylaxis
100 mg orally twice a week. Therapy should be continued on a life-long basis. The addition of pyrimethamine appears to significantly increase the activity of dapsone for PCP prophylaxis.
Usual Adult Dose for Toxoplasmosis – Prophylaxis
100 mg orally twice a week continued on a life-long basis.
Usual Pediatric Dose for Leprosy
1 to 2 mg/kg (up to 100 mg) orally once a day.
Usual Pediatric Dose for Pneumocystis Pneumonia Prophylaxis
> 1 month:
2 mg/kg/day (up to 100 mg) orally once a day.
Alternate dosing:
> 1 month:
4 mg/kg orally once weekly. Maximum dose = 200 mg.
Usual Pediatric Dose for Toxoplasmosis – Prophylaxis
> 1 month:
2 mg/kg/day (or 15 mg/m2) orally once a day. Maximum dose = 25 mg. Dapsone should be administered as part of combination therapy for prophylaxis of toxoplasmosis.
Side effects
nausea
,
Headache
,
vomiting
,
Blurred vision
,
vertigo
,
edema
,
Flu-like symptoms
,
Hyperbilirubinemia
,
peripheral nephropathy
,
aplastic anemia,
,
Agranulocytosis
,
Abdominal pain
,
Leukopenia
,
increased liver enzymes in the blood
Interactions
Aluminium MGS
,
Rifampin
,
Clofazimine
,
Rifapentine
,
Didanosine
,
Pyrimethamine
,
Deferiprone
,
Sodium bicarbonate
,
teriflunomide
,
Quinine
,
Mefloquine
,
Peginterferon alfa-2b
,
Aluminium Mg
,
Tafenoquine
,
pexidartinib
,
Sodium nitrite
,
atovaquone/proguanil
,
Methyl aminolevulinate
,
Cannabidiol
,
Typhoid vaccine (live), oral
,
Artesunate
Alerts
The patient should be warned to respond to the presence of clinical signs such as sore throat, fever, pallor, purpura or jaundice. Deaths associated with the administration of Dapsone have been reported from agranulocytosis, aplastic anemia and other blood dyscrasias. Complete blood counts should be done frequently in patients receiving Dapsone. Severe anemia should be treated prior to initiation of therapy and hemoglobin monitored. Hemolysis and methemoglobin may be poorly tolerated by patients with severe cardiopulmonary disease.
Cutaneous reactions, especially bullous, include exfoliative dermatitis and are probably one of the most serious, though rare, complications of sulfone therapy. They are directly due to drug sensitization. Such reactions include toxic erythema, erythema multiforme, toxic epidermal necrolysis, morbilliform and scarlatiniform reactions, urticaria and erythema nodosum. If new or toxic dermatologic reactions occur, sulfone therapy must be promptly discontinued and appropriate therapy instituted. Leprosy reactional states, including cutaneous, are not hypersensitivity reactions to Dapsone and do not require discontinuation.
Hemolysis and Heinz body formation may be exaggerated in individuals with a glucose-6-phosphate dehydrogenase (G6PD) deficiency, or methemoglobin reductase deficiency, or hemoglobin M. This reaction is frequently dose-related. Dapsone should be given with caution to these patients or if the patient is exposed to other agents or conditions such as infection or diabetic ketosis capable of producing hemolysis.
Toxic hepatitis and cholestatic jaundice have been reported early in therapy. Hyperbilirubinemia may occur more often in G6PD deficient patients.
Points of recommendation
To make sure this medicine is safe for you, tell your doctor if you have :
• you have an allergy to dapsone or any other part of dapsone (systemic).
• If you are allergic to any drugs like this one, any other drugs, foods, or other substances. Tell your doctor about the allergy and what signs you had, like rash; hives; itching; shortness of breath; wheezing; cough; swelling of face, lips, tongue, or throat; or any other signs.
• If you are breast-feeding or plan to breast-feed.
You may get sunburned more easily. Avoid sun, sunlamps, and tanning beds. Use sunscreen and wear clothing and eyewear that protects you from the sun.
Very bad and sometimes deadly problems like low white blood cell counts, aplastic anemia, and other blood problems have happened with this drug. Talk with the doctor.
Be careful if you have G6PD deficiency. Anemia may happen.
This medicine may affect being able to father a child. Talk with the doctor.
To gain the most benefit, do not miss doses.
Keep taking this medicine as you have been told by your doctor or other health care provider, even if you feel well.
Take with or without food.
Take a missed dose as soon as you think about it. If it is close to the time for your next dose, skip the missed dose and go back to your normal time. Do not take 2 doses at the same time or extra doses.