Drug information of varenicline
varenicline
Varenicline is a smoking cessation medicine. It is used together with behavior modification and counseling support to help you stop smoking.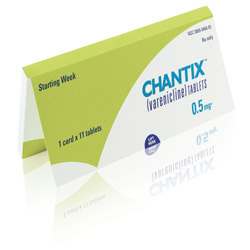 Mechanism of effect
Partial neuronal α4 β2 nicotinic receptor agonist; prevents nicotine stimulation of mesolimbic dopamine system associated with nicotine addiction. Also binds to 5-HT3 receptor (significance not determined) with moderate affinity. Varenicline stimulates dopamine activity but to a much smaller degree than nicotine does, resulting in decreased craving and withdrawal symptoms.
Pharmacodynamic
Varenicline is a partial nicotinic acetylcholine receptor agonist, designed to partially activate this system while displacing nicotine at its sites of action in the brain.
Pharmacokinetics
Well absorbed; unaffected by food. Metabolism:Minimal (<10% of clearance is through metabolism). Excretion:Urine (92% as unchanged drug). Time to Peak:Plasma: ~3 to 4 hours. Half-Life Elimination:~24 hours. Protein Binding:≤20%.
Dosage
Smoking cessation: Oral: Initial: Days 1 to 3: 0.5 mg once daily Days 4 to 7: 0.5 mg twice daily Maintenance (≥ Day 8): 1 mg twice daily for 11 weeks; may consider a temporary or permanent dose reduction if usual dose is not tolerated.
Side effects
nausea , Headache , insomnia , vomiting , irritability , Increased risk of suicidal thinking , rash , Depression , malaise , agitation
Alerts
patients must be cautioned about performing tasks which require mental alertness (eg, operating machinery or driving).
Points of recommendation
Administer after eating and with a full glass of water.
Pregnancy level
HAVE NOT BEEN ESTABLISHED
Tags