Drug information of Daclatasvir
Daclatasvir
Daclatasvir is an antiviral medicine that prevents hepatitis C virus (HCV) from multiplying in your body. Daclatasvir is used to treat genotype 3 chronic hepatitis C in adults without cirrhosis. This medicine is given together with another drug called sofosbuvir.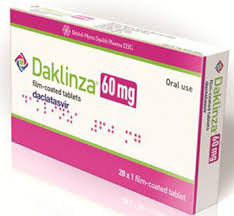 Mechanism of effect
Daclatasvir binds to the N-terminus within Domain 1 of HCV nonstructural protein 5A (NS5A) and inhibits viral RNA replication and virion assembly.
Pharmacodynamic
Daclatasvir does not appear to prolong the QT interval even when given at 3 times the maximum recommended dose
Pharmacokinetics
Studies demonstrated that peak plasma concentrations typically occurred within 2 hours after administration Daclatasvir is estimated to be 99% protein bound. Metabolism:Primarily via CYP3A. Excretion:Feces (88%, 53% unchanged); urine (6.6%, primarily unchanged). Half-Life Elimination:12 to 15 hours.
Dosage
Dosing: Adult Chronic hepatitis C (genotype 1 or 3): Oral: Genotype 1: Without cirrhosis or with compensated (Child-Pugh class A) cirrhosis: 60 mg once daily with concomitant sofosbuvir for 12weeks. Genotype 3: Without cirrhosis: 60 mg once daily with concomitant sofosbuvir for 12 weeks
Interactions
Primidone
,
Daunorubicin
,
Amiodarone
,
Aprepitant
,
Everolimus
,
Topotecan
,
Doxorubicin
,
Phenytoin
,
Carbamazepine
,
Rifabutin
,
Rifapentine
,
Dabigatran
,
ritonavir
,
nelfinavir
,
mitotane
,
carfilzomib
,
Eluxadoline
,
Idelalisib
,
Efavirenz
,
Tipranavir
,
lumacaftor and Ivacaftor
,
Etravirine
,
Dabrafenib
,
Mibefradil
,
Nicardipine
,
cobicistat
,
Delavirdine
,
Desloratadine
,
Apalutamide
,
pexidartinib
,
ELBASVIR/GRAZOPREVIR
,
oleandomycin
,
Fidaxomicin
Alerts
1-Discontinue daclatasvir if other antihepaciviral therapy is permanently discontinued. Not indicated as monotherapy. 2-Bradycardia: When used in combination with sofosbuvir and amiodarone, symptomatic bradycardia (eg, near-fainting, dizziness, lightheadedness, malaise, weakness, excessive tiredness, shortness of breath, chest pain, confusion, or memory problems) has been reported 3-Disease-related concerns:Cardiovascular disease,Hepatic disease
Points of recommendation
1-Oral: Administer with or without food. 2-During therapy: CBC, serum creatinine, calculated GFR, hepatic function panel (after 4 weeks of therapy and as clinically indicated); quantitative HCV viral load testing (after 4 weeks of therapy and at 12 weeks after completion of therapy). If quantitative HCV viral load is detectable at treatment week 4, repeat testing is recommended after 2 additional weeks of treatment (treatment week 6).