Drug information of Doxycycline
Doxycycline
Doxycycline is a tetracycline antibiotic. It fights bacteria in the body. Doxycycline is used to treat many different bacterial infections, such as acne, urinary tract infections, intestinal infections, eye infections, gonorrhea, chlamydia, periodontitis (gum disease), and others. Doxycycline is also used to treat blemishes, bumps, and acne-like lesions caused by rosacea. It will not treat facial redness caused by rosacea. Some forms of doxycycline are used to prevent malaria, to treat anthrax, or to treat infections caused by mites, ticks, or lice.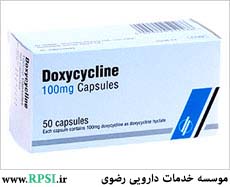 Mechanism of effect
Doxycycline, like minocycline, is lipophilic and can pass through the lipid bilayer of bacteria. Doxycycline reversibly binds to the 30 S ribosomal subunits and possibly the 50S ribosomal subunit(s), blocking the binding of aminoacyl tRNA to the mRNA and inhibiting bacterial protein synthesis.
Pharmacodynamic
Doxycycline, a long-acting tetracycline derived from oxytetracycline, is used to inhibit bacterial protein synthesis.
Pharmacokinetics
Completely absorbed following oral administration. Protein binding: >90%.Metabolism: Hepatic. They are concentrated by the liver in the bile and excreted in the urine and feces at high concentrations in a biologically active form. Half life: 18-22 hours
Drug indications
Urinary tract infection
,
bacterial infection
,
Pneumonia
,
Bronchitis
,
Anthrax Prophylaxis
,
Inhalation Bacillus anthracis
,
Cutaneous Bacillus anthracis
,
Gonococcal Infection - Uncomplicated
,
Chlamydia Infection
,
Nongonococcal Urethritis
,
Malaria
,
Malaria Prophylaxis
,
peritonitis
,
STD Prophylaxis
,
Acne
,
Upper Respiratory Tract Infection
Dosage
Usual Adult Dose for Bacterial Infection
Manufacturers' general recommendations:
IV:
Initial dose: 200 mg IV on the first day, given in 1 or 2 infusions
Maintenance dose: 100 to 200 mg IV per day, depending on the severity of the infection; 200 mg may be given in 1 or 2 infusions
Oral:
Initial dose: 200 mg orally on the first day, given in 2 or 4 divided doses
Maintenance dose: 100 mg orally per day, given once a day or in 2 divided doses
More severe infections: 100 mg orally every 12 hours
Side effects
nausea
,
Headache
,
vomiting
,
allergic reaction
,
Diarrhea
,
Hypertension
,
Cough
,
fever
,
Flu-like symptoms
,
Infections
,
back pain
,
bronchitis
,
toothache
Interactions
Aluminium MGS
,
ampicillin
,
Isotretinoin
,
Tretinoin
,
Aluminium gel
,
Sucralfate
,
Phenytoin
,
Magnesium oxide
,
Magnesium sulfate
,
Sodium bicarbonate
,
Succinylcholine
,
acitretin
,
Carbamazepine
,
Calcium carbonate
,
Cloxacillin
,
Disulfiram
,
Bisoprolol
,
fentanyl
,
Carbenicillin
,
Axitinib
,
Calcium citrate
,
Succinylcholine Chloride
,
Oxacillin
,
Magnesium hydroxide
,
Butalbital and Acetaminophen
,
Iron
,
Iron polysaccharide
,
carbonyl iron
,
aminolevulinic acid oral
,
Aminolevulinic acid topical
,
Aluminium Mg
,
Secobarbital
,
Flibanserin
,
Entrectinib
,
cholera vaccine live
,
Methyl aminolevulinate
,
magnesium chloride
,
Iron Dextran Complex
,
Remdesivir
,
Cannabidiol
,
magnesium citrate
,
Typhoid vaccine (live), oral
,
Avapritinib
,
Bacampicillin
,
Dienestrol
Alerts
THE USE OF DRUGS OF THE TETRACYCLINE CLASS DURING TOOTH DEVELOPMENT (LAST HALF OF PREGNANCY, INFANCY, AND CHILDHOOD TO THE AGE OF EIGHT YEARS) MAY CAUSE PERMANENT DISCOLORATION OF THE TEETH.
Points of recommendation
1-Mechanical oral hygiene procedures (i.e., tooth brushing, flossing) should be avoided on any treated areas for 7 days.
2-Avoid excessive sunlight or artificial ultraviolet light while receiving doxycycline.
3-Doxycycline may decrease the effectiveness of birth control pills.
4-Should be taken at least 1 hour prior to or 2 hours after meals.
5-Avoid missing doses and complete the entire course of therapy.
6-Avoid milk, calcium containing dairy products, iron, antacids, or aluminum salts 2 hours before or 6 hours after using antacids while on this medication.