Drug information of Rifaximin
Rifaximin
Rifaximin is in a class of medications called antibiotics. Rifaximin treats traveler's diarrhea and irritable bowel syndrome by stopping the growth of the bacteria that cause diarrhea. Rifaximin treats hepatic encephalopathy by stopping the growth of bacteria that produce toxins and that may worsen liver disease.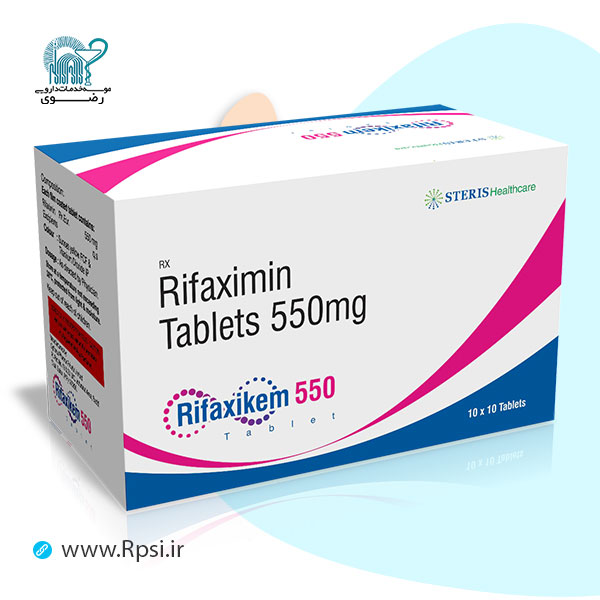 Mechanism of effect
Rifaximin interferes with transcription by binding to the β-subunit of bacterial RNA polymerase. This results in the blockage of the translocation step that normally follows the formation of the first phosphodiester bond, which occurs in the transcription process.
Pharmacodynamic
Rifaximin is a structural analog of rifampin and a non-systemic, gastrointestinal site-specific antibiotic. This non-systemic property of the drug is due to the addition of a pyridoimidazole ring, which renders it non-absorbable.
Rifaximin acts by inhibiting bacterial ribonucleic acid (RNA) synthesis and contributes to restore intestinal microflora imbalance.
Pharmacokinetics
Low absorption in both the fasting state and when administered within 30 minutes of a high-fat breakfast.
Volume of distribution: Not Available
Protein binding:Not Available
Metabolism:
Induces CYP3A4 in hepatocytes in vitro
Approximately 6 hours.
Feces (>90%)
Dosage
Dosage For Travelers' Diarrhea
The recommended dose is one 200 mg tablet taken orally three times a day for 3 days.
Dosage For Hepatic Encephalopathy
The recommended dose is one 550 mg tablet taken orally two times a day.
Dosage For Irritable Bowel Syndrome With Diarrhea
The recommended dose is one 550 mg tablet taken orally three times a day for 14 days.
Alerts
Rifaximin should not be used if you have a fever or bloody diarrhea.
During pregnancy, this medication should be used only when clearly needed.
Antibiotics such as rifaximin will not work for colds, flu, or other viral infections. Taking antibiotics when they are not needed increases your risk of getting an infection later that resists antibiotic treatment.
Rifaximin does not treat all bacterial forms of traveler's diarrhea.
Rifaximin is not effective in diarrhea complicated by fever, hematochezia, or diarrhea due to pathogens other than Escherichia coli.
Rifaximin is not effective against traveler's diarrhea due to Campylobacter jejuni.
Clostridium difficile-associated diarrhea has been reported during administration of this drug.
Efficacy against traveler's diarrhea due to Shigella spp and Salmonella spp not proven.
There is possibility of pseudomembranous colitis with this drug.
Monitor patients with severe hepatic impairment for increased systemic exposure.
Rifaximin may cause live bacterial vaccines (such as typhoid vaccine) not to work as well. Therefore, do not have any immunizations/vaccinations while using this medication without the consent of your doctor.
Discontinue this drug if diarrhea symptoms get worse or persist more than 24 to 48 hours and alternative antibiotic therapy should be considered.
Prescribing rifaximin for travelers' diarrhea in the absence of a proven or strongly suspected bacterial infection or a prophylactic indication is unlikely to provide benefit to the patient and increases the risk of the development of drug-resistant bacteria.
The safety and effectiveness of rifaximin has not been established in pediatric patients less than 12 years of age.
Hypersensitivity reactions have occurred as early as within 15 minutes of drug administration.
Points of recommendation
Before taking rifaximin, tell your doctor or pharmacist if you are allergic to it; or if you have any other allergies. This product may contain inactive ingredients, which can cause allergic reactions or other problems. Talk to your pharmacist for more details.
tell your doctor if you have or have ever had liver disease.
tell your doctor if you are pregnant, plan to become pregnant, or are breastfeeding. If you become pregnant while taking rifaximin, call your doctor.
Read the Patient Information Leaflet if available from your pharmacist before you start taking rifaximin and each time you get a refill. If you have any questions, ask your doctor or pharmacist.
To treat traveler's diarrhea, take this medication by mouth with or without food as directed by your doctor, usually 3 times a day (every 8 hours) for 3 days.
For the best effect, take this antibiotic at evenly spaced times. To help you remember, take this medication at the same time(s) every day.
Tell your doctor if you are still having diarrhea after 1 to 2 days, if you have bloody diarrhea, or if you have a fever along with the diarrhea. Tell your doctor if your condition does not improve or if it worsens.
A very serious allergic reaction to this drug is rare. However, get medical help right away if you notice any symptoms of a serious allergic reaction, including: rash, itching/swelling (especially of the face/tongue/throat), severe dizziness, trouble breathing.
If you are taking rifaximin to treat traveler's diarrhea, your symptoms should improve within 24 to 48 hours after you start taking the medication. If your symptoms do not go away or they get worse, or if you develop a fever or bloody diarrhea, call your doctor.
Keep this medication in the container it came in, tightly closed, and out of reach of children. Store it at room temperature and away from excess heat and moisture (not in the bathroom).
It is not known whether rifaximin passes into breast milk or if it could affect the nursing baby. Tell your doctor if you are breast-feeding.