Drug information of Atazanavir
Atazanavir
Atazanavir is an antiretroviral drug of the protease inhibitor (PI) class. Like other antiretrovirals, it is used to treat infection of human immunodeficiency virus (HIV).
Atazanavir is distinguished from other PIs in that it can be given once-daily (rather than requiring multiple doses per day) and has lesser effects on the patient's lipid profile (the amounts of cholesterol and other fatty substances in the blood). Like other protease inhibitors, it is used only in combination with other HIV medications.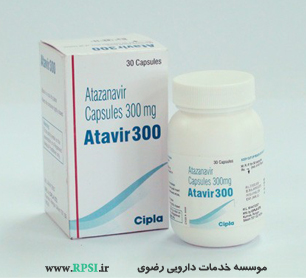 Mechanism of effect
Atazanavir selectively inhibits the virus-specific processing of viral Gag and Gag-Pol polyproteins in HIV-1 infected cells by binding to the active site of HIV-1 protease, thus preventing the formation of mature virions. Atazanavir is not active against HIV-2.
Pharmacodynamic
Atazanavir (ATV) is an azapeptide HIV-1 protease inhibitor (PI) with activity against Human Immunodeficiency Virus Type 1 (HIV-1). HIV-1 protease is an enzyme required for the proteolytic cleavage of the viral polyprotein precursors into the individual functional proteins found in infectious HIV-1. Atazanavir binds to the protease active site and inhibits the activity of the enzyme.
This inhibition prevents cleavage of the viral polyproteins resulting in the formation of immature non-infectious viral particles. Protease inhibitors are almost always used in combination with at least two other anti-HIV drugs. Atazanivir is pharmacologically related but structurally different from other protease inhibitors and other currently available antiretrovirals.
Pharmacokinetics
Absorption
Atazanavir is rapidly absorbed with a Tmax of approximately 2.5 hours. Administration of atazanavir with food enhances bioavailability and reduces pharmacokinetic variability. Oral bioavailability is 60-68%.
Protein binding
86% bound to human serum proteins (alpha-1-acid glycoprotein and albumin). Protein binding is independent of concentration.
Metabolism
Atazanavir is extensively metabolized in humans, primarily by the liver. The major biotransformation pathways of atazanavir in humans consisted of monooxygenation and dioxygenation. Other minor biotransformation pathways for atazanavir or its metabolites consisted of glucuronidation, N-dealkylation, hydrolysis, and oxygenation with dehydrogenation. In vitro studies using human liver microsomes suggested that atazanavir is metabolized by CYP3A.
Half life
Elimination half-life in adults (healthy and HIV infected) is approximately 7 hours (following a 400 mg daily dose with a light meal). Elimination half-life in hepatically impaired is 12.1 hours (following a single 400 mg dose).
Dosage
Treatment-naive
400 mg PO qDay, OR
300 mg PO with 100 mg ritonavir qDay
With 600 mg efavirenz: 400 mg PO with 100 mg ritonavir qDay administered at different times (ritonavir and atazanavir with food in morning; efavirenz on an empty stomach, preferably at bedtime)
Treatment-experienced or with tenofovir
300 mg PO (with ritonavir 100 mg) PO qDay with tenofovir
Oral capsules
6-18 years (treatment naïve and treatment experienced)

<15 kg: Capsules not recommended
15 to <35 kg: 200 mg (+ 100 mg ritonavir) PO qDay
≥35: 300 mg (+ 100 mg ritonavir) PO qDay

≥13 years (treatment naïve and cannot tolerate ritonavir)
Oral powder
≥3 months and weigh ≥5 kg: Oral powder is for use in treatment-naive or treatment-experienced pediatric patients
5 kg to <15 kg: 200 mg (4 packets) plus 80 mg ritonavir PO qDay
15 kg to <25 kg: 250 mg (5 packets) plus 80 mg ritonavir PO qDay
≥25 kg and unable to swallow capsule: 300 mg (6 packets) plus 100 mg ritonavir PO qDay
Side effects
depression
,
Insomnia
,
Diarrhea
,
Headache
,
nausea
,
dizziness
,
vomiting
,
neutropenia
,
fever
,
myalgia
,
Hyper-cholesteremia
,
peripheral nephropathy
,
Abdominal pain
,
Rash
Interactions
Aluminium MGS
,
Drospirenone
,
Sodium bicarbonate
,
Lansoprazole
,
Medroxyprogesterone
,
Midazolam
,
fentanyl
,
Rifapentine
,
Everolimus
,
Budesonide
,
Docetaxel
,
Digoxin
,
Diltiazem
,
Rifampin
,
Quetiapine
,
Alfentanil
,
Mefloquine
,
Ivacaftor
,
Cisapride
,
Cilostazol
,
Verapamil
,
Colchicine
,
eplerenone
,
ergotamine
,
Ranolazine
,
Pitavastatin
,
Axitinib
,
saquinavir
,
Zileuton
,
Dolasetron
,
Eluxadoline
,
sparfloxacin
,
brigatinib
,
nasal Mometasone
,
Copanlisib
,
Simeprevir
,
Dabrafenib
,
Maraviroc
,
Halofantrine
,
Terfenadine
,
Fesoterodine
,
Aluminium Mg
,
aluminum hydroxide/magnesium carbonate
,
Alfuzosin
,
Pazopanib
,
Palbociclib
,
Ixazomib
,
Pimavanserin
,
Tasimelteon
,
Dexlansoprazole
,
trabectedine
,
Duvelisib
,
elagolix
,
Flibanserin
,
Avanafil
,
Entrectinib
,
Miglitol
,
Levomilnacipran
,
ELBASVIR/GRAZOPREVIR
,
Larotrectinib
,
gilteritinib
,
glasdegib
,
Abemaciclib
,
Triphasic
,
Eliglustat
,
Ruxolitinib
,
tolvaptan
,
Benorilate
,
Gefitinib
,
Dasatinib
,
Cannabidiol
,
Blonanserin
,
belinostat
,
vemurafenib
,
voxelotor
,
Avapritinib
,
Capmatinib
,
Abametapir
Alerts
Do not use proton-pump inhibitors in treatment-experienced patients
Discontinue if severe rash; Stevens-Johnson syndrome, erythema multiforme, or toxic skin eruptions reported, including drug rash, eosinophilia, and systemic symptoms (DRESS) syndrome
Redistribution/accumulation of body fat, including central obesity, dorsocervical fat enlargement (buffalo hump), peripheral wasting, facial wasting, breast enlargement, and "cushingoid appearance" have been observed in patients receiving antiretroviral therapy
Spontaneous bleeding may occur and additional factor VIII may be required
Discontinue if severe rash develops
PR interval prolongation may occur in some patients; ECG monitoring should be considered in patients with preexisting conduction system disease or when administered with other drugs that may prolong the PR interval
Most patients experience asymptomatic increases in indirect bilirubin, which is reversible upon discontinuation; do not dose reduce; if concomitant transaminase increase occurs, evaluate for alternative etiologies
Chronic kidney disease in HIV-infected patients treated with atazanavir, with or without ritonavir, has been reported during postmarketing surveillance; consider alternative therapy in patients at high risk for renal disease or with preexisting renal disease; conduct renal laboratory testing (including serum creatinine, estimated creatinine clearance, and urinalysis with microscopic examination) in all patients prior to and during therapy; expert consultation advised for patients who have confirmed renal laboratory abnormalities while on treatment; in patients with progressive kidney disease, consider discontinuing therapy
Nephrolithiasis and cholelithiasis reported; consider temporary interruption or discontinuation
Treatment-experienced patients with prior virologic failure: without ritonavir not recommended
Patients receiving atazanavir may develop new onset or exacerbations of diabetes mellitus/hyperglycemia, immune reconstitution syndrome, and redistribution/accumulation of body fat
Use caution in mild-moderate hepatic impairment
Patients with hepatitis B or C infection are at risk of increased transaminases or hepatic decompensation; monitor hepatic laboratory tests prior to therapy and during treatment
Most patients experience asymptomatic increases in indirect bilirubin, which is reversible upon discontinuation; do not dose reduce; if a concomitant transaminase increase occurs, evaluate for alternative etiologies.
Oral powder contains phenylalanine which can be harmful to patients with phenylketonuria
Points of recommendation
Atazanavir should be taken once daily with food. Swallow the capsule whole.
To give the powder medicine to a child, mix the contents of the packet in a tablespoon of food, milk, or water. Give the entire mixture within one hour of mixing. If you are using water to mix the medicine, give it to your child with food. You may also mix the medicine with infant formula if you are giving the medicine to a baby too young for solid foods. You may use a special dose-measuring spoon or medicine cup to mix the medicine, ask your pharmacist for one.
Give the ritonavir dose to your child immediately after giving the atazanavir powder.
While using atazanavir, you may need frequent blood tests. Your liver function may also need to be checked.
Use atazanavir regularly to get the most benefit. Get your prescription refilled before you run out of medicine completely.
Store at room temperature away from moisture and heat.