Drug information of Peg-interferon alfa 2a
Peg-interferon alfa 2a
Interferon alfa-2a is a protein. Interferons are released in the body in response to viral infections . Interferons are important for fighting viruses in the body, regulating reproduction of cells, and regulating the immune system. It also helps the immune system fight the virus. Pegasys is used to treat chronic hepatitis B or hepatitis C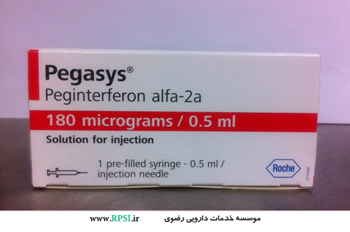 Mechanism of effect
Pegylated recombinant human interferon alfa-2a is an inducer of the innate antiviral immune response. The biological activity of Pegasys is derived from its recombinant human interferon α-2a moiety.
Peginterferon α-2a binds to the human type 1 interferon receptor leading to receptor dimerization.
Receptor dimerization activates multiple intracellular signal transduction pathways initially mediated by the JAK/STAT pathway. This enhances phagocytic activity of macrophages and cytotoxic activity of lymphocytes for target cells
The PEG strand protects the molecule in vivo from proteolytic breakdown, substantially increases its in vivo half-life, and reduces immunogenicity by wrapping around and physically hindering access to the protein portion of the molecule.

Pharmacodynamic
Peg-interferon alfa 2a works by reducing the amount of hepatitis virus in the body via stimulating the production of effector proteins such as serum neopterin and 2', 5'-oligoadenylate synthetase.
Pharmacokinetics
Absorption: Following a single subcutaneous injection of Pegasys 180 micrograms in healthy subjects, serum concentrations of peginterferon alfa-2a are measurable within 3 to 6 hours. Within 24 hours, about 80% of the peak serum concentration is reached. The absorption of Pegasys is sustained with peak serum concentrations reached 72 to 96 hours after dosing. The absolute bioavailability of Pegasys is 84%.
Distribution: Peginterferon alfa-2a is found predominantly in the bloodstream and extracellular fluid as seen by the volume of distribution at steady-state (Vd) of 6 to 14 litres in humans after intravenous administration.
Biotransformation: The metabolism of Pegasys is not fully characterised; however studies in rats indicate that the kidney is a major organ for excretion of radiolabelled material.
Elimination: In humans, the systemic clearance of peginterferon alfa-2a is about 100-fold lower than that of the native interferon alfa-2a. After intravenous administration, the terminal half-life of peginterferon alfa2a in healthy subjects is approximately 60 to 80 hours compared to values of 3-4 hours for standard interferon. The terminal half-life after subcutaneous administration in patients is longer with a mean value of 160 hours

Dosage
In adult patients with chronic hepatitis C (CHC) or chronic hepatitis B(CHB), PEGASYS is dosed as 180 mcg per week and the durationof treatment depends on indication, genotype, and whether it is administered with other HCV antiviral drugs.
In pediatric patients with CHC , PEGASYS is dosed as 180 mcg/1.73 m2 x BSA per week, in combination with ribavirin, and the duration of treatment depends on genotype.

Alerts
Once you have started Pegasys treatment, talk to your doctor, nurse or pharmacist:
if you develop symptoms associated with depression (e.g. feelings of sadness, dejection, etc.)
if you notice a change in your vision.
if you develop symptoms associated with a cold or other respiratory infection (such as cough, fever or any difficulty in breathing).
if you think you are getting an infection (such as pneumonia) as when receiving Pegasys you may temporarily have a greater risk of getting an infection.
if you develop any signs of bleeding or unusual bruising, check with your doctor immediately.
if you develop signs of a severe allergic reaction (such as difficulty in breathing, wheezing or hives) while on this medication, seek medical help immediately.

Points of recommendation
• Dental and gum disorders, which may lead to loss of teeth, have been reported in patients receiving Pegasys and ribavirin combination therapy. In addition, dry mouth could have a damaging effect on teeth and membranes of the mouth during long-term treatment with the combination of Pegasys with ribavirin. You should brush your teeth thoroughly twice daily and have regular dental examinations. In addition some patients may experience vomiting. If you have this reaction, be sure to rinse your mouth thoroughly afterwards.
• Drinking extra fluids while you are taking peginterferon alfa-2a is recommended. • Do not shake peginterferon alfa-2a.
• Patients must have a negative pregnancy test prior to therapy, use 2 forms of effective contraception, and have monthly pregnancy tests.
• Advise patient to rotate injection site.
• Instruct patient to avoid drinking alcohol to reduce the chance of further liver injury.