Drug information of Pyrimethamine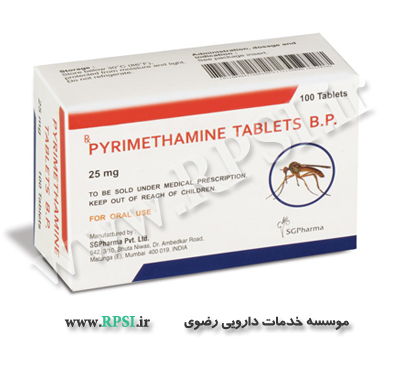 Mechanism of effect
Pyrimethamine is an antiparasitic and Folic acid antagonist . It works by killing the parasites or preventing their growth.
Pharmacodynamic
Pyrimethamine prevents parasites from producing important proteins by blocking the use of folic acid which is necessary for the production of proteins. Preventing parasites from producing important proteins prevents growth and development of new parasites.
Pharmacokinetics
Onset : ~1 hr
Absorption : well absorbed
Distribution : widely, mainly in blood cells, kidneys, lungs, liver, & spleen; crosses into CSF; crosses placenta; enters breast milk
Protein Bound : 80-87%
Metabolism : hepatic
Half-life elimination : 80-95 hr
Peak Plasma Time : 1.5-8 hr
Excretion : urine (20-30% as unchanged drug)

Dosage
Toxoplasmosis treatment :
For the treatment of toxoplasmosis the recommended adult starting dose is 50 to 75 mg of pyrimethamine daily with 1 to 4 g daily of a sulfonamide for 1 to 3 weeks depending on the response of the patient and tolerance to therapy. The dosage of each drug should be reduced by half then continued for an additional 4 to 5 weeks.
Acute malaria treatment : For treatment of acute malaria the dose is 25 to 50 mg daily for 2 days with a sulfonamide though chloroquine or quinine are preferred for treatment of acute malaria.
Malaria prevention :
For preventing malaria the recommended dose for adults and children over 10 years of age is 25 mg once weekly, and for children 4 through 10 years of age the dose is 12.5 mg (1/2 tablet) once weekly. Infants and children under 4 years of age should receive 6.25 mg (1/4 tablet) once weekly.

Alerts
• Megaloblastic anemia, leukopenia, thrombocytopenia, neutropenia, and pancytopenia reported with high doses; monitor CBC and platelets twice weekly in patients receiving high dose therapy
• Use caution in patients with possible folate deficiency, including pregnancy, malabsorption syndrome, and alcoholism
• Use with caution in patients with G6PD deficiency
• Use with caution in hepatic/renal impairment and history of seizure disorders

Points of recommendation
• Pyrimethamine may be taken with or without food. If stomach upset occurs, take with food to reduce stomach irritation.
• Administer with leucovorin, especially at high doses, to prevent hematologic complications, due to pyrimethamine-induced folic acid deficiency; continue leucovorin during therapy and for 1 week after discontinuing therapy
• Continue using pyrimethamine for the full course of treatment even if you feel better in a few days.