Drug information of Peginterferon alfa-2b
Peginterferon alfa-2b
Peginterferon alfa-2b is a form of recombinant interferon used as part of combination therapy to treat chronic Hepatitis C, an infectious liver disease caused by infection with Hepatitis C Virus (HCV).
HCV is a single-stranded RNA virus that is categorized into nine distinct genotypes, with genotype 1 being the most common in the United States, and affecting 72% of all chronic HCV patients. Treatment options for chronic Hepatitis C have advanced significantly since 2011, with the development of Direct Acting Antivirals (DAAs) resulting in less use of Peginterferon alfa-2b.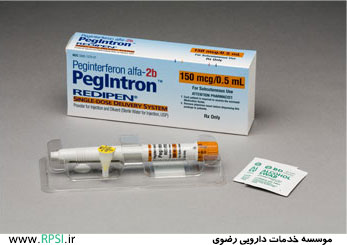 Mechanism of effect
Peginterferon alfa-2b is derived from recombinant human interferon's alfa-2b moeity . It binds to and activates human type 1 interferon receptors causing them to dimerize. This activates the JAK/STAT pathway.
Activation of the JAK/STAT pathway increases expression of multiple genes in multiple tissues involved in the innate antiviral response. Peginterferon alfa-2b may also acitvate the nuclear factor κB pathway.
Pharmacodynamic
Peginterferon alfa-2b inhibits viral replication in infected cells, suppresses cell proliferation, induces apoptosis, and exerts an anti-angiogenic effect. Exerts immunomodulatory effects such as enhancement of the phagocytic activity of macrophages, activation of NK cells, stimulation of cytotoxic T-lymphocytes, and the upregulation of the Th1 T-helper cell subset.
Also increases concentrations of effector proteins such as serum neopterin and 2'5' oligoadenylate synthetase, raises body temperature, and causes reversible decreases in leukocyte and platelet counts.
Pharmacokinetics
Absorption
Half-life: 4.6 hr
Peak plasma time: 15-44 hr
Metabolism
Conjugation with polyethylene glycol slows metabolism
Elimination
Half-life: 40 hr
Excretion: Urine (30%)
Dosage
Adult
Chronic Hepatitis C
Peginterferon is not recommended as monotherapy for any patient group
Genotypes 1, 4, 5, or 6
Peginterferon alfa 2b + ribavirin + sofosbuvir (preferred regimen)
1.5 mcg/kg/Week SC; not to exceed 150 mcg/week, PLUS
Ribavirin PO 1000-1200 mg/day (based on body weight) plus sofosbuvir 400 mg PO qDay
Treat for 12 weeks (treatment-naive or relapsed); for nonresponders, may extend treatment of PEG/RBV to 24 weeks
Reduce ribavirin dose if CrCl ≤50 mL/min
Alternative regimens
Genotype 1: Simeprevir 150 mg/day x 12 weeks + PEG/RBV x 24 weeks
Genotype 3: Sofosbuvir + PEG/RBV x 12 weeks
Genotype 4: Simeprevir 150 mg/day x 12 weeks + PEG/RBV x 24-48 weeks
Genotypes 5 and 6: PEG/RBV x 48 weeks
Melanoma
6 mcg/kg/week SC for 8 doses, THEN
3 mcg/kg/week SC for up to 5 years
Pediatric
Chronic Hepatitis C
<3 years: Safety and efficacy not established
3-17 years: 60 mcg/m² SC qWeek (+ ribavirin 15 mg/kg/day PO divided q12hr); administer on same day each week
Side effects
Sinusitis
,
anemia
,
depression
,
Anxiety
,
Pain
,
liver
,
Diarrhea
,
Headache
,
weight decrease
,
nausea
,
dizziness
,
vomiting
,
flushing
,
fever
,
hypothyroidism
,
myalgia
,
Injection-site reaction
,
anorexia
,
Proteinuria
,
itching
,
dry skin
,
tiredness
,
shortness of breath
,
Abdominal pain
,
thrombocytopenia
,
indigestion
,
Rash
Interactions
Mexiletine
,
Dorzolamide and timolol
,
Atomoxetine
,
Aripiprazole
,
Amitriptyline
,
Ibuprofen
,
Imipramine
,
Indomethacin
,
Celecoxib
,
nateglinide
,
Mirtazapine
,
Tolbutamide
,
glyburide
,
Palonosetron
,
chlorpropamide
,
Torsemide
,
Tamoxifen
,
Amoxapine
,
protriptyline
,
codeine
,
Methamphetamine
,
ritonavir
,
Voriconazole
,
Chlorpromazine
,
Clomipramine
,
Flecainide
,
Zidovudine
,
Glipizide
,
Metoprolol
,
Montelukast
,
Nortriptyline
,
Haloperidol
,
Warfarin
,
Venlafaxine
,
Phenytoin
,
Glimepiride
,
Lamivudine
,
Losartan
,
Maprotiline
,
Methadone
,
Ranitidine
,
Risperidone
,
Zafirlukast
,
Sertraline
,
Fluvoxamine
,
Fluoxetine
,
Thioridazine
,
Dapsone
,
Desipramine
,
Duloxetine
,
Doxepin
,
Diclofenac
,
Theophyline
,
Trazodone
,
Tramadol
,
Trimipramine
,
Tolterodine
,
Timolol
,
Bosentan
,
Paroxetine
,
perphenazine
,
Propafenone
,
Propranolol
,
Promethazine
,
Telbivudine
,
Remdesivir
,
sirukumab
Alerts
Alfa interferons cause or aggravate fatal or life-threatening neuropsychiatric, autoimmune, ischemic, and infectious disorders
The risk of serious depression, with suicidal ideation and completed suicides, and other serious neuropsychiatric disorders are increased with alpha interferons
Discontinue drug if persistently severe or worsening signs or symptoms of the above conditions are present; disorders typically resolve after stopping therapy
These disorders may not resolve after the drug is discontinued
Monitored closely with periodic clinical and laboratory evaluations
Combination therapy with ribavirin
Ribavirin may cause birth defects and/or fetal death
Extreme care must be taken to avoid pregnancy in women taking peginterferon alfa-2a and in female partners of men taking peginterferon alfa-2a
Ribavirin causes hemolytic anemia; associated anemia may result in worsening of cardiac disease
Because ribavirin is genotoxic and mutagenic, consider it a potential carcinogen
Points of recommendation
Tell your doctor if you have signs of high blood sugar like confusion, feeling sleepy, more thirst, more hungry, passing urine more often, flushing, fast breathing, or breath that smells like fruit.
If you have high blood sugar (diabetes), you will need to watch your blood sugar closely.
Have blood work checked as you have been told by the doctor. Talk with the doctor.
You may have more chance of getting an infection. Wash hands often. Stay away from people with infections, colds, or flu.
You may bleed more easily. Be careful and avoid injury. Use a soft toothbrush and an electric razor.
Take good care of your teeth. See a dentist often.
If you throw up, rinse your mouth out well.
Avoid drinking alcohol while taking peginterferon alfa-2b .
Very bad and sometimes deadly pancreas problems (pancreatitis) have happened with peginterferon alfa-2b. This could happen at any time during care. Signs of pancreatitis include very bad stomach pain, very bad back pain, or very upset stomach or throwing up. Call your doctor right away if you have any of these signs.
A very bad skin reaction (Stevens-Johnson syndrome/toxic epidermal necrolysis) may happen. It can cause very bad health problems that may not go away, and sometimes death. Get medical help right away if you have signs like red, swollen, blistered, or peeling skin (with or without fever); red or irritated eyes; or sores in your mouth, throat, nose, or eyes.
Very bad and sometimes deadly liver problems have happened with peginterferon alfa-2b . Call your doctor right away if you have signs of liver problems like dark urine, feeling tired, not hungry, upset stomach or stomach pain, light-colored stools, throwing up, or yellow skin or eyes.
Tell your doctor if you take a drug that has caffeine, or you eat or drink products that have caffeine, like tea, coffee, cola, or chocolate.
This medicine may affect growth in children and teens in some cases. They may need regular growth checks. Talk with the doctor.
Tell your doctor if you are pregnant or plan on getting pregnant. You will need to talk about the benefits and risks of using peginterferon alfa-2b (sylatron) while you are pregnant.
Tell your doctor if you are breast-feeding. You will need to talk about any risks to your baby.
It is given as a shot into the fatty part of the skin.
Your doctor may teach you how to give the shot.
Give the weekly shot at bedtime to lower the flu-like signs.
Acetaminophen may be given to lower fever and chills.
Drink lots of noncaffeine liquids unless told to drink less liquid by your doctor.
Wash your hands before and after use.
Do not shake.
Do not use if the solution is cloudy, leaking, or has particles.
Do not use if solution changes color.
Move the site where you give the shot with each shot.
Throw syringe away after use. Do not use the same syringe more than one time.