Drug information of Lincomycin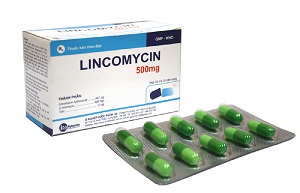 Mechanism of effect
Lincomycin inhibits protein synthesis in susceptible bacteria by binding to the 50 S subunits of bacterial ribosomes and preventing peptide bond formation upon transcription. It is usually considered bacteriostatic, but may be bactericidal in high concentrations or when used against highly susceptible organisms.
Pharmacokinetics
Bioavailability: 20-30%
Peak plasma time: 2-4 hr (PO); 30-60 min (IM)
Peak plasma concentration: 1.8-5.3 mcg/mL (500 mg PO); 9.3-18.5 mcg/mL (600 mg IM)
Distribution: Distributed in many body tissues and fluids (including peritoneal fluid, pleural fluid, synovial fluid, bone, bile, aqueous humor eye), poorly in CSF (but in presence of inflamed meninges, low concentration diffuses), readily crosses the placenta, distributed in milk
Protein Bound: 5 mcg/mL: 72%, 1 mcg/mL: 57%
Metabolism: Hepatic
Half-life: 4-6.4 hr
Excretion: 4-14% urine (IV/IM); 1.8-30.3% urine (IV/IM)
Dosage
Adult
Susceptible Infections
IM: 600 mg q12-24hr
IV: 600-1000 mg q8-12hr; not to exceed 8 g/day
Renal Impairment, severe: 25-30% of usual dose
Pediatric
Susceptible Infections
<1 month old
Safety & efficacy not established
>1 month old
IV: 10-20 mg/kg/day divided q8-12hr
IM: 10 mg/kg q12-24hr
Drug contraindications
Hypersensitivity to lincomycin or clindamycin
Side effects
Headache
,
nausea
,
abdominal pain
,
vomiting
,
Angioedema
,
vertigo
,
Diarrhea
,
urticaria
,
Pain
,
itching
,
jaundice
,
Agranulocytosis
,
swelling
,
swelling of the tongue
,
Leukopenia
,
thrombocytopenia
,
vaginitis
,
Rash
,
local thrombophlebitis
Nausea, Vomiting, Diarrhea, Abdominal pain, Tenesmus, Glossitis, Stomatitis, Pruritus, Angioedema, Serum sickness and anaphylactic or anaphylactoid reactions, Rash, Urticaria, Vaginitis, Exfoliative/vesiculobullous dermatitis, Erythema multiforme, Thrombophlebitis, Erythema, Pain, Swelling, Transient increases in serum bilirubin, alkaline phosphatase, & AST (SGOT) concentrations, Jaundice, Transient leukopenia, neutropenia, eosinophilia , Thrombocytopenia, Agranulocytosis, Headache, Myalgia, Tinnitus, Dizziness, Vertigo
Alerts
Not for gram-positive bacteria
Discontinue if persistent diarrhea occurs
History of GI disease (colitis), asthma or allergies
Parenteral form contains benzyl alcohol; risk of benzyl alcohol toxicity depends on quantity administered and liver and kidneys' capacity to detoxify the chemical; AAP states the small amounts doesn't proscribe it in neonates
Severe hypersensitivity reactions, including anaphylactic reactions and severe cutaneous adverse reactions (SCAR) such as Stevens-Johnson syndrome (SJS), toxic epidermal necrolysis (TEN), acute generalized exanthematous pustulosis (AGEP), and erythema multiforme (EM) reported; if anaphylactic reaction or severe skin reaction occurs, discontinue drug and initiate appropriate therapy
Certain infections may require incision and drainage or other indicated surgical procedures in addition to antibacterial therapy
Drug should not be injected intravenously undiluted as a bolus, but should be infused over at least 60 minutes as directed
Prescribing drug in absence of a proven or strongly suspected bacterial infection or a prophylactic indication is unlikely to provide benefit to patient and increases risk of development of drug-resistant bacteria
Therapy may result in overgrowth of nonsusceptible organisms—particularly yeasts; should superinfections occur, appropriate measures should be taken as indicated by clinical situation; when patients with pre-existing monilial infections require therapy with lincomycin, concomitant antimonilial treatment should be given
Serum half-life of lincomycin may be prolonged in patients with severe impairment of renal function compared to patients with normal renal function; in patients with abnormal hepatic function, serum half-life may be twofold longer than in patients with normal hepatic function
Black Box Warnings
Pseudomembranous colitis may range from severe to mild to life-threatening
Reserve use for serious infections only
Do not use this drug in patients with nonbacterial infections
Clostridium difficile-associated diarrhea (CDAD) should be considered in patients who present with diarrhea following antibiotic use; C difficile produces toxins A and B, which contribute to the development of CDAD
Hypertoxin-producing strains of C difficile caused increased morbidity and mortality, as these infections can be refractory to antimicrobial therapy and may require colectomy
If CDAD is suspected or confirmed, ongoing antibiotic use not directed against C difficile may need to be discontinued
Appropriate fluid and electrolyte management, protein supplementation, antibiotic treatment of C difficile, and surgical evaluation should be instituted as clinically indicated
Points of recommendation
Use this medicine for the full prescribed length of time, even if your symptoms quickly improve. Skipping doses can increase your risk of infection that is resistant to medication. Lincomycin will not treat a viral infection such as the flu or a common cold.
Call your doctor at the first sign of diarrhea during and shortly after your treatment with lincomycin.
If you use this medicine long-term, you may need frequent medical tests. If you need surgery, tell the surgeon ahead of time that you are using lincomycin.
Store at room temperature away from heat.