Drug information of Efavirenz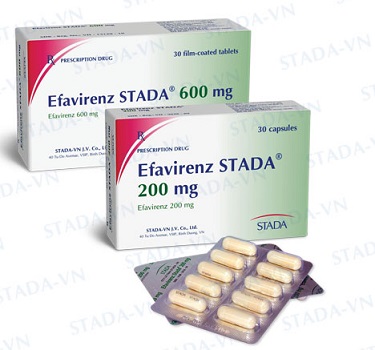 Mechanism of effect
Similar to zidovudine, efavirenz inhibits the activity of reverse transcriptase. Antiviral activity of efavirenz is dependent on intracellular conversion to the active triphosphorylated form. The rate of efavirenz phosphorylation varies, depending on cell type.
It is believed that inhibition of reverse transcriptase interferes with the generation of DNA copies of viral RNA, which, in turn, are necessary for synthesis of new virions. Intracellular enzymes subsequently eliminate the HIV particle that previously had been uncoated, and left unprotected, during entry into the host cell. Thus, reverse transcriptase inhibitors are virustatic and do not eliminate HIV from the body.
Pharmacodynamic
Human DNA polymerase is less susceptible to the pharmacologic effects of triphosphorylated efavirenz, this action may nevertheless account for some of the drug's toxicity.
Pharmacokinetics
Peak Plasma Time: 2.5-4 hr
Metabolized by liver CYP3A4 and CYP2B6
Inhibits: CYP2C9; CYP2C19, and CYP3A4 (in vitro)
Induces: CYP3A4 (in vivo)
Half-Life: 41 hr ± 20 hr
Excretion: Urine (14-34%); feces (16-61%)
Protein binding: 99% (albumin)
Dosage
Adult
HIV Infection
600 mg PO qDay; used in combination with protease inhibitor and/or NRTIs
Pediatric
HIV Infection
Investigational dosing for 3 months to <3 years based on CYP 2B6 genotype
Extensive metabolizers (ie, CYP 2B6 516 GG and GT genotype)

3 to <5 kg: 200 mg PO qDay
5 to <7 kg: 300 mg PO qDay
7 to <14 kg: 400 mg PO qDay
14 to <17 kg: 500 mg PO qDay
≥17 kg: 600 mg PO qDay

Slow metabolizers (ie, CYP 2B6 516 TT genotype)

3 to <7 kg: 50 mg PO qDay
7 to <14 kg: 100 mg PO qDay
≥14kg: 150 mg PO qDay

≥3 years

10 to <15 kg: 200 mg PO qDay
15 to <20 kg: 250 mg PO qDay
20 to <25 kg: 300 mg PO qDay
25 to <32.5 kg: 350 mg PO qDay
32.5 to <40 kg: 400 mg PO qDay
≥40 kg: 600 mg PO qDay
Side effects
depression
,
Anxiety
,
Insomnia
,
Diarrhea
,
nausea
,
vomiting
,
vertigo
,
dyspepsia
,
fever
,
anorexia
,
itching
,
hallucinations
,
difficulty urinating
,
Abdominal pain
,
Rash
Interactions
Bromocriptine
,
Sevoflurane
,
Medroxyprogesterone
,
Midazolam
,
Caspofungin
,
Pentamidine
,
Prochlorperazine
,
Ziprasidone
,
Mipomersen
,
Histrelin
,
protriptyline
,
ISOPROTERENOL
,
saquinavir
,
nevirapine
,
eletriptan
,
Meglumine Compound
,
Dolasetron
,
Palonosetron
,
sparfloxacin
,
Mesoridazine
,
Dofetilide
,
Goserelin
,
Anagrelide
,
Promazine
,
Triazolam
,
Vasopressin
,
Dienogest
,
Amiodarone
,
Erythromycin
,
Everolimus
,
Irinotecan
,
Tacrolimus
,
Deflazacort
,
neratinib
,
nateglinide
,
stiripentol
,
silodosin
,
Venetoclax
,
lumefantrine
,
Abemaciclib
,
Ceritinib
,
Elvitegravir
,
rilpivirine
,
bosutinib
,
tolvaptan
,
Doravirine
,
trabectedine
,
Apalutamide
,
Sonidegib
,
Cabozantinib
,
Cariprazine
,
Apremilast
,
Atovaquone
,
Alfuzosin
,
Ergoloid Mesylate
,
Perampanel
,
Ixazomib
,
Eltrombopag
,
Nisoldipine
,
cobicistat
,
Delavirdine
,
Fostamatinib
,
Terfenadine
,
Parecoxib
,
Copanlisib
,
Etravirine
,
Dolutegravir
,
Ribociclib
,
Fosphenytoin
,
Idelalisib
,
Ivacaftor
,
brigatinib
,
Regorafenib
,
pomalidomide
,
vandetanib
,
Osimertinib
,
Sertindole
,
Indinavir
,
Panobinostat
,
astemizole
,
Lomitapide
,
Ethinyl Estradiol
,
Axitinib
,
dronedarone
,
Ivabradine
,
Daclatasvir
,
ergotamine
,
ergonovine
,
Ranolazine
,
Praziquantel
,
Darunavir
,
Voriconazole
,
Cabergoline
,
Carbamazepine
,
Carvedilol
,
Clopidogrel
,
Enzalutamide
,
Dihydroergotamine
,
Sirolimus
,
Cisapride
,
Lovastatin
,
Methylergonovin
,
Warfarin
,
Simeprevir
,
lumacaftor and Ivacaftor
,
Ulipristal
,
Dabrafenib
,
Netilmicin
,
Maraviroc
,
Halofantrine
,
Grepafloxacin
,
Sofosbuvir and velpatasvir
,
Abarelix
,
Asenapine
,
Erdafitinib
,
Perflutren
,
tezacaftor/ivacaftor
,
Pitolisant
,
Entrectinib
,
Istradefylline
,
atovaquone/proguanil
,
Lopinavir and Ritonavir
,
ELBASVIR/GRAZOPREVIR
,
gilteritinib
,
glasdegib
,
Triphasic
,
Romidepsin
,
Bepridil
,
bedaquiline
,
Gefitinib
,
Dasatinib
,
Remdesivir
,
Cannabidiol
,
rolapitant
,
voxelotor
,
Netupitant
,
Ombitasvir, Paritaprevir, and Ritonavir
,
Capmatinib
,
Bromazepam
,
Dienestrol
Alerts
Hepatic impairment; not recommended for patients with moderate or severe hepatic impairment because there are insufficient data to determine whether dose adjustment is necessary
Monitor liver function tests before and during treatment in patients with underlying hepatic disease, including hepatitis B or C coinfection, marked transaminase elevations, or who are taking medications associated with liver toxicity; among reported cases of hepatic failure, a few occurred in patients with no pre-existing hepatic disease; weigh risk/benefit if AST/ALT >5 xULN; discontinue therapy if elevation of serum transaminases is accompanied by clinical signs or symptoms of hepatitis or hepatic decompensation
Redistribution of fat may occur (cushingoid appearance)
Risk of serious psychiatric events (eg, depression, suicidality, paranoia, manic episodes); immediate medical evaluation recommended for serious psychiatric symptoms such as severe depression or suicidal ideation.
CNS symptoms reported (eg, dizziness, insomnia, impaired concentration, somnolence, abnormal dreams, and hallucinations); nervous system symptoms (NSS) are frequent and usually begin 1-2 days after initiating therapy and resolve in 2-4 weeks; dosing at bedtime may improve tolerability; NSS are not predictive of onset of psychiatric symptoms
Risk of skin rash - discontinue if severe rash associated wtih blistering, desquamation, mucosal involvement, or fever
Use caution in history of seizures
Total cholesterol and triglyceride elevations may occur; monitor before therapy and periodically thereafter
Women should avoid pregnancy; use 2 forms of contraception including a barrier method; postmarketing reports of contraceptive failure in patients on efavirenz while on an implantable hormonal contraceptive; avoid administration in first trimester of pregnancy as fetal harm may occur
Risk of immune reconstitution syndrome if used in combination with other antiretroviral drugs; immune reconstitution syndrome may necessitate further evaluation and treatment
Autoimmune disorders (eg, Graves' disease, polymyositis, Guillain-Barré syndrome) reported in the setting of immune reconstitution, however, the time to onset is more variable, and can occur many months after initiation of treatment
Not for use as a single agent or add on as a sole agent to a failing regimen; consider potential for cross-resistance when choosing other agents
Not recommended with ATRIPLA, which contains efavirenz, emtricitabine, and tenofovir disoproxil fumarate, unless needed for dose adjustment when coadministered with rifampin
Consider alternatives in patients taking other medications with known risk of Torsade de Pointes or in patients at higher risk of Torsade de Pointes
Points of recommendation
Avoid driving and doing other tasks or actions that call for you to be alert until you see how this medicine (efavirenz tablets) affects you.
Do not run out of this medicine (efavirenz tablets).
Have blood work checked as you have been told by the doctor. Talk with the doctor.
This medicine may affect certain lab tests. Tell all of your health care providers and lab workers that you take this medicine (efavirenz tablets).
Talk with your doctor before you drink alcohol or use other drugs and natural products that slow your actions.
This medicine is not a cure for HIV. Stay under the care of your doctor.
This medicine does not stop the spread of diseases like HIV or hepatitis that are passed through blood or having sex. Do not have any kind of sex without using a latex or polyurethane condom. Do not share needles or other things like toothbrushes or razors. Talk with your doctor.
This medicine may raise the chance of seizures in some people, including people who have had seizures in the past. Talk to your doctor to see if you have a greater chance of seizures while taking this medicine (efavirenz tablets).
A type of abnormal heartbeat (prolonged QT interval) can happen with this medicine (efavirenz tablets). Call your doctor right away if you have a fast heartbeat, a heartbeat that does not feel normal, or if you pass out.
Changes in your immune system can happen when you start taking drugs to treat HIV. If you have an infection that you did not know you had, it may show up when you take this medicine (efavirenz tablets). Tell your doctor right away if you have any new signs after you start this medicine (efavirenz tablets), even after taking it for several months. This includes signs of infection like fever, sore throat, weakness, cough, or shortness of breath.
If you are able to get pregnant, a pregnancy test will be done to show that you are NOT pregnant before starting this medicine (efavirenz tablets). Talk with your doctor.
This medicine may cause harm to the unborn baby if you take it while you are pregnant.
Use birth control that you can trust to prevent pregnancy while taking this medicine (efavirenz tablets) and for 3 months after care ends.
Birth control pills and other hormone-based birth control may not work as well to prevent pregnancy. Use some other kind of birth control also like a condom when taking this medicine (efavirenz tablets) and for 3 months after your last dose.
If you get pregnant while taking this medicine (efavirenz tablets) or within 3 months after your last dose, call your doctor right away.
Do not breast-feed if you have HIV disease unless your doctor tells you to.
Children: If your child's weight changes, talk with the doctor. The dose of this medicine (efavirenz tablets) may need to be changed.
Take this medicine (efavirenz tablets) at bedtime.
Take on an empty stomach.
Take with a full glass of water.
Swallow whole. Do not chew or crush.
Do not split or break tablet.
If you have trouble swallowing, talk with your doctor.
This medicine interacts with many other drugs. The chance of this medicine (efavirenz tablets)'s side effects may be raised or how well this medicine (efavirenz tablets) works may be lowered. The chance of the other drugs' side effects may also be raised. This may include very bad, life-threatening, or deadly side effects. Check with your doctor and pharmacist to make sure that it is safe for you to take this medicine (efavirenz tablets) with all of your other drugs (prescription or OTC, natural products, vitamins).
It is important that you do not miss or skip a dose of this medicine (efavirenz tablets) during treatment.
Keep taking this medicine (efavirenz tablets) as you have been told by your doctor or other health care provider, even if you feel well.
Take a missed dose as soon as you think about it.
If it is close to the time for your next dose, skip the missed dose and go back to your normal time.
Do not take 2 doses at the same time or extra doses.