Drug information of mitotane
mitotane
A derivative of the insecticide dichlorodiphenyldichloroethane that specifically inhibits cells of the adrenal cortex and their production of hormones. It is used to treat adrenocortical tumors and causes CNS damage, but no bone marrow depression.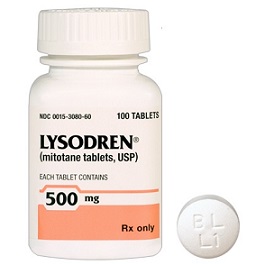 Mechanism of effect
Its biochemical mechanism of action is unknown, although data are available to suggest that the drug modifies the peripheral metabolism of steroids as well as directly suppressing the adrenal cortex.
Pharmacodynamic
Mitotane is an oral chemotherapeutic agent indicated in the treatment of inoperable adrenal cortical carcinoma of both functional and nonfunctional types. Mitotane can best be described as an adrenal cytotoxic agent, although it can cause adrenal inhibition, apparently without cellular destruction.
The administration of Mitotane alters the extra-adrenal metabolism of cortisol in man; leading to a reduction in measurable 17-hydroxy corticosteroids, even though plasma levels of corticosteroids do not fall. The drug apparently causes increased formation of 6-B-hydroxyl cortisol.
Pharmacokinetics
Absorption: About 40%
Peak plasma time: 3-5 hr
Protein binding : 6%
Distribution : Widely distributed with primary concentration in adipose tissue
Half life :18-159 days
Metabolism :Hepatic and renal. Partly converted to an uncharacterized water-soluble metabolite
Excretion
10% urine (PO); 25% urine (IV); excreted in urine as water-soluble metabolite
Small amounts in bile
Balance stored in tissues
Dosage
Adrenal Carcinoma
Initial: 2-6 g/day PO divided q6-8hr, THEN
Increase incrementally to 9-10 g/day divided q6-8hr
Cushing's Syndrome (Off-label)
Initial: 1.5 g PO divided q6-8hr; not to exceed 3 g PO q8hr
Maintenance: 500 mg 2 x/week to 2 g/day
Adrenocortical Carcinoma (Off-label)
1-2 g/day PO in divided dose; may increase gradually not to exceed 5-7 g/day
Interactions
Everolimus
,
Irinotecan
,
Tacrolimus
,
Deflazacort
,
Nilotinib
,
Nimodipine
,
Rivaroxaban
,
Daclatasvir
,
Ranolazine
,
Quetiapine
,
Felbamate
,
brigatinib
,
Copanlisib
,
Trilostane
,
lumacaftor and Ivacaftor
,
Ulipristal
,
Fostamatinib
,
Apremilast
,
Palbociclib
,
Acalabrutinib
,
Maraviroc
,
Nintedanib
,
cobicistat
,
Delavirdine
,
Sofosbuvir and velpatasvir
,
Ivabradine
Alerts
Administered under the supervision of an experienced cancer chemotherapy physician in a facility equipped to manage complications
The drug suppresses adrenal function; stop therapy temporarily after shock or severe trauma and administer exogenous steroids since the drug depressed adrenal function may not immediately return
Points of recommendation
Have blood work checked as you have been told by the doctor. Talk with the doctor.
If you have upset stomach, throwing up, loose stools (diarrhea), or are not hungry, talk with your doctor. There may be ways to lower these side effects.
You may have more chance of getting an infection. Wash hands often. Stay away from people with infections, colds, or flu.
If you are taking warfarin, talk with your doctor. You may need to have your blood work checked more closely while you are taking it with
This medicine may cause high cholesterol and triglyceride levels. Talk with the doctor.
This medicine may affect growth in children and teens in some cases. They may need regular growth checks. Talk with the doctor.
This medicine may cause harm to the unborn baby or loss of the unborn baby if you take it while you are pregnant.
Use birth control that you can trust to prevent pregnancy while you take this medicine. You will also need to use it after you stop mitotane until there is no more of this medicine in your body. Talk with your doctor to see how long you need to use birth control after you stop
If you get pregnant while taking this medicine or within several months after the last dose, call your doctor right away.
What do I do if I miss a dose?
Take a missed dose as soon as you think about it.
If it is close to the time for your next dose, skip the missed dose and go back to your normal time.
Do not take 2 doses at the same time or extra doses.