Drug information of Bacitracin
Bacitracin
Polypeptide antibiotic; used against gram-positive bacteria usually topically with neomycin and polymyxins to prevent superficial skin and eye infections; oral bacitracin is an orphan drug for pseudomembranous colitis; IV administration should be avoided due to serious nephrotoxicity.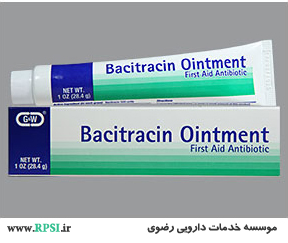 Mechanism of effect
Bacitracin intereferes with the dephosphorylation of the 55-carbon, biphosphate lipid transport molecule C55-isoprenyl pyrophosphate (undecaprenyl pyrophosphate), which carries the building blocks of the peptidoglycan bacterial cell wall outside the inner membrane for construction. Bacitracin binds divalent transition metal ions (Mn(II), Co(II), Ni(II), Cu(II), and Zn(II)) which binds and oxidatively cleave DNA.
Pharmacodynamic
Bacitracin exerts pronounced antibacterial action in vitro against a variety of gram-positive and a few gram-negative organisms. However, among systemic diseases, only staphylococcal infections qualify for consideration of bacitracin therapy.
Pharmacokinetics
Intramuscular Route
Absorption of bacitracin following IM administration is rapid, with maximum serum concentrations achieved in about 1-2 hours, ranging from 0.2-2 mcg/mL. Bacitracin distributes widely following IM administration, appearing in all body organs including ascitic and pleural fluids, but not in the CSF unless the meninges are inflamed. Bacitracin is excreted slowly by glomerular filtration following IM administration. After IM doses, 10-40% appears in the urine within 24 hours.
Topical Route
There is minimal absorption of bacitracin through normal skin. Bacitracin, however, is readily absorbed topically through large areas of denuded or burned skin or granulating areas.
Dosage
Superficial Skin Infections
Topical
Ointment: Apply amount equal to the surface area of a fingertip to the affected area 1–3 times daily.
Powder: Use a light dusting on affected area 1–3 times daily.
Maximum 1 week of use unless directed by a physician.
Staphylococcal Pneumonia and Empyema in Infants
IM
Infants <2.5 kg: 900 units/kg daily given in 2 or 3 divided doses.
Infants >2.5 kg: 1000 units/kg daily in 2 or 3 divided doses.
Interactions
Streptomycin
,
Immune globulin
,
Vecuronium
,
Meglumine Compound
,
Aldesleukin
,
Cidofovir
,
Tobramycin
,
Polymyxin b sulfate
,
Vancomycin
,
Kanamycin
,
Neomycin
,
Colistin
,
Rocuronium
,
Pemetrexed
,
Netilmicin
,
Diatrizoate (Amidotrizoic acid)
,
cholera vaccine live
,
Ioxaglate
,
Iothalamate Meglumine
,
Benorilate
,
Blonanserin
Alerts
Intramuscular bacitracin is associated with a high incidence of bacitracin-induced nephrotoxicity. Renal failure may occur due to glomerular and tubular necrosis. Bacitracin nephrotoxicity is related to the daily dose and duration of therapy. Intramuscular bacitracin should be used with caution, if at all, in patients with preexisting renal impairment or renal failure and systemic bacitracin use should be restricted to severe infections due to susceptible organisms. It should also be used only where adequate laboratory facilities are available and when constant supervision of the patient is possible.
Patients receiving IM bacitracin should undergo microscopic urinalysis regularly and renal function determination both before and during therapy. Patients receiving IM bacitracin should have an adequate intake of fluids, and a urinary pH of 6 should be maintained, by giving sodium bicarbonate or other alkali, to decrease irritation. Patients who develop oliguria while maintaining normal fluid intake, or who experience progressive azotemia during IM bacitracin therapy should discontinue treatment.
Avoid using other nephrotoxic drugs, particularly kanamycin, neomycin, polymyxin B, polymyxin E (colistin), and streptomycin.
Sensitivity Reactions: Rashes and allergic anaphylactoid reactions have occurred, but topical application has low order of toxicity.
If itching, burning, inflammation, or other signs of sensitivity occur, discontinue use and consult a clinician.
Sensitivity to neomycin also may indicate sensitivity to bacitracin.
Patch testing (e.g., 1% bacitracin in petrolatum) may be useful in diagnosing suspected allergic contact dermatitis when hypersensitivity to other topical antibiotics (e.g., neomycin) is suspected.
Overgrowth of nonsusceptible organisms, particularly Candida, may occur; institute appropriate therapy if superinfection occurs.
Topical use of bacitracin should not replace appropriate surgical management or other measures.
Consider systemic anti-infective therapy if a deep-seated infection is present.
Corticosteroids in topical anti-infective combination preparations may mask the clinical signs of bacterial, fungal, or viral infections, or may suppress hypersensitivity reactions to the antibiotics or other ingredients in the formulations; weigh benefits against risks.
Points of recommendation
To make sure this medicine is safe for you, tell your doctor if you have:
If you have an allergy to bacitracin or any other part of bacitracin (topical).
If you are allergic to any drugs like this one, any other drugs, foods, or other substances. Tell your doctor about the allergy and what signs you had, like rash; hives; itching; shortness of breath; wheezing; cough; swelling of face, lips, tongue, or throat; or any other signs.
If a large area needs to be treated.
that diarrhea is a common problem caused by anti-infectives and usually ends when the drug is discontinued. Importance of contacting a clinician if watery and bloody stools (with or without stomach cramps and fever) occur during or as late as 2 months or longer after the last dose.
This medicine may cause harm if swallowed. If this medicine is swallowed, call a doctor or poison control center right away.
Tell your doctor if you are pregnant or plan on getting pregnant. You will need to talk about the benefits and risks of using bacitracin while you are pregnant.
Tell your doctor if you are breast-feeding. You will need to talk about any risks to your baby.
Do not take bacitracin by mouth. Use on your skin only. Keep out of your mouth, nose, and eyes (may burn).
Wash your hands before and after use. Do not wash your hands after use if putting this on your hand.
Clean affected part before use. Make sure to dry well.
Put a thin layer on the affected part and rub in gently.
It may be covered with a bandage or dressing.
Use a missed dose as soon as you think about it.
If it is close to the time for your next dose, skip the missed dose and go back to your normal time.
Do not use 2 doses at the same time or extra doses.