Drug information of Glipizide
Glipizide
Glipizide is used along with diet and exercise, and sometimes with other medications, to treat type 2 diabetes. Glipizide is in a class of medications called sulfonylureas. Glipizide lowers blood sugar by causing the pancreas to produce insulin and helping the body use insulin efficiently. This medication will only help lower blood sugar in people whose bodies produce insulin naturally. Glipizide is not used to treat type 1 or diabetic ketoacidosis (a serious condition that may occur if high blood sugar is not treated).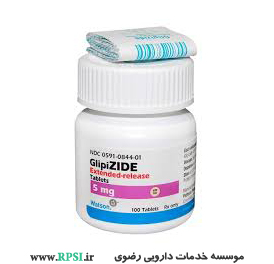 Mechanism of effect
Sulfonylureas likely bind to ATP-sensitive potassium-channel receptors on the pancreatic cell surface, reducing potassium conductance and causing depolarization of the membrane. Depolarization stimulates calcium ion influx through voltage-sensitive calcium channels, raising intracellular concentrations of calcium ions, which induces the secretion, or exocytosis, of insulin.
Pharmacodynamic
Glipizide, a second-generation sulfonylurea, is used with diet to lower blood glucose in patients with diabetes mellitus type II. In humans glipizide appears to lower the blood glucose acutely by stimulating the release of insulin from the pancreas, an effect dependent upon functioning beta cells in the pancreatic islets.
Fasting insulin levels are not elevated even on long-term glipizide administration, but the postprandial insulin response continues to be enhanced after at least 6 months of treatment. Some patients fail to respond initially, or gradually lose their responsiveness to sulfonylurea drugs, including glipizide.
Pharmacokinetics
Absorption : Gastrointestinal absorption is uniform, rapid, and essentially complete.
Volume of distribution
11 L
Protein binding
98-99%, primarily to albumin.
Metabolism
Hepatic. The major metabolites of glipizide are products of aromatic hydroxylation and have no hypoglycemic activity. A minor metabolite which accounts for less than 2% of a dose, an acetylaminoethyl benzine derivatives, is reported to have 1/10 to 1/3 as much hypoglycemic activity as the parent compound.
Route of elimination
The primary metabolites are inactive hydroxylation products and polar conjugates and are excreted mainly in the urine.
Half life
2-5 hours
Dosage
Immediate-release tablet
5 mg PO qDay initially; increase by 2.5-5 mg PRN every several days based on blood glucose
Maintenance range: 2.5-20 mg PO qDay or q12hr; not to exceed 40 mg/day
Extended-release tablets (Glucotrol XL)
Initial: 5 mg/day PO given with breakfast; dose adjustment based on blood glucose should not be done more frequently than every 7 days
Maintenance range: 5-10 mg PO qDay; not to exceed 20 mg/day
Dosing considerations
Doses >15 mg: PO divided q12hr recommended
Side effects
Fever
,
nausea
,
Tachycardia
,
dizziness
,
vertigo
,
Diarrhea
,
urticaria
,
upper stomach pain
,
itching
,
sweating
,
Thirst
,
skin rush
,
tiredness
,
redness
Interactions
Thyrotropin alfa
,
Isoniazid
,
Propranolol
,
Timolol
,
Phenytoin
,
Metoprolol
,
Nicotinic acid
,
Chloramphenicol
,
probenecid
,
Peginterferon alfa-2b
,
Canagliflozin
,
lumacaftor and Ivacaftor
,
Grepafloxacin
,
aminolevulinic acid oral
,
Aminolevulinic acid topical
,
Metipranolol
,
Cannabidiol
,
Alclometasone
,
flurandrenolide
Alerts
Patients with risk of severe hypoglycemia include the elderly, debilitated, or malnourished; adrenal or pituitary insufficiency; stress due to infection, fever, trauma, or surgery; concomitant use with beta-blockers or other sympatholytic agents may impair the patient's ability to recognize the signs and symptoms of hypoglycemia; use with caution
If patient is exposed to stress (fever, trauma, infection, surgery), it may be necessary to discontinue glipizide and initiate insulin
Use caution in hepatic/renal impairment
Use with caution in pregnancy and lactation
Increased risk of cardiovascular mortality suggested by product labeling but data is limited
FDA-approved product labeling for many medications have included a broad contraindication in patients with a prior allregic reaction to sulfonamides; however, recent studies have suggested that crossreactivity between antibiotic sulfonamides and nonantibiotic sulfonamides is unlikely to occur.
Hypoglycemia is more likely to occur when caloric intake is deficient, after severe or prolonged exercise, when alcohol is ingested, or when more than one glucose-lowering drug is used
Hypoglycemia may be difficult to recognize in patients with autonomic neuropathy
Hemolytic anemia may occur with glucose 6-phosphate dehydrogenase (G6PD) deficiency when treated with sulfonylurea agents; consider a nonsulfonylurea alternative
Avoid using the extended-release tablets in patients with severe gastrointestinal narrowing of esophageal dysmotility
Loss of efficacy following prolonged use possible; if no contributing factors, to explain loss of efficacy identified, consider discontinuing therapy; additional antidiabetic therapy will be required
Drug interactions overview
The hypoglycemic action of sulfonylureas may be potentiated by certain drugs including nonsteroidal anti-inflammatory agents, some azoles, and other drugs that are highly protein bound, salicylates, sulfonamides, chloramphenicol, probenecid, coumarins, monoamine oxidase inhibitors, quinolones and beta adrenergic blocking agents; conversely, certain drugs tend to produce hyperglycemia and may lead to loss of control, including thiazides and other diuretics, corticosteroids, phenothiazines, thyroid products, estrogens, oral contraceptives, phenytoin, nicotinic acid, sympathomimetics, calcium channel blocking drugs, and isoniazid; when coadministering glipizide with such drugs, patient should be observed closely for hypoglycemia or hyperglycemia; when such drugs are withdrawn, observe patient closely for loss of control
Points of recommendation
Take glipizide exactly as prescribed by your doctor. Follow all directions on your prescription label. Your doctor may occasionally change your dose to make sure you get the best results. Do not take this medicine in larger or smaller amounts or for longer than recommended.
Take glipizide 30 minutes before a meal. If you take this medicine once daily, take it 30 minutes before breakfast.
Glipizide extended-release (Glucotrol XL) should be taken with breakfast.
Do not crush, chew, or break an extended-release tablet. Swallow it whole.
Low blood sugar (hypoglycemia) can happen to everyone who has diabetes. Symptoms include headache, hunger, sweating, confusion, irritability, dizziness, or feeling shaky. Always keep a source of sugar with you in case you have low blood sugar. Sugar sources include fruit juice, hard candy, crackers, raisins, and non-diet soda. Be sure your family and close friends know how to help you in an emergency.
If you have severe hypoglycemia and cannot eat or drink, use a glucagon injection. Your doctor can prescribe a glucagon emergency injection kit and tell you how to use it.
Also watch for signs of high blood sugar (hyperglycemia) such as increased thirst, increased urination, hunger, dry mouth, fruity breath odor, drowsiness, dry skin, blurred vision, and weight loss.
Check your blood sugar carefully during times of stress, travel, illness, surgery or medical emergency, vigorous exercise, or if you drink alcohol or skip meals. These things can affect your glucose levels and your dose needs may also change. Do not change your medication dose or schedule without your doctor's advice.
Your blood sugar will need to be checked often, and you may need other blood tests at your doctor's office.
Some forms of glipizide are made with a shell that is not absorbed or melted in the body. Part of the tablet shell may appear in your stool. This is a normal side effect and will not make the medication less effective.
Glipizide is only part of a treatment program that may also include diet, exercise, weight control, blood sugar testing, and special medical care. Follow your doctor's instructions very closely.
Store at room temperature away from moisture, heat, and light.
Tags