Drug information of Dexamethasone
Dexamethasone
The drug forms include tablets, syrups, spray and ampules.Dexamethasone is a corticosteroid that prevents the release of substances in the body that cause inflammation.
Dexamethasone is used to treat many different conditions such as allergic disorders, skin conditions, ulcerative colitis,arthritis, lupus, psoriasis, or breathing disorders.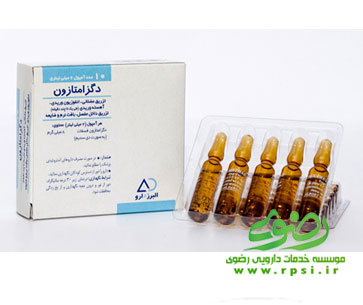 Mechanism of effect
Decreases inflammation by suppressing migration of polymorphonuclear leukocytes (PMNs) and reducing capillary permeability; stabilizes cell and lysosomal membranes, increases surfactant synthesis, increases serum vitamin A concentration, and inhibits prostaglandin and proinflammatory cytokines. suppresses lymphocyte proliferation through direct cytolysis, inhibits mitosis, breaks down granulocyte aggregates, and improves pulmonary microcirculation.
Pharmacodynamic
Dexamethasone is a long-term adrenocorticoid with low mineralocorticoid activity and strong anti-inflammatory activity. The strength of this drug is 25-25 times that of hydrocortisone.
Acetate form of This drug is a suspension and should not be injected intravenously. It is especially useful as an anti-inflammatory drug for intra-articular, intradermal, and intra-lesion injections.
Sodium phosphate form of drug is highly soluble and has a faster onset of action and a shorter duration than its acetate form. The most commonly used is brain edema and shock resistant. Also, this drug is used for inflammation in the joint, or soft tissue.
Pharmacokinetics
Absorption: Onset: Between a few minutes and several hours; dependent on indication and route of administration
Peak serum time: 8hr (IM); 1-2 hr (PO)
Metabolism:Metabolized in liver
Elimination:Half-life: 1.8-3.5 hr (normal renal function)
Excretion: Urine (mainly), feces (minimally)
Drug indications
Nausea/Vomiting - Chemotherapy Induced
• substitution in the adrenal gland failure
• treat symptoms of inflammatory and allergic disorders
• to suppress the immune system
• congenital hyperplasia of the adrenal gland
• cerebral edema
• rheumatic inflammatory diseases
• diagnosis of Cushing's syndrome and androgen depression
• Nausea and vomiting caused by chemotherapy
Dosage
Allergic Conditions
For control of severe or incapacitating allergic conditions intractable to adequate trials of conventional treatment in asthma, atopic dermatitis, contact dermatitis, drug hypersensitivity reactions, perennial or seasonal allergic rhinitis, and serum sickness
Day 1: 4-8 mg IM
Days 2-3: 3 mg/day PO divided q12hr
Day 4: 1.5 mg/day PO divided q12hr
Days 5-6: 0.75 mg/day PO in single daily dose
Chemotherapy-Induced Nausea & Vomiting (Off-label)
8-12 mg PO/IV alone or in combination with other antiemetics before chemotherapy, then 8 mg PO/IV q24hr for 1-3 days after chemotherapy (days 2-4)
Inflammation
0.75-9 mg/day IV/IM/PO divided q6-12hr
Intra-articular, intralesional, or soft tissue: 0.2-6 mg/day
Multiple Sclerosis (Acute Exacerbation)
Drug contraindications
systemic fungal infection
Systemic fungal infection
Documented hypersensitivity
Cerebral malaria
Administration of live or live, attenuated vaccines is contraindicated in patients receiving immunosuppressive doses of corticosteroids.
Interactions
Pneumovax
,
Deflazacort
,
Itraconazole
,
Rifampin
,
Cimetidine
,
Sirolimus
,
Cisapride
,
Sildenafil
,
Simvastatin
,
Lovastatin
,
Ketoconazole
,
Clarithromycin
,
Dabigatran
,
Carbamazepine
,
Rifabutin
,
Ranolazine
,
Praziquantel
,
Axitinib
,
Aldesleukin
,
Apixaban
,
Phenindione
,
Desirudin
,
Mifepristone
,
Telithromycin
,
Indinavir
,
Hib vaccine
,
brigatinib
,
Tolfenamic Acid
,
Copanlisib
,
Simeprevir
,
lumacaftor and Ivacaftor
,
Ulipristal
,
Dabrafenib
,
Acalabrutinib
,
Grepafloxacin
,
Nintedanib
,
Sofosbuvir and velpatasvir
,
Tisagenlecleucel
,
Adenovirus types 4 and 7 live, oral
,
Apremilast
,
Axicabtagene ciloleucel
,
Erdafitinib
,
Palbociclib
,
Ixazomib
,
Tasimelteon
,
tezacaftor/ivacaftor
,
Triclabendazole
,
Edoxaban
,
Darolutamide
,
Hepatitis B Vaccine
,
corticorelin
,
Lopinavir and Ritonavir
,
Temsirolimus
,
ELBASVIR/GRAZOPREVIR
,
Lorlatinib
,
Glycerol Phenylbutyrate
,
glasdegib
,
Abemaciclib
,
Triphasic
,
rilpivirine
,
bedaquiline
,
Gefitinib
,
Dasatinib
,
nivolumab
,
vemurafenib
,
Typhoid vaccine (live), oral
,
Meningococcal conjugate vaccine
,
Rabies Vaccine
,
rolapitant
,
voxelotor
,
Netupitant
,
Capmatinib
,
Dienestrol
Alerts
Long-term use of dexamethasone in children can lead to inhibition of growth. Following the use of this drug, may cause Examination tests of functioning of the hypothalamic-pituitary the adrenal gland may be disorder.
In the elderly, especially menopausal women, the chance of osteoporosis and blood pressure increased.
Caution if you need surgery or emergency treatment as well as in diabetic patients. In people taking the drug with the immunosuppressive amount ,injection of vaccine containing live viruses should be avoided.
Points of recommendation
To minimize gastrointestinal stimulation, the oral form of dexamethasone should be taken after a meal.
Avoiedof the Abrupt discontinuation of drug after prolonged use (more than 3 weeks).
During treatment, sodium intake should be limited and supplementation with potassium is recommended.
Ophthalmic examinations should be performed regularly during long-term treatment.
Tags