Drug information of Tirofiban
Tirofiban
Tirofiban prevents the blood from clotting during episodes of chest pain or a heart attack, or while the patient is undergoing a procedure to treat a blocked coronary artery. It is a non-peptide reversible antagonist of the platelet glycoprotein (GP) IIb/IIIa receptor, and inhibits platelet aggregation.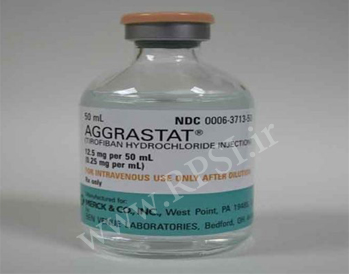 Mechanism of effect
Tirofiban is a reversible antagonist of fibrinogen binding to the GP IIb/IIIa receptor, the major platelet surface receptor involved in platelet aggregation. Platelet aggregation inhibition is reversible following cessation of the infusion of tirofiban.
Pharmacodynamic
When given according to the recommended regimen, >90% inhibition is attained by the end of the 30-minute infusion. Tirofiban has been recently shown in patients with unstable angina to reduce ischemic events at 48 hours following infusion when compared to standard heparin therapy.
Pharmacokinetics
Half-life: 2 hr
Duration: 4 hr
Protein bound: 65%
Vd: 22-42 L
Clearance: 213-314 mL/min
Excretion: Urine (65%); feces (25%)
Dialyzable: Yes
Dosage
Adult
Non-ST Elevated Acute Coronary Syndrome
Loading dose: 25 mcg/kg IV infused within 5 min, THEN
Post loading dose infusion: 0.15 mcg/kg/min IV for up to 18 hr
Pediatric
Safety and efficacy not established
Interactions
Enoxaparin
,
Piracetam
,
Deferasirox
,
Citalopram
,
Melatonin
,
Heparin
,
Warfarin
,
Rivaroxaban
,
Aspirin
,
Dabigatran
,
Bivalirudin
,
Argatroban
,
Lepirudin
,
Protamine sulfat
,
Apixaban
,
Phenindione
,
Desirudin
,
Dalteparin
,
Tositumomab
,
Ibritumomab tiuxetan
,
icosapent
,
Urokinase
,
Ticagrelor
,
Green tea
,
Tinzaparin
,
Acalabrutinib
,
Porfimer
,
Antithrombin alfa
,
Betrixaban
,
Edoxaban
Alerts
Platelets <150,000/cu.mm, hemorrhagic retinopathy, chronic HD
Points of recommendation
Have blood work checked as you have been told by the doctor. Talk with the doctor.
You may bleed more easily. Be careful and avoid injury. Use a soft toothbrush and an electric razor.
If you fall or hurt yourself, or if you hit your head, call your doctor right away. Talk with your doctor even if you feel fine.
Tell your doctor if you are pregnant or plan on getting pregnant. You will need to talk about the benefits and risks of using tirofiban while you are pregnant.
Related drugs