Drug information of Amoxapine
Amoxapine
Amoxapine, the N-demethylated derivative of the antipsychotic agent loxapine, is a dibenzoxazepine-derivative tricyclic antidepressant (TCA). TCAs are structurally similar to phenothiazines. They contain a tricyclic ring system with an alkyl amine substituent on the central ring.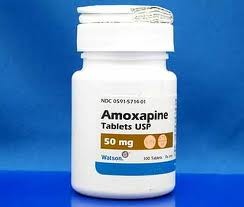 Mechanism of effect
TCAs are potent inhibitors of serotonin and norepinephrine reuptake. In addition, TCAs down-regulate cerebral cortical β-adrenergic receptors and sensitize post-synaptic serotonergic receptors with chronic use. The antidepressant effects of TCAs are thought to be due to an overall increase in serotonergic neurotransmission.
Pharmacodynamic
In non-depressed individuals, amoxapine does not affect mood or arousal, but may cause sedation. In depressed individuals, amoxapine exerts a positive effect on mood.
TCAs also block histamine H1 receptors, α1-adrenergic receptors and muscarinic receptors, which accounts for their sedative, hypotensive and anticholinergic effects (e.g. blurred vision, dry mouth, constipation, urinary retention), respectively.
Pharmacokinetics
Half-Life: 8-30 hr
Peak Plasma Time: 90 min
Bioavailability: Almost complete absorption
Metabolites: 8-hydroxyamoxapine
Vd: 0.9-1.2 L/kg
Protein binding: 90%
Excretion: Urine (60%); Feces: (18%)
Dosage
Adult
Depression
Initiate at low dose (25 mg q8-12hr) and gradually titrate upward every 5-7 days up to 200-300 mg PO qHS
If dose exceeds 300 mg/day, administer in divided doses q12hr
Outpatient: Not to exceed 400 mg/day
Inpatient: May require higher doses, up to 600 mg/day divided q12hr
Pediatric
Not recommended
Side effects
Anxiety
,
Headache
,
edema
,
nausea
,
dry mouth
,
dizziness
,
Blurred vision
,
vertigo
,
Tremor
,
sweating
,
weakness
,
difficulty urinating
,
tiredness
,
Restlessness
,
Rash
Interactions
Edrophonium
,
Ergotamine-C
,
Acetylcholine
,
Expectorant
,
Dobutamine
,
Sibutramine
,
Cisapride
,
Metoclopramide
,
Cyclobenzaprine
,
potassium citrate
,
Sodium Oxybate
,
Phenelzine
,
Tapentadol
,
safinamide
,
rasagiline
,
Diethylpropion
,
Dolasetron
,
Palonosetron
,
vandetanib
,
Droperidol
,
Procainamide
,
Mefloquine
,
Indapamide
,
Dofetilide
,
lisdexamfetamine
,
Peginterferon alfa-2b
,
pilocarpine oral
,
Arsenic trioxide
,
Desvenlafaxine
,
Xylometazoline
,
Propylhexedrine
,
Milnacipran
,
acrivastine+pseudoephedrine
,
Halofantrine
,
Grepafloxacin
,
Dexfenfluramine
,
chlorcyclizine + phenylephrine
,
Huperzine A
,
Arformoterol
,
Benzphetamine
,
Levomilnacipran
,
glycopyrrolate topical
,
5-hydroxytryptophan
,
Benorilate
,
Bepridil
,
bedaquiline
,
lasmiditan
,
vemurafenib
,
Netupitant
Alerts
BPH, urinary/GI retention, incr IOP, hyperthyroidism, opne angle glaucoma, seizure d/o, brain tumor, respiratory impairment
Clinical worsening & suicide ideation may occur despite medication in adolescents & young adults (18-24 yo)
Risk of anticholinergic side effects
Possibility of tardive dyskinesia & NMS
Black Box Warnings
In short-term studies, antidepressants increased the risk of suicidal thinking and behavior in children, adolescents, and young adults (<24 yr of age) taking antidepressants for major depressive disorders and other psychiatric illnesses
Patients should be monitored closely for changes in behavior, clinical worsening, and suicidal tendencies; this should be done during initial 1-2 months of therapy and dosage adjustments
Worsening behavior and suicidal tendencies that are not part of the presenting symptoms may require discontinuation of therapy
Points of recommendation
Avoid driving and doing other tasks or actions that call for you to be alert until you see how amoxapine affects you.
Do not stop taking amoxapine all of a sudden without calling your doctor. You may have a greater risk of side effects. If you need to stop amoxapine, you will want to slowly stop it as ordered by your doctor.
Talk with your doctor before you drink alcohol or use other drugs and natural products that slow your actions.
Be careful in hot weather or while being active. Drink lots of fluids to stop fluid loss.
Some people may have a higher chance of eye problems with amoxapine. Your doctor may want you to have an eye exam to see if you have a higher chance of these eye problems. Call your doctor right away if you have eye pain, change in eyesight, or swelling or redness in or around the eye.
If you are 65 or older, use amoxapine with care. You could have more side effects.
Tell your doctor if you are pregnant or plan on getting pregnant. You will need to talk about the benefits and risks of using amoxapine while you are pregnant.
Tell your doctor if you are breast-feeding. You will need to talk about any risks to your baby.
Take at bedtime if you are taking once a day.
To gain the most benefit, do not miss doses.
Keep taking amoxapine as you have been told by your doctor or other health care provider, even if you feel well.
Take a missed dose as soon as you think about it.
If it is close to the time for your next dose, skip the missed dose and go back to your normal time.
Do not take 2 doses at the same time or extra doses.