Drug information of Mesoridazine
Mesoridazine
mesoridazine is a typical antipsychotic medication that belongs to a group of drugs called phenothiazines. This medication was developed to help control the symptoms of schizophrenia, but it will not cure the condition. This drug may also be used to treat hyperactivity, restlessness, anxiety, and tension. Mesoridazone works by blocking dopaminergic transmissions in the brain.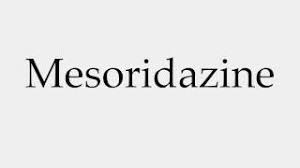 Mechanism of effect
Based upon animal studies, mesoridazine, as with other phenothiazines, acts indirectly on reticular formation, whereby neuronal activity into reticular formation is reduced without affecting its intrinsic ability to activate the cerebral cortex.
In addition, the phenothiazines exhibit at least part of their activities through depression of hypothalamic centers. Neurochemically, the phenothiazines are thought to exert their effects by a central adrenergic blocking action.
Pharmacodynamic
Mesoridazine, the salt of a metabolite of thioridazine, is a phenothiazine tranquilizer. Pharmacological studies in laboratory animals have established that mesoridazine has a spectrum of pharmacodynamic actions typical of a major tranquilizer. In common with other tranquilizers it inhibits spontaneous motor activity in mice, prolongs thiopental and hexobarbital sleeping time in mice and produces spindles and block of arousal reaction in the EEG of rabbits
.It shows a moderate adrenergic blocking activity in vitro and in vivo and antagonizes 5-hydroxytryptamine in vivo. Intravenously administered, it lowers the blood pressure of anesthetized dogs. It has a weak antiacetylcholine effect in vitro.
Pharmacokinetics
absorption: Well absorbed from the gastrointestinal tract.
Protein binding: 4%
Metabolism : Hepatic/renal
Half-Life: 24 to 48 hours
Excretion: Biliary and renal
Dosage
Oral:
Initial dose: 50 mg three times a day
Maintenance dose: 100 to 400 mg/day in divided doses.
Intramuscular:
Initial dose: 25 mg; may repeat in 30 to 60 minutes, if necessary.
Maintenance dose: 25 to 200 mg/day.
Interactions
Acetylcholine
,
potassium citrate
,
Tapentadol
,
Dolasetron
,
Palonosetron
,
vandetanib
,
sparfloxacin
,
Atomoxetine
,
Amiodarone
,
Adenosine
,
Bupropion
,
Tacrolimus
,
Tizanidine
,
Anagrelide
,
Efavirenz
,
Fluconazole
,
Fingolimod
,
Clozapine
,
Clofazimine
,
Ranolazine
,
Dofetilide
,
Promazine
,
Vasopressin
,
Halofantrine
,
Grepafloxacin
,
Terfenadine
,
Abarelix
,
Asenapine
,
Alfuzosin
,
Perflutren
,
Apalutamide
,
Oxymorphone
,
gilteritinib
,
glasdegib
,
Bepridil
,
bedaquiline
,
Dasatinib
Alerts
In rare cases, mesoridazine has caused serious irregular heartbeats, sometimes resulting in death.
Conditions below may increase the risk of irregular heartbeats, heart attack, and death while taking mesoridazine: heart disease; an irregular heartbeat or a history of irregular heartbeats; a history of prolonged QT intervals; a family history of congenital long QT syndrome; hypokalemia (low levels of potassium in your blood); slow heartbeats that require treatment; or other heartbeat disturbances.
Mesoridazine may interact with other drugs that cause drowsiness, including alcohol, antidepressants, antihistamines, pain relievers, anxiety medicines, seizure medicines, and muscle relaxants.
Dangerous sedation, dizziness, or drowsiness may occur if mesoridazine is taken with alcohol or any of these medications.
Points of recommendation
Do not take mesoridazine with other drugs that can affect heartbeat rhythms such as quinidine (Cardioquin, Quinaglute, Quinidex, others), procainamide (Procan, Procanbid, Pronestyl), disopyramide (Norpace), and others.
Talk to your doctor or pharmacist before taking any other prescription or over-the-counter medications.
Call your doctor immediately if you have uncontrollable movements of the mouth, tongue, cheeks, jaw, arms, or legs; fever; muscle rigidity; sweating; irregular pulse; or fast or irregular heartbeats.
Use caution when driving, operating machinery, or performing other hazardous activities. Mesoridazine may cause dizziness or drowsiness. If you experience dizziness or drowsiness, avoid these activities.
It is not known whether mesoridazine will harm an unborn baby. Do not take mesoridazine without first talking to your doctor if you are pregnant.
It is not known whether mesoridazine passes into breast milk. Do not take mesoridazine without first talking to your doctor if you are breast-feeding a baby.
If you are over 60 years of age, you may be more likely to experience side effects from mesoridazine. You may require a lower dose of this medication.
Avoid prolonged exposure to sunlight. Mesoridazine may increase the sensitivity of your skin to sunlight. Use a sunscreen and wear protective clothing when sun exposure is unavoidable.