Drug information of Docetaxel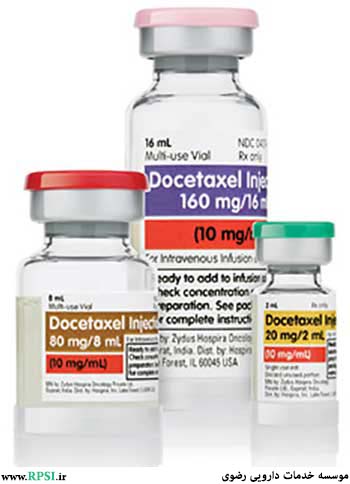 Mechanism of effect
Docetaxel is an antineoplastic agent that acts by disrupting the microtubular network in cells that is essential for mitotic and interphase cellular functions. Docetaxel binds to free tubulin and promotes the assembly of tubulin into stable microtubules while simultaneously inhibiting their disassembly. This leads to the production of microtubule bundles without normal function and to the stabilization of microtubules, which results in the inhibition of mitosis in cells. Docetaxel's binding to microtubules does not alter the number of protofilaments in the bound microtubules, a feature which differs from most spindle poisons currently in clinical use
Pharmacodynamic
Docetaxel is a taxoid antineoplastic agent. It promotes the assembly of microtubules from tubulin dimers and stabilizes microtubules by preventing depolymerization. This stability results in the inhibition of the normal dynamic reorganization of the microtubule network that is essential for vital interphase and mitotic cellular functions. In addition, docetaxel induces abnormal arrays or "bundles" of microtubules throughout the cell cycle and multiple asters of microtubules during mitosis.
Pharmacokinetics
The pharmacokinetic profile is consistent with a three-compartment model. The area under the curve (AUC) was dose proportional following doses of 70 mg/m2 to 115 mg/m2 with infusion times of 1 to 2 hours. Volume of distribution: 113 L. In vitro studies show that 94% protein bound, mainly to a1-acid glycoprotein, albumin, and lipoproteins. When measured in cancer patients, docetaxel is 97% bound to plasma protein. Dexamethasone does not affect the protein binding of docetaxel. Metabolism: Hepatic. In vitro drug interaction studies revealed that docetaxel is metabolized by the CYP3A4 isoenzyme. Docetaxel was eliminated in both the urine and feces. Half life :Dose-dependent. Clearance: 21 L/h/m2 [Total body clearance, cancer patients after IV administration of 20–115 mg/m2]
Dosage
Breast Cancer For locally advanced or metastatic breast cancer after failure of prior chemotherapy, the recommended dose of Docetaxel Injection, USP is 60 mg/m2 to 100 mg/m2 administered intravenously over 1 hour every 3 weeks. Non-Small Cell Lung Cancer For treatment after failure of prior platinum-based chemotherapy, Docetaxel was evaluated as monotherapy, and the recommended dose is 75 mg/m2 administered intravenously over 1 hour every 3 weeks Prostate Cancer For hormone-refractory metastatic prostate cancer, the recommended dose of Docetaxel Injection, USP is 75 mg/m2 every 3 weeks as a 1 hour intravenous infusion. Prednisone 5 mg orally twice daily is administered continuously
Side effects
nausea
,
vomiting
,
Hepatic dysfunction
,
allergic reaction
,
Diarrhea
,
asthenia
,
Hypertension
,
thrombocytopenia
,
neutropenia
,
anemia
,
paresthesia
,
myalgia
,
infusion reactions
,
Alopecia
,
Infections
,
fluid retention
,
Arthralgia
,
Acute Myeloid Leukemia
,
Cutaneous Reaction
,
(​Cystoid macular edema (CME
,
Hypersensitivity
,
Toxic Deaths
Interactions
Epirubicin
,
Bleomycin
,
Trastuzumab
,
Dactinomycin
,
Aprepitant
,
Erythromycin
,
Midazolam
,
Voriconazole
,
Ketoconazole
,
Carboplatin
,
Sorafenib
,
Vitamin A
,
Vitamin E
,
Carboplatin
,
Atazanavir
,
Telithromycin
,
Idelalisib
,
Mibefradil
,
cobicistat
,
Delavirdine
,
Adenovirus types 4 and 7 live, oral
,
Lopinavir and Ritonavir
,
Troleandomycin
,
Eliglustat
,
oleandomycin
,
lasmiditan
,
Meningococcal conjugate vaccine
,
sirukumab
Alerts
TOXIC DEATHS, HEPATOTOXICITY, NEUTROPENIA, HYPERSENSITIVITY REACTIONS, AND FLUID RETENTION 1-The incidence of treatment-related mortality associated with Docetaxel therapy is increased in patients with abnormal liver function, in patients receiving higher doses, and in patients with non-small cell lung carcinoma and a history of prior treatment with platinum-based chemotherapy who receive Docetaxel as a singleagent at a dose of 100 mg/m2 2-Docetaxel Injection, USP should not be given to patients with bilirubin > upper limit of normal (ULN), or to patients with AST and/or ALT >1.5 x ULN concomitant with alkaline phosphatase >2.5 x ULN. Patients with elevations of bilirubin or abnormalities of transaminase concurrent with alkaline phosphatase are at increased risk for the development of grade 4 neutropenia, febrile neutropenia, infections, severe thrombocytopenia, severe stomatitis, severe skin toxicity, and toxic death. Patients with isolated elevations of transaminase >1.5 x ULN also had a higher rate of febrile neutropenia grade 4 but did not have an increased incidence of toxic death. Bilirubin, AST or ALT, and alkaline phosphatase values should be obtained prior to each cycle of Docetaxel Injection, USP therapy 3-Docetaxel Injection, USP therapy should not be given to patients with neutrophil counts of <1500 cells/mm3. In order to monitor the occurrence of neutropenia, which may be severe and result in infection, frequent blood cell counts should be performed on all patients receiving Docetaxel Injection 4-Severe hypersensitivity reactions characterized by generalized rash/erythema, hypotension and/or bronchospasm, or very rarely fatal anaphylaxis, have been reported in patients who received a 3-day dexamethasone premedication. Hypersensitivity reactions require immediate discontinuation of the Docetaxel Injection, USP infusion and administration of appropriate therapy . Docetaxel Injection, USP must not be given to patients who have a history of severe hypersensitivity reactions to Docetaxel or to other drugs formulated with polysorbate 80 5-Severe fluid retention occurred in 6.5% (6/92) of patients despite use of a 3-day dexamethasone premedication regimen. It was characterized by one or more of the following events: poorly tolerated peripheral edema, generalized edema, pleural effusion requiring urgent drainage, dyspnea at rest, cardiac tamponade, or pronounced abdominal distention (due to ascites)
Points of recommendation
Docetaxel Injection can cause serious side effects, including death. 1. The chance of death in people who receive Docetaxel Injection is higher if you: have liver problems receive high doses of Docetaxel Injection have non-small cell lung cancer and have been treated with chemotherapy medicines that contain platinum 2. Docetaxel Injection can affect your blood cells. Your doctor should do routine blood tests during treatment with Docetaxel Injection. This will include regular checks of your white blood cell counts. If your white blood cells are too low, your doctor may not treat you with Docetaxel until you have enough white blood cells. People with low white blood counts can develop life-threatening infections. The earliest sign of infection may be fever. Follow your doctor's instructions for how often to take your temperature while taking Docetaxel Injection. Call your doctor right away if you have a fever. 3. Serious allergic reactions can happen in people who take Docetaxel Injection. Serious allergic reactions are medical emergencies that can lead to death and must be treated right away. Tell your doctor right away if you have any of these signs of a serious allergic reaction: trouble breathing sudden swelling of your face, lips, tongue, throat, or trouble swallowing hives (raised bumps), rash, or redness all over your body 4. Your body may hold too much fluid (severe fluid retention) during treatment with Docetaxel Injection. This can be life threatening. To decrease the chance of this happening, you must take another medicine, a corticosteroid, before each Docetaxel Injection treatment. You must take the corticosteroid exactly as your doctor tells you. Tell your doctor or nurse before your Docetaxel Injection treatment if you forget to take the corticosteroid dose or do not take it as your doctor tells you.