Drug information of Amoxicillin
Amoxicillin
Amoxicillin is a penicillin antibiotic that fights bacteria. Amoxicillin is used to treat many different types of infection caused by bacteria, such as tonsillitis, bronchitis, pneumonia, gonorrhea, and infections of the ear, nose, throat, skin, or urinary tract.
Amoxicillin is also sometimes used together with another antibiotic called clarithromycin (Biaxin) to treat stomach ulcers caused by Helicobacter pylori infection.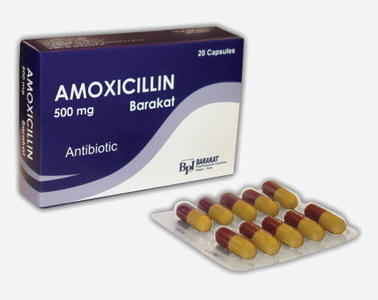 Mechanism of effect
Amoxicillin is an antibacterial drug. Amoxicillin is similar to penicillin in its bactericidal action against susceptible bacteria during the stage of active multiplication.
It acts through the inhibition of cell wall biosynthesis that leads to the death of the bacteria.
Pharmacodynamic
Amoxicillin is an antibacterial drug.
Pharmacokinetics
Amoxicillin is stable in the presence of gastric acid and is rapidly absorbed after oraladministration.
The half-life of Amoxicillin is 61.3 minutes. Approximately 60% of an orally administered dose of Amoxicillin is excreted in the urine within 6 to 8 hours.
Dosage
Usual Adult Dose for Pneumonia
500 mg orally 3 times a day or 875 mg orally twice a day may be administered for 7 to 10 days if pneumococcal pneumonia is suspected
Usual Pediatric Dose for Pneumonia
40 to 50 mg/kg/day orally in divided doses every 8 hours
Alerts
1- Serious and occasionally fatal hypersensitivity (anaphylactic) reactions have been reported in patients on penicillin therapy including Amoxicillin. These reactions are more likely to occur in individuals with a history of penicillin hypersensitivity and/or a history of sensitivity to multiple allergens.

2- Clostridium difficile associated diarrhea (CDAD) has been reported with
use of nearly all antibacterial agents, including Amoxicillin, and may range in severity from mild diarrhea to fatal colitis. If CDAD is suspected or confirmed, ongoing antibiotic use not directed against C. difficile may need to be discontinued. Appropriate fluid and electrolyte management, protein supplementation, antibiotic treatment of C. difficile, and surgical evaluation should be instituted as clinically indicated.
3- The possibility of superinfections with fungal or bacterial pathogens should be considered during therapy. If superinfections occur, Amoxicillin should be discontinued and appropriate therapy instituted.
4- Prescribing Amoxicillin either in the absence of a proven or strongly suspected bacterial infection is unlikely to provide benefit to the patient, and increases the risk of the development of drug-resistant bacteria.
5- A high percentage of patients with mononucleosis who receive Amoxicillin develop an erythematous skin rash. Thus Amoxicillin should not be administered to patients with mononucleosis.
Points of recommendation
1- The drug should be discontinued immediately at the first appearance of a skin rash or other signs of hypersensitivity.
2- Dose reductions are recommended in patients with severe renal impairment. It may be advisable to monitor renal function in elderly patients.
3- Periodic monitoring of renal, hepatic, and hematologic function is
recommended in all patients during prolonged therapy.
4- Patients with phenylketonuria should be aware that amoxicillin chewable tablets contain phenylalanine.