Drug information of Quinine
Quinine
Quinine is used to treat uncomplicated malaria, a disease caused by parasites. Parasites that cause malaria typically enter the body through the bite of a mosquito. Malaria is common in areas such as Africa, South America, and Southern Asia.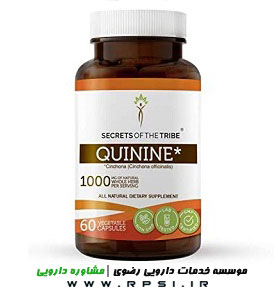 Mechanism of effect
The theorized mechanism of action for quinine and related anti-malarial drugs is that these drugs are toxic to the malaria parasite. Specifically, the drugs interfere with the parasite's ability to break down and digest hemoglobin. Consequently, the parasite starves and/or builds up toxic levels of partially degraded hemoglobin in itself.
Pharmacodynamic
Quinine is used parenterally to treat life-threatening infections caused by chloroquine-resistant Plasmodium falciparum malaria. Quinine acts as a blood schizonticide although it also has gametocytocidal activity against P. vivax and P. malariae. Because it is a weak base, it is concentrated in the food vacuoles of P. falciparum. It is thought to act by inhibiting heme polymerase, thereby allowing accumulation of its cytotoxic substrate, heme. As a schizonticidal drug, it is less effective and more toxic than chloroquine. However, it has a special place in the management of severe falciparum malaria in areas with known resistance to chloroquine.
Pharmacokinetics
Absorption: 76 - 88%
Protein binding: Approximately 70%
Metabolism: Hepatic, over 80% metabolized by the liver
Half-life: Approximately 18 hours
Dosage
Malaria
Uncomplicated (P falciparum)
Chloroquine-resistant (P falciparum)
648 mg PO q8hr x 3-7 days with concomitant tetracycline, doxycycline, or clindamycin
Chloroquine-resistant (P vivax)
648 mg PO q8hr x 3-7 days with concomitant doxycycline (or tetracycline) and PO primaquine
Drug contraindications
Hypersensitivity
,
ECG prolonged QT
,
Myasthenia gravis
Prolonged QT interval
Hypersensitivity; cross-sensitivity with mefloquine or quinidine
G6PD deficiency
Optic neuritis, tinnitus, history of quinine-associated blackwater fever and thrombocytopenic purpura
Thrombocytopenia
Hemolytic uremic syndrome
Blackwater fever
Myasthenia gravis
Optic neuritis
Side effects
flushing
Flushing of the skin
Anginal symptoms
Fever
Rash
Pruritus
Hypoglycemia
Epigastric pain
Hemolysis in G6PD deficiency
Thrombocytopenia
Hepatitis
Nightblindness
Diplopia
Optic atrophy
Impaired hearing
Hypersensitivity reaction
Interactions
Succinylcholine
,
Carbamazepine
,
ritonavir
,
Dolasetron
,
vandetanib
,
Succinylcholine Chloride
,
Atracurium
,
Ondansetron
,
Enoxaparin
,
Pimozide
,
Topotecan
,
Thioridazine
,
Bremelanotide
,
MICRORELIN
,
Fluticasone and Vilanterol
,
lefamulin
,
fondaparinux
,
vortioxetine
,
voxelotor
,
Venetoclax
,
Entrectinib
,
Bemiparin
,
Lorlatinib
,
glasdegib
,
Eliglustat
,
lasmiditan
,
Erdafitinib
,
Antithrombin alfa
,
Apalutamide
,
encorafenib
,
pexidartinib
,
ivosidenib
,
Idelalisib
,
Ivacaftor
,
Rocuronium
,
Lumacaftor
,
Antithrombin III
,
Rapacuronium
,
Afatinib
,
pomalidomide
,
vemurafenib
,
Chloroquine
,
Ribociclib
,
Eribulin
,
Vecuronium
,
Nefazodone
,
dronedarone
,
Phenindione
,
Bivalirudin
,
Argatroban
,
Dapsone
,
Cis atracurium
,
Heparin
,
Hydroxychloroquine
,
Warfarin
,
Colchicine
,
sparfloxacin
,
Mefloquine
,
Dofetilide
,
brigatinib
,
Dalteparin
,
Tinzaparin
,
lumacaftor and Ivacaftor
,
Halofantrine
,
Grepafloxacin
,
Terfenadine
,
Alfuzosin
,
Edoxaban
,
Sodium lactate
,
Troleandomycin
,
Glycerol Phenylbutyrate
,
riociguat
,
Bepridil
,
bedaquiline
,
talazoparib
,
vemurafenib
,
Fidaxomicin
,
secukinumab
Contraindicated (5)
dronedarone
eliglustat
lefamulin
pimozide
thioridazine
Serious - Use Alternative (61)
afatinib
alfuzosin
antithrombin alfa
antithrombin III
apalutamide
argatroban
atracurium
bemiparin
bivalirudin
bremelanotide
brigatinib
chloroquine
cisatracurium
colchicine
dalteparin
dapsone topical
edoxaban
encorafenib
enoxaparin
entrectinib
erdafitinib
eribulin
fondaparinux
glasdegib
heparin
hydroxychloroquine sulfate
idelalisib
ivosidenib
lasmiditan
lorlatinib
lumacaftor/ivacaftor
macimorelin
mefloquine
nefazodone
onabotulinumtoxinA
ondansetron
pancuronium
pexidartinib
phenindione
pitolisant
pomalidomide
protamine
rapacuronium
ribociclib
rimegepant
riociguat
ritonavir
rocuronium
siponimod
succinylcholine
topotecan
tucatinib
umeclidinium bromide/vilanterol inhaled
vandetanib
vecuronium
vemurafenib
venetoclax
vilanterol/fluticasone furoate inhaled
vortioxetine
voxelotor
warfarin
Alerts
Limited or no benefit for treatment/prevention of nocturnal leg cramps
May cause serious and life-threatening hematologic reactions, including thrombocytopenia and hemolytic uremic syndrome/thrombotic thrombocytopenic purpura (HUS/TTP)
Chronic renal impairment associated with the development of TTP has been reported
Points of recommendation
Before using this medication, tell your doctor or pharmacist your medical history, especially of: previous serious side effects with quinine (such as blood problems), family/personal history of a certain enzyme problem (glucose-6-phosphate dehydrogenase deficiency-G6PD), a certain eye nerve problem (optic neuritis), hearing problems (such as ringing in the ears), a certain nerve/muscle disease (myasthenia gravis), heart rhythm problems (such as atrial fibrillation/flutter), kidney problems, liver problems.
This drug may make you dizzy or blur your vision. Alcohol or marijuana (cannabis) can make you more dizzy. Do not drive, use machinery, or do anything that needs alertness or clear vision until you can do it safely. Limit alcoholic beverages. Talk to your doctor if you are using marijuana (cannabis).
Quinine may cause a condition that affects the heart rhythm (QT prolongation). QT prolongation can rarely cause serious (rarely fatal) fast/irregular heartbeat and other symptoms (such as severe dizziness, fainting) that need medical attention right away.
The risk of QT prolongation may be increased if you have certain medical conditions or are taking other drugs that may cause QT prolongation. Before using quinine, tell your doctor or pharmacist of all the drugs you take and if you have any of the following conditions: certain heart problems (heart failure, slow heartbeat, QT prolongation in the EKG), family history of certain heart problems (QT prolongation in the EKG, sudden cardiac death).
Low levels of potassium or magnesium in the blood may also increase your risk of QT prolongation. This risk may increase if you use certain drugs (such as diuretics/"water pills") or if you have conditions such as severe sweating, diarrhea, or vomiting. Talk to your doctor about using quinine safely.
Pregnancy level
No evidence that quinine causes uterine contractions at doses recommended for malaria treatment
Breast feeding warning
Low levels of quinine in breastmilk; amounts ingested by infant are small and would not be expected to cause any adverse effects
Drug forms
Qualaquin