Drug information of Flubendazole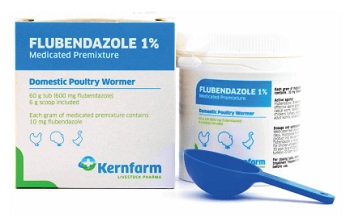 Mechanism of effect
Flubendazole inhibits cytoplasmic microtubules in the intestinal or absorptive cells of the worms, thus inhibiting glucose uptake and glycogen storage depletion, leading to death of the worms within days.
Pharmacodynamic
Not Available
Pharmacokinetics
Absorption: flubendazole is poorly absorbed after oral administration.
Elimination: plasmatic rates and urinary elimination are negligible and most of the taken dose is excreted in the faeces and unchyanged drug or primary metabolites.
Drug indications
Flubendazole is a member of the class of mebendazole in which the benzoyl group is replaced by a p-fluorobenzoyl group. A broad-spectrum anthelmintic, it is used, particularly in veterinary medicine, for the treatment of nematodal infections. It has a role as an antinematodal drug and a teratogenic agent
Dosage
Adult : PO Enterobiasis 100 mg as a single dose. Repeat 2-3 wk later if needed. Ascariasis; Hookworm infections; Trichuriasis 100 mg twice daily for 3 days.
Drug contraindications
Pregnancy.
Side effects
GI disturbances; headache, dizziness; allergic reactions; raised liver enzyme values; alopoecia; bone marrow suppression
Interactions
Enzyme inducers eg phenytoin or carbamazepine; and inhibitors eg cimetidine.
Alerts
A diabetic or Hypertensive patient need to be warned about few drug interactions. A known hypersensitivity patient needs to be careful about the reactions or anaphylactic shock. A pregnant woman or a breastfeeding woman should be warned of certain medications
Points of recommendation
A Hepatitis [liver disease] patient or a cardiac patient should avoid few drugs