Drug information of Cidofovir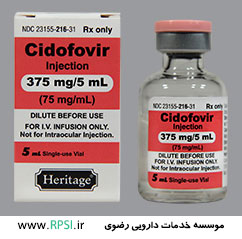 Mechanism of effect
Cidofovir acts through the selective inhibition of viral DNA polymerase.Biochemical data support selective inhibition of CMV DNA polymerase by cidofovir diphosphate, the active intracellular metabolite of cidofovir.
Cidofovir diphosphate inhibits herpesvirus polymerases at concentrations that are 8- to 600-fold lower than those needed to inhibit human cellular DNA polymerase alpha, beta, and gamma(1,2,3). Incorporation of cidofovir into the growing viral DNA chain results in reductions in the rate of viral DNA synthesis.
Pharmacodynamic
Cidofovir is a new anti-viral drug. It is classified as a nucleotide analogue and is active against herpes cytomegalovirus (CMV) retinitis infection. Most adults are infected with CMV. Cidofovir suppresses cytomegalovirus (CMV) replication by selective inhibition of viral DNA synthesis.
Pharmacokinetics
Distribution: Vd: 0.54 L/kg; does not cross significantly into CSF
Protein Bound: <6%
Half-life elimination: 2.6 hr
Metabolism: minimal; phosphorylation occurs intracellularly
Excretion: urine
Dosage
Adult
Cytomegalovirus Retinitis
Induction treatment: 5 mg/kg IV over 1 hour, once/week x2 weeks
Maintenance treatment: 5 mg/kg IV q2Weeks
Side effects
Sinusitis
,
anemia
,
depression
,
Anxiety
,
Infection
,
Insomnia
,
Diarrhea
,
Acne
,
Headache
,
Proteinuria
,
nausea
,
Tachycardia
,
dizziness
,
vomiting
,
Seizures
,
vertigo
,
asthenia
,
urticaria
,
uveitis
,
fever
,
anorexia
,
hyperlipidemia
,
dehydration
,
Hypokalemia
,
Hypocalcemia
,
Creatinine increased
,
dysphagia
,
pneumonia
,
itching
,
hallucinations
,
skin discoloration
,
difficulty urinating
,
allergic reactions
,
Abdominal pain
,
thrombocytopenia
,
Rash
,
rhinitis
,
Syncope
Interactions
Cisplatin
,
Kanamycin
,
Meglumine Compound
,
Streptozocin
,
Oxaliplatin
,
Polymyxin b sulfate
,
Tenofovir
,
Gentamicin
,
Methotrexate
,
Tobramycin
,
Bacitracin
,
Capreomycin
,
Paromomycin
,
Hydroxy urea
,
Carboplatin
,
Vancomycin
,
Tobramycin inhalation
,
Zidovudine
,
Pentamidine
,
Clofarabine
,
Ibandronate
,
Colistin
,
Netilmicin
,
Diatrizoate (Amidotrizoic acid)
,
Olsalazine
,
Balsalazide
,
Valdecoxib
,
edetate disodium
,
Ioxaglate
,
Meclofenamate
,
Oxaprozin
,
Gallium Nitrate
,
Iothalamate Meglumine
Alerts
Renal impairment is the major toxicity, and acute renal failure resulting in dialysis or contributing to death have occurred with as few as 1 or 2 doses
Reduce nephrotoxicity risk by IV prehydration with normal saline, and administration of probenecid must be used with each infusion
Renal function (serum creatinine and urine protein) must be monitored within 48 hr prior to each dose, and, if necessary, modify dose in renal function as appropriate
Neutropenia observed; monitor neutrophil counts
Indicated only for the treatment of cytomegalovirus (CMV) retinitis in patients with acquired immunodeficiency syndrome (AIDS)
Animal studies showed cidofovir was carcinogenic, teratogenic, and caused hypospermia
Points of recommendation
Have an eye exam as you have been told by your doctor.
You may have more chance of getting an infection. Wash hands often. Stay away from people with infections, colds, or flu.
Have blood work checked as you have been told by the doctor. Talk with the doctor.
Have your urine checked as you have been told by your doctor.
Cases of too much acid in the blood (acidosis) with liver problems and pancreatitis have happened with cidofovir. Sometimes, these have been deadly. Talk with the doctor.
If you are 60 or older, use cidofovir with care. You could have more side effects.
Use with care in children. Talk with the doctor.
If you are a man and have sex with a female who could get pregnant, protect her from pregnancy during care and for 3 months after care ends. Use a condom.If you are a man and your sex partner gets pregnant while you take cidofovir or within 3 months after your last dose, call your doctor right away.
This medicine may cause harm to the unborn baby if you take it while you are pregnant.
Use birth control that you can trust to prevent pregnancy while taking cidofovir and for 1 month after stopping cidofovir. If you get pregnant while taking cidofovir or within 1 month after your last dose, call your doctor right away.