Drug information of Altretamine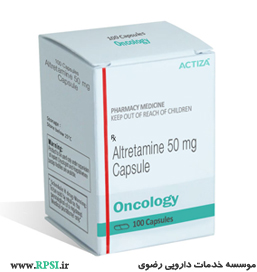 Mechanism of effect
The precise mechanism by which altretamine exerts its cytotoxic effect is unknown although it is classified as an alkylating anti-neoplastic agent.
Through this mechanism, the drug is metabolized into alkylating agents by N-demethylation. These alkylating species consequently damage tumor cells.
Pharmacodynamic
Altretamine is a novel antineoplastic agent. The precise mechanism by which altretamine exerts its cytotoxic effect is unknown. Altretamine has been demonstrated to be efficacious for certain ovarian tumors resistant to classical alkylating agents.
Metabolism of altretamine is a requirement of cytotoxicity. Synthetic monohydroxymethylmelamines, and products of altretamine metabolism, in vitro and in vivo, can form covalent adducts with tissue macromolecules including DNA, but the relevance of these reactions to antitumor activity is unknown.
Dosage
Adult
Recurrent Ovarian Cancer
Indicated for recurrence following alkylating agent or cisplatin treatment
260 mg/m²/day PO divided q6hr for 14-21 days of a 28-day cycle
Pediatric
Safety and efficacy not established
Side effects
anemia
,
depression
,
nausea
,
dizziness
,
vomiting
,
Seizures
,
vertigo
,
anorexia
,
Leukopenia
,
thrombocytopenia
,
Rash
Interactions
Thioguanine
,
Daunorubicin
,
Cisplatin
,
Fludarabine phosphate
,
BCG vaccine
,
(Vitamin B6 (Pyridoxine
,
Pemetrexed
,
Adenovirus types 4 and 7 live, oral
,
Decitabine
,
Meningococcal conjugate vaccine
Alerts
Bone marrow suppression:Perform peripheral blood counts routinely before and after drug therapy
Neurotoxicity:Perform neurologic examinations routinely before and after drug therapy
Previous treatment with other myelosuppressive drugs or pre-existing neurotoxicity
Discontinue indefinitely if neurologic symptoms persist on reduced dose
Risk of orthostatic hypotension with concomitant MAO inhibitors, esp in >60 years
Points of recommendation
Have blood work checked as you have been told by the doctor. Talk with the doctor.
You may bleed more easily. Be careful and avoid injury. Use a soft toothbrush and an electric razor.
You may have more chance of getting an infection. Wash hands often. Stay away from people with infections, colds, or flu.
Talk with your doctor before getting any vaccines. Use with altretamine may either raise the chance of an infection or make the vaccine not work as well.
If you have upset stomach, throwing up, loose stools (diarrhea), or are not hungry, talk with your doctor. There may be ways to lower these side effects.
This medicine may cause harm to the unborn baby if you take it while you are pregnant.
Use birth control that you can trust to prevent pregnancy while taking altretamine.
If you are pregnant or you get pregnant while taking altretamine, call your doctor right away.
Take after meals and at bedtime.