Drug information of Prednisolone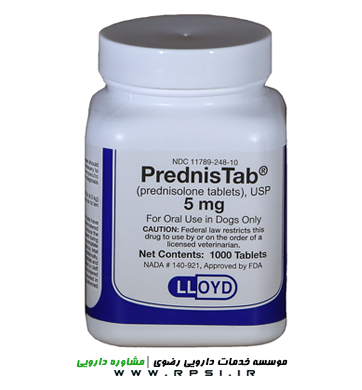 Mechanism of effect
Glucocorticoids such as Prednisolone can inhibit leukocyte infiltration at the site of inflammation, interfere with mediators of inflammatory response, and suppress humoral immune responses. The antiinflammatory actions of glucocorticoids are thought to involve phospholipase A2 inhibitory proteins, lipocortins, which control the biosynthesis of potent mediators of inflammation such as prostaglandins and leukotrienes. Prednisolone reduces inflammatory reaction by limiting the capillary dilatation and permeability of the vascular structures. These compounds restrict the accumulation of polymorphonuclear leukocytes and macrophages and reduce the release of vasoactive kinins. Recent research suggests that corticosteroids may inhibit the release of arachidonic acid from phospholipids, thereby reducing the formation of prostaglandins. Prednisolone is a glucocorticoid receptor agonist. On binding, the corticoreceptor-ligand complex translocates itself into the cell nucleus, where it binds to many glucocorticoid response elements (GRE) in the promoter region of the target genes. The DNA bound receptor then interacts with basic transcription factors, causing an increase or decrease in expression of specific target genes, including suppression of IL2 (interleukin 2) expression.
Pharmacodynamic
Prednisolone is a synthetic glucocorticoid used as antiinflammatory or immunosuppressive agent.
Pharmacokinetics
Duration: 18-36 hr
Peak plasma time: 5 min (IV); 1 hr (PO)
Protein bound: 65-91% (lower in elderly)
Vd: 0.22-0.7 L/kg
Metabolism: Extensively metabolized in liver
Half-life: 3.6 hr (normal renal function); 3-5 hr (end-stage renal disease)
Dialyzable: Hemodialysis, no
Renal clearance: 9.5 mL/min
Excretion: Urine (mainly)
Dosage
Adult
Rheumatoid Arthritis
5-7.5 mg PO qDay
Multiple Sclerosis
200 mg/day PO for 1 week, then 80 mg PO every other day for 1 month
Acute Exacerbation of COPD (Off-label)
30-40 mg PO qDay for 10-14 days
Bells Palsy (Off-label)
60 mg PO qDay for 5 days; then taper down by 10 mg daily for 5 days for total duration time of 10 days
Pediatric
Inflammation
0.1-2 mg/kg/day PO in single daily dose or divided q6-12hr; not to exceed 80 mg/day
Acute Asthma
1-2 mg/kg/day in single daily dose or divided q12hr for 3-5 days
Nephrotic Syndrome
First 4 weeks: 60 mg/m²/day or 2 mg/kg/day PO divided q8hr until urine is protein free for 3 consecutive days; not to exceed 28 days; dose not to exceed 80 mg/day
Subsequent 4 weeks: 40 mg/m² or 1-1.5 mg/kg PO every other day; not to exceed 80 mg/day
Maintenance in frequent relapses: 0.5-1 mg/kg/dose PO every other day for 3-6 months
Treatment may have to be individualized
Side effects
depression
,
Anxiety
,
Headache
,
Blurred vision
,
vertigo
,
Weight increase
,
oliguria
,
increased appetite
,
burning, numbness, tingling
,
Restlessness
,
shortness of breath
,
Fast or irregular heartbeat
Interactions
Ergotamine-C
,
Oxandrolone
,
Bortezomib
,
Pyridostigmine
,
Trastuzumab
,
Cyclopentolate
,
Glibenclamide
,
Carbamazepine
,
Diltigel
,
Rifabutin
,
Aldesleukin
,
Adalimumab
,
Phenindione
,
Erythromycin
,
Pneumovax
,
Testosterone
,
Dihydroergotamine
,
Rifampin
,
Cimetidine
,
Japanese Encephalitis Virus Vaccine
,
Anthrax vaccine
,
Polio vaccine, inactivated
,
Typhoid vaccine (live), oral
,
Yellow fever vaccine
,
rotavirus vaccine
,
silodosin
,
Axicabtagene ciloleucel
,
Zoster Vaccines
,
DIPHTHERIA & TETANUS TOXOID (Td )
,
Hepatitis B Vaccine
,
tolvaptan
,
meningococcal polysaccharide vaccine
,
Measles vaccine
,
Rubella Vaccines
,
Mumps vaccine
,
Tofacitinib
,
Tisagenlecleucel
,
Adenovirus types 4 and 7 live, oral
,
Clarithromycin
,
ergotamine
,
Ranolazine
,
Quinidine
,
Nefazodone
,
dronedarone
,
Sirolimus
,
Cisapride
,
Simvastatin
,
Lovastatin
,
Human papillomma virus vaccine
,
Ketoconazole
,
Desirudin
,
Varicella-Zoster Vaccines
,
Benzatropine
,
Indinavir
,
Hib vaccine
,
Ardeparin
,
Grepafloxacin
,
Bendroflumethiazide
,
Cordyceps
,
Glycerol Phenylbutyrate
,
Meningococcal conjugate vaccine
,
Rabies Vaccine
,
cyclopenthiazide
Alerts
Use with caution in cirrhosis, diabetes, ocular herpes simplex, hypertension, diverticulitis, following myocardial infarction, thyroid disease, seizure disorders, hypothyroidism, myasthenia gravis, hepatic impairment, peptic ulcer disease, osteoporosis, ulcerative colitis, psychotic tendencies, untreated systemic infections, renal insufficiency, pregnancy
Thromboembolic disorders or myopathy may occur
Delayed wound healing is possible
Patients receiving corticosteroids should avoid chickenpox or measles-infected persons if unvaccinated
Latent tuberculosis may be reactivated (patients with positive tuberculin test should be monitored)
Some suggestion (not fully substantiated) of slightly increased cleft palate risk if corticosteroids are used in pregnancy
Suppression of hypothalamic-pituitary-adrenal axis may occur particularly in patients receiving high doses for prolonged periods or in young children; discontinuation of therapy should be done through slow taper
Posterior subcapular cataract formation associated with prolonged use of corticosteroids
Prolonged use of corticosteroids may increase risk of secondary infections
Increase in intraocular pressure associated with prolonged use of corticosteroids
Long-term use associated with fluid retention and hypertension
Development of Kaposi's sarcoma associated with prolonged corticosteroid use
Acute myopathy associated with high dose of corticosteroids
Corticosteroid use may cause psychiatric disturbances
If product is used for 10 days or longer, intraocular pressure should be routinely monitored even though it may be difficult in children and uncooperative patients; steroids should be used with caution in the presence of glaucoma. Intraocular pressure should be checked frequently
Steroids after cataract surgery may delay healing and increase incidence of bleb formation
Use of ocular steroids may prolong course and may exacerbate severity of many viral infections of the eye (including herpes simplex)
Points of recommendation
Follow all directions on your prescription label. Your doctor may occasionally change your dose. Do not use prednisolone in larger or smaller amounts or for longer than recommended.
Measure liquid medicine with the dosing syringe provided, or with a special dose-measuring spoon or medicine cup. If you do not have a dose-measuring device, ask your pharmacist for one.
You may need to shake the oral suspension (liquid) well just before you measure a dose. Follow the directions on your medicine label.
Keep the disintegrating tablet in its blister pack until you are ready to take the medicine.
Your dose needs may change if you have unusual stress such as a serious illness, fever or infection, or if you have surgery or a medical emergency. Tell your doctor about any such situation that affects you.
This medicine can cause unusual results with certain medical tests. Tell any doctor who treats you that you are using prednisolone.
You should not stop using prednisolone suddenly. Follow your doctor's instructions about tapering your dose.
If you need surgery, tell the surgeon ahead of time that you are using prednisolone. You may need to stop using the medicine for a short time.
Store at room temperature away from moisture and heat.
Do not receive a "live" vaccine while using prednisolone. The vaccine may not work as well during this time, and may not fully protect you from disease. Live vaccines include measles, mumps, rubella (MMR), polio, rotavirus, typhoid, yellow fever, varicella (chickenpox), zoster (shingles), and nasal flu (influenza) vaccine.
Do not receive a smallpox vaccine or you could develop serious complications.
Avoid being near people who are sick or have infections. Call your doctor for preventive treatment if you are exposed to chickenpox or measles. These conditions can be serious or even fatal in people who are using steroid medication.
Related drugs
Betamethasone
,
Deflazacort
,
Dexamethasone
,
Fludrocortisone
,
Budesonide
,
Triamcinolone
,
Methylprednisolone
,
Hydrocortisone
,
prednisone
,
Loteprednol
,
flurandrenolide