Drug information of Mifepristone
Mifepristone
Mifepristone is a progestational and glucocorticoid hormone antagonist.
Mifepristone is used in combination with misoprostol (Cytotec) to end an early pregnancy. Early pregnancy means it has been 70 days or less since your last menstrual period began.
Mifepristone is in a class of medications called antiprogestational steroids. It works by blocking the activity of progesterone, a substance your body makes to help continue pregnancy.
Mifepristone is also available as another product (Korlym), which is used to control hyperglycemia (high blood sugar) in people with a certain type of Cushing's Syndrome in which the body makes too much of the hormone cortisol. This monograph only gives information about mifepristone (Mifeprex), which is used alone or in combination with another medication to end an early pregnancy.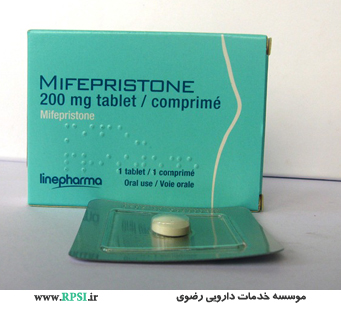 Mechanism of effect
Mifepristone is a synthetic steroid. At low doses, it competitively binds to the intracellular progesterone receptor, blocking the effects of progesterone.
When used for the termination of pregnancy, this leads to contraction-inducing activity in the myometrium. In the absence of progesterone, mifepristone acts as a partial progesterone agonist.
At high doses used for the treatment of hyperglycemia in patients with Cushing's syndrome, mifepristone blocks the effect of cortisol at the glucocorticoid receptor (antagonizes the effects of cortisol on glucose metabolism) while at the same time increasing circulating cortisol concentrations.
Pharmacodynamic
Mifepristone is a synthetic steroid with antiprogestational effects indicated for the medical termination of intrauterine pregnancy through 49 days' pregnancy. Doses of 1 mg/kg or greater of mifepristone have been shown to antagonize the endometrial and myometrial effects of progesterone in women.
During pregnancy, the compound sensitizes the myometrium to the contraction-inducing activity of prostaglandins. Mifepristone also exhibits antiglucocorticoid and weak antiandrogenic activity.
Pharmacokinetics
Absorption
Oral: Rapid
Metabolism
Hepatic via CYP3A4 to three metabolites (active)
Excretion
Feces (83%); urine (9%)
Time to Peak
Oral: 90 minutes; Range: Single dose: 1-2 hours, Multiple doses: 1-4 hours
Half-Life Elimination
Single dose: Terminal: 18 hours following a slower phase where 50% eliminated between 12-72 hours; Multiple doses (600 mg/day): 85 hours
Protein Binding
98% to albumin and α1-acid glycoprotein
Dosage
Pregnancy Termination
Mifeprex: Indicated for the medical termination of intrauterine pregnancy through 70 days gestation in combination with misoprostol
Day 1: 200 mg of mifepristone PO as a single dose under physician supervision
Days 2-3: 800 mcg of misoprostol buccally once as a single dose; must be administered a minimum of 24-hr and a maximum of 48-hr following mifeprostone dose on day 1
Days 7-14
Must return for follow-up visit to confirm complete termination has occurred by medical history, clinical examination, hCG testing, or ultrasonographic scan
If complete expulsion has not occurred, but the pregnancy is not ongoing, women may be treated with another dose of misoprostol 800 mcg buccally with follow-up in ~7 days
Lack of bleeding following treatment usually indicates failure; however, prolonged or heavy bleeding is not proof of a complete abortion
Surgical evacuation is recommended to manage ongoing pregnancies after medical abortion
Dosing considerations
Pregnancy is dated from the first day of the last menstrual period
Duration of pregnancy may be determined from menstrual history and clinical examination
Assess the pregnancy by ultrasonographic scan if the duration of pregnancy is uncertain or if ectopic pregnancy is suspected
Remove any intrauterine device (IUD) before treatment
Because most women will expel the pregnancy within 2-24 hr of taking misoprostol, discuss with the patient an appropriate location for her to be when she takes the misoprostol, taking into account that expulsion could begin within 2 hr of administration
Cushing Syndrome
Korlym: Indicated to control hyperglycemia secondary to hypercortisolism in adults with endogenous Cushing syndrome who have type 2 diabetes mellitus or glucose intolerance and have failed surgery or are not candidates for surgery
300 mg PO qDay initially; may dose to a maximum of 1200 mg/day, but should not exceed 20 mg/kg/day
Increase in dose should not occur more frequently than every 2-4 weeks and should be based on assessment of glucose control, antidiabetic medication requirements, insulin levels and psychiatric symptoms
Interactions
Protamine sulfat
,
Tretinoin
,
Drospirenone
,
Medroxyprogesterone
,
Midazolam
,
Pentamidine
,
Prochlorperazine
,
prednisone
,
Desirudin
,
Erythromycin
,
Ibuprofen
,
Itraconazole
,
Pimozide
,
Tacrolimus
,
Dihydroergotamine
,
Dabigatran
,
fluvastatin
,
Warfarin
,
Ketoconazole
,
Clopidogrel
,
ergotamine
,
fentanyl
,
Aspirin
,
Sirolimus
,
Simvastatin
,
Cyclosporine
,
Phenobarbital
,
Phenytoin
,
Lovastatin
,
Dolasetron
,
Palonosetron
,
vandetanib
,
sparfloxacin
,
Mefloquine
,
Dofetilide
,
Promazine
,
Idelalisib
,
Dalteparin
,
Vasopressin
,
Aceclofenac
,
Tinzaparin
,
Halofantrine
,
Grepafloxacin
,
cobicistat
,
Delavirdine
,
Terfenadine
,
Asenapine
,
Alfuzosin
,
Perflutren
,
Pimavanserin
,
Betrixaban
,
Avanafil
,
Treprostinil
,
Entrectinib
,
Cabozantinib
,
Cariprazine
,
Temsirolimus
,
Troleandomycin
,
gilteritinib
,
glasdegib
,
Abemaciclib
,
Eliglustat
,
Romidepsin
,
riociguat
,
oleandomycin
,
Naltrexone and Bupropion
,
Bepridil
,
bedaquiline
,
Gefitinib
,
Dasatinib
,
Gemtuzumab
,
Cannabidiol
,
cangrelor
,
defibrotide
,
Venetoclax
,
Avapritinib
Alerts
Serious and sometimes fatal infections and bleeding occur very rarely following spontaneous, surgical, and medical abortions
Atypical presentation of infection reported; patients with serious bacterial infections (eg, Clostridium sordellii) and sepsis can present without fever, bacteremia or significant findings on pelvic examination following an abortion; very rarely, deaths have been reported in patients who presented without fever, with or without abdominal pain, but with leukocytosis with a marked left shift, tachycardia, hemoconcentration, and general malaise
Prolonged heavy bleeding may be a sign of incomplete abortion or other complications that requires prompt medical attention
Should be used only with strict adherence to recommended dosages by medically trained personnel who can provide immediate intensive care in acute surgical facilities
Pregnancy must therefore be excluded before the initiation of treatment with Korlym, or if treatment is interrupted for more than 14 days in females of reproductive potential
Pregnancy must be prevented during treatment and for 1 month after stopping treatment by the use of a nonhormonal medically acceptable method of contraception unless the patient has had a surgical sterilization
You should not take Korlym if you are allergic to mifepristone, or if you have:
endometrial hyperplasia or a certain type of uterine cancer;
unusual or unexplained vaginal bleeding;
if you are pregnant; or
if you take steroid medications because of a serious illness or condition (such as an organ transplant).
To make sure Korlym is safe for you, tell your doctor if you have ever had:
low levels of potassium in your blood;
heart disease;
a bleeding or blood-clotting disorder, or if you take a blood thinner such as warfarin(Coumadin, Jantoven);
liver or kidney disease;
an organ transplant; or
a problem with your thyroid or adrenal glands.
Points of recommendation
You will need to have a negative pregnancy test before you start taking Korlym, or if you restart the medicine after not taking it for longer than 2 weeks.
Korlym can make birth control pills less effective. Use a non-hormone method of birth control (such as a condom with spermicide or diaphragm with spermicide) while you are using this medicine and for at least 1 month after your treatment ends.
Korlym is usually taken once per day with a meal. Follow your doctor's instructions.
Do not crush, chew, or break a Korlym tablet. Swallow it whole. Tell your doctor if you have trouble swallowing the tablet.
While using Korlym, you may need frequent blood tests.