Drug information of pravastatin
pravastatin
Pravastatin is in a group of drugs called HMG CoA reductase inhibitors, or "statins." It reduces levels of "bad" cholesterol (low-density lipoprotein, or LDL) and triglycerides in the blood, while increasing levels of "good" cholesterol (high-density lipoprotein, or HDL). Pravastatin is used to lower cholesterol and triglycerides (types of fat) in the blood.
Pravastatin is also used to lower the risk of stroke, heart attack, and other heart complications in people with or without coronary heart disease or other risk factors.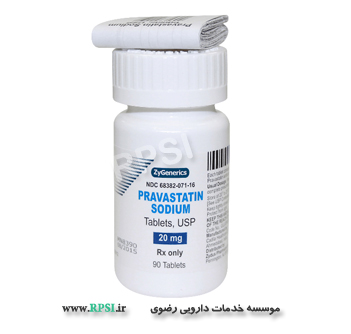 Mechanism of effect
HMG-CoA reductase inhibitor; inhibits the rate-limiting step in cholesterol biosynthesis by competitively inhibiting HMG-CoA reductase
Pharmacodynamic
Pravastatin is structurally similar to the HMG, Unlike mevastatin, and statins such as lovastatin and simvastatin, pravastatin does not need to be activated in vivo.
Its hydrolyzed lactone ring mimics the tetrahedral intermediate produced by the reductase allowing the agent to bind with a much greater affinity than its natural substrate.
Pharmacokinetics
Absorption:
Bioavailability: 17%
Onset: 2 weeks
Peak effect: 4 weeks
Peak serum time: 1-1.5 hr
Distribution:
Protein bound: 43-55%
Vd: 0.46 L/kg
Metabolism:
Undergoes extensive first-pass extraction by liver
Dosage
Hyperlipidemia : 10-40 mg PO qDay; not to exceed 80 mg/day
Interactions
Erythromycin
,
Gemfibrozil
,
Cyclosporine
,
Fenofibrate
,
Clarithromycin
,
Colchicine
,
saquinavir
,
Daptomycin
,
Eltrombopag
,
Mibefradil
,
Remdesivir
,
bempedoic acid
,
sitaxentan
Alerts
Pravastatin therapy should be discontinued if markedly elevated CPK levels occur or myopathy is diagnosed or suspected.
Pravastatin therapy should also be temporarily withheld in any patient experiencing an acute or serious condition predisposing to the development of renal failure secondary to rhabdomyolysis, e.g., sepsis; hypotension; major surgery; trauma; severe metabolic, endocrine, or electrolyte disorders; or uncontrolled epilepsy
tell your doctor if you have: kidney disease; abnormal liver function tests; a thyroid disorder; or if you drink more than 2 alcoholic beverages daily.
This medicine is not approved for use by anyone younger than 8 years old.
Points of recommendation
Can be taken with or without food.
Take the medicine at the same time each day.
Before starting treatment, patients should undergo a standard cholesterol-lowering regimen for 6 weeks and this regimen should continue during treatment.
While using this medicine, you may need frequent blood tests.
Avoid eating foods that are high in fat or cholesterol. Pravastatin will not be as effective in lowering your cholesterol if you do not follow a cholesterol-lowering diet plan.
Avoid drinking alcohol. It can raise triglyceride levels and may increase your risk of liver damage.