Drug information of Tapentadol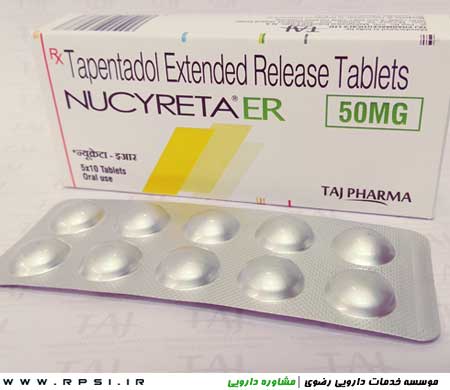 Mechanism of effect
Tapentadol causes large increases in levels of extracellular norepinephrine (NE) due to a dual mechanism of action involving mu opioid receptor (MOR) agonism as well as noradrenaline reuptake inhibition.
Pharmacodynamic
Tapentadol is a centrally-acting synthetic analgesic that is 18 times less potent than morphine in binding mu-opioid receptors. Selective mu-opioid antagonists like naloxone can block analgesia from tapentadol. It also has not effect on the QT interval.
Pharmacokinetics
Bioavailability: 32% (single dose, fasting)
Peak plasma time: Immediate release, 1.25 hr; extended release, 3-6 hr
Protein bound: 20%
Vd: 540 L (IV)
Metabolism: Metabolized via glucuronidation (97%)
Half-life: Immediate release, 4 hr; extended release, 5-6 hr
Excretion: Urine (99%)
Dosage
Adult
Acute Moderate-to-Severe Pain
Immediate-release tablet or oral solution: 50-100 mg PO q4-6hr PRN; not to exceed 700 mg on day 1 and 600 mg/day thereafter
Chronic (extended-release tablet)
50-250 mg PO q12hr PRN; not to exceed 500 mg/day
Opioid-naive patients: 50 mg PO q12hr; titrated to optimal dosage as needed; not to exceed 500 mg/day
Chronic Severe Pain
50-250 mg PO q12hr PRN; not to exceed 500 mg/day
Opioid-naive patients: 50 mg PO q12hr; titrated to optimal dosage as needed; not to exceed 500 mg/day
Diabetic Peripheral Neuropathy
Extended release: 50 mg PO q12hr initially; titrated to balance individual tolerance with efficacy; typical range, 100-250 mg PO q12hr
Dosing considerations
Conversion from immediate release to extended release formulation
Use same total daily dose but divide into 2 equal doses and administer q12hr
Conversion from other opioids to tapentadol extended release
Discontinuation of therapy
Decrease previous daily dose by 25-50% each day every 2-4 days; monitor for signs or symptoms of withdrawal; in the event of withdrawal symptoms, increase dose to previous level and then reduce dose more gradually by increasing interval between dose reductions, increasing amount of daily dose reduction or both
Dose titration
Titrate every 3 days to effective dose in increments of 50 mg
Pediatric
Safety and efficacy not established
Interactions
Aripiprazole
,
Alprazolam
,
Amitriptyline
,
Iopamidol
,
Oxazepam
,
Olanzapine
,
hydromorphone
,
lurasidone
,
nalbuphine
,
5-hydroxytryptophan
,
Ethchlorvynol
,
phendimetrazine
,
levomethadyl acetate
,
eszopiclone
,
halazepam
,
Clorazepate
,
Quazepam
,
Cariprazine
,
Oxymorphone
,
Levomilnacipran
,
Cannabis
,
Secobarbital
,
Mazindol
,
Temazepam
,
Estazolam
,
Chlormezanone
,
Chlorphenesin
,
Benzphetamine
,
Butabarbital
,
Iloperidone
,
Pimavanserin
,
Tasimelteon
,
Ramelteon
,
Triflupromazine
,
Metrizamide
,
Asenapine
,
Paliperidone
,
Paraldehyde
,
Butorphanol
,
Chlorzoxazone
,
Desvenlafaxine
,
Milnacipran
,
Dexfenfluramine
,
Propiomazine
,
Molindone
,
Zaleplon
,
Meprobamate
,
Loxapine
,
Butalbital and Acetaminophen
,
Triazolam
,
Lorcaserin
,
Sufentanil
,
Alfentanil
,
Mesoridazine
,
Carisoprodol
,
Hydrocodone
,
lisdexamfetamine
,
Dantrolene
,
Phenylpropanolamine
,
Tryptophan
,
Vilazodone
,
Dolasetron
,
Palonosetron
,
Frovatriptan
,
Fenfluramine
,
Methamphetamine
,
Amphetamine
,
eletriptan
,
Mirtazapine
,
Nefazodone
,
Dextroamphetamine
,
Pentazocine
,
Naratriptan
,
Almotriptan
,
Diethylpropion
,
propoxyphene
,
protriptyline
,
morphine
,
meperidine
,
codeine
,
iohexol (Omnipaque)
,
Levorphanol
,
Oxycodone
,
safinamide
,
methylene blue
,
Ziprasidone
,
rasagiline
,
Phenelzine
,
Amoxapine
,
isocarboxazid
,
Pentobarbital
,
Amobarbital
,
Remifentanil
,
Linezolid
,
Quetiapine
,
lithium
,
phentermine
,
Buprenorphine
,
Sodium Oxybate
,
Clonazepam
,
Zolmitriptan
,
escitalopram
,
ergotamine
,
fentanyl
,
Cyclobenzaprine
,
Haloperidol
,
Venlafaxine
,
Chlorpromazine
,
Clobazam
,
Clozapine
,
Clomipramine
,
Granisetron
,
Lorazepam
,
Methadone
,
Methocarbamol
,
Methoxalen
,
Nortriptyline
,
Flurazepam
,
Fluphenazine
,
Fluvoxamine
,
Fluoxetine
,
Phenobarbital
,
Furazolidone
,
Risperidone
,
Zolpidem
,
Sertraline
,
Selegiline
,
Sibutramine
,
Citalopram
,
Desipramine
,
Duloxetine
,
Doxepin
,
Dihydroergotamine
,
Diazepam
,
Rizatriptan
,
Tranylcypromine
,
Trifluoperazine
,
Trimipramine
,
Tizanidine
,
Thiothixene
,
Thioridazine
,
perphenazine
,
Procarbazine
,
Primidone
,
Pimozide
,
Trazodone
,
Tramadol
,
Ondansetron
,
Imipramine
,
Baclofen
,
Bupropion
,
Buspirone
,
Paroxetine
,
Promazine
,
Chloral hydrate
,
Alvimopan
,
Acetaminophen and benzhydrocodone
,
Tolcapone
,
Brexpiprazole
,
Bromazepam
Alerts
Conditions with risk for respiratory depression (particularly in patients who are elderly or debilitated or have comorbid conditions with hypoxia, hypercarbia, or airway obstruction)
Avoid dosing errors that may result from confusion between mg and mL when prescribing, dispensing, and administering oral solution; ensure the dose is communicated clearly and dispensed accurately; always use the enclosed calibrated syringe when administering drug to ensure the dose is measured and administered accurately; do not use teaspoon or tablespoon to measure a dose; a household teaspoon or tablespoon is not an adequate measuring device; health care providers should recommend a calibrated device that can measure and deliver prescribed dose accurately, and instruct caregivers to use extreme caution in measuring dosage
In patients who may be susceptible to intracranial effects of CO2 retention (e.g., those with evidence of increased intracranial pressure or brain tumors), therapy may reduce respiratory drive, and resultant CO2 retention can further increase intracranial pressure; monitor such patients for signs of sedation and respiratory depression, particularly when initiating therapy; opioids may obscure clinical course in a patient with a head injury; avoid the use in patients with impaired consciousness or coma
May cause drowsiness (use with caution when driving or operating machinery)
Cases of serotonin syndrome, a potentially life-threatening condition, reported with concomitant use of serotonergic drugs; this may occur within the recommended dosage range; the onset of symptoms generally occur within several hours to a few days of concomitant use, but may occur later than that; discontinue therapy immediately if serotonin syndrome is suspected
Therapy may cause severe hypotension including orthostatic hypotension and syncope in ambulatory patients; there is increased risk in patients whose ability to maintain blood pressure has already been compromised by a reduced blood volume or concurrent administration of certain CNS depressant drugs (e.g., phenothiazines or general anesthetics); monitor patients for signs of hypotension after initiating or titrating dosage; in patients with circulatory shock, therapy may cause vasodilation that can further reduce cardiac output and blood pressure; avoid therapy in patients with circulatory shock
Contraindicated in patients with known or suspected gastrointestinal obstruction, including paralytic ileus; may cause spasm of sphincter of Oddi; opioids may cause increases in serum amylase; monitor patients with biliary tract disease, including acute pancreatitis, for worsening symptoms
May prevent/obscure diagnosis of acute abdominal conditions
Avoid use of mixed agonist/antagonist (e.g., pentazocine, nalbuphine, and butorphanol) or partial agonist (e.g., buprenorphine) analgesics in patients who are receiving a full opioid agonist analgesic; mixed agonist/antagonist and partial agonist analgesics may reduce analgesic effect and/or precipitate withdrawal symptoms
Addiction can occur in patients appropriately prescribed therapy; addiction can occur at recommended dosages and if drug is misused or abused
While serious, life-threatening, or fatal respiratory depression can occur at any time during therapy, risk is greatest during initiation of therapy or following dosage increase; monitor patients closely for respiratory depression, especially within first 24 to 72 hr of initiating therapy with and following dosage increases; accidental ingestion of even one dose, especially by children, can result in respiratory depression and death due to overdose of opioid
Abrupt discontinuance may precipitate withdrawal symptoms (eg, anxiety, sweating, insomnia, rigors, pain, nausea, tremors, hallucinations)
Cases of adrenal insufficiency reported with opioid use, more often following greater than one month of use; symptoms may include nausea, vomiting, anorexia, fatigue, weakness, dizziness, and low blood pressure; if adrenal insufficiency is diagnosed, treat with physiologic replacement doses of corticosteroids; wean patient off of opioid to allow adrenal function to recover and continue corticosteroid treatment until adrenal function recovers; other opioids may be tried as some cases reported use of a different opioid without recurrence of adrenal insufficiency
Use caution in CNS depression, hepatic/renal impairment, hypothyroidism, prostatic hyperplasia, respiratory disease, or seizures
Long-acting opioids
Addiction, abuse, and misuse risks are increased in patients with a personal or family history of substance abuse or mental illness (eg, major depression); the potential for these risks should not, however, prevent the prescribing of proper pain management in any given patient; intensive monitoring is necessary (see Black Box Warnings)
Interactions with CNS depressants (eg, alcohol, sedatives, anxiolytics, hypnotics, neuroleptics, other opioids) can cause additive effects and increase risk for respiratory depression, profound sedation, and hypotension
Life-threatening respiratory depression is more likely to occur in elderly, cachectic, or debilitated patients as they may have altered pharmacokinetics or altered clearance compared to younger, healthier patients
Black Box Warnings
Opioid analgesic risk evaluation and mitigation strategy (REMS)
To ensure that benefits of opioid analgesics outweigh risks of addiction, abuse, and misuse, the Food and Drug Administration (FDA) has required a REMS for these products; under requirements of the REMS, drug companies with approved opioid analgesic products must make REMS-compliant education programs available to healthcare providers
Healthcare providers are strongly encouraged to:

Complete a REMS-compliant education program
Counsel patients and/or their caregivers, with every prescription, on safe use, serious risks, storage, and disposal of these products
Emphasize to patients and their caregivers the importance of reading the Medication Guide every time it is provided by their pharmacist
Consider other tools to improve patient, household, and community safety
Addiction, abuse, and misuse
Risk of opioid addiction, abuse, and misuse, which can lead to overdose and death
Assess each patient's risk prior to prescribing and monitor all patients regularly for the development of these behaviors or conditions
Life-threatening respiratory depression
Serious, life-threatening, or fatal respiratory depression may occur
Monitor for respiratory depression, especially during initiation or following a dose increase Instruct patients to swallow tablet/capsule whole; crushing, chewing, or dissolving can cause rapid release and absorption of a potentially fatal dose
Accidental exposure
Accidental of even 1 dose, especially by children, can result in a fatal overdose
Neonatal opioid withdrawal syndrome
Prolonged use during pregnancy can result in neonatal opioid withdrawal syndrome, which may be life-threatening if not recognized and treated, and requires management according to protocols developed by neonatology experts
Syndrome presents as irritability, hyperactivity and abnormal sleep pattern, high pitched cry, tremor, vomiting, diarrhea and failure to gain weight
Onset, duration, and severity of neonatal opioid withdrawal syndrome vary based on the specific opioid used, duration of use, timing and amount of last maternal use, and rate of elimination of the drug by the newborn
If opioid use is required for a prolonged period in a pregnant woman, advise the patient of the risk of neonatal opioid withdrawal syndrome and ensure that appropriate treatment will be available
Interaction with alcohol
Instruct patients not to consume alcoholic beverages or use prescription or nonprescription products that contain alcohol
Coingestion of alcohol may cause rapid release of opioid content from long-acting tablet/capsule and result in increased plasma levels and a potentially fatal overdose
Interaction with benzodiazepines and other CNS depressants
Coadministration with benzodiazepines or other CNS depressants, including alcohol, may result in profound sedation, respiratory depression, coma, and death
Reserve concomitant prescribing for use in patients for whom alternative treatment options are inadequate; limit dosages and durations to the minimum required; and follow patients for signs and symptoms of respiratory depression and sedation
Points of recommendation
Take tapentadol exactly as prescribed. Follow the directions on your prescription label and read all medication guides. Never use tapentadol in larger amounts, or for longer than prescribed. Tell your doctor if you feel an increased urge to take more of this medicine.
Never share opioid medicine with another person, especially someone with a history of drug abuse or addiction. MISUSE CAN CAUSE ADDICTION, OVERDOSE, OR DEATH. Keep the medication in a place where others cannot get to it. Selling or giving away opioid medicine is against the law.
Take this medicine with a full glass of water. Tapentadol can be taken with or without food.
Stop taking all other around-the-clock narcotic pain medications when you start taking tapentadol extended-release tablets.
Do not crush, break, or open an extended-release pill. Swallow it whole to avoid exposure to a potentially fatal dose.
Tapentadol can cause constipation. Talk to your doctor before using a laxative or stool softener to treat or prevent this side effect.
Do not stop using tapentadol suddenly, or you could have unpleasant withdrawal symptoms. Ask your doctor how to safely stop using this medicine.
Never crush or break a tablet to inhale the powder or mix it into a liquid to inject the drug into your vein. This practice has resulted in death with the misuse of tapentadol and similar prescription drugs.
Store at room temperature away from moisture and heat.
Do not keep leftover opioid medication. Just one dose can cause death in someone using this medicine accidentally or improperly. Ask your pharmacist where to locate a drug take-back disposal program. If there is no take-back program, flush the unused medicine down the toilet.
Related drugs
Tramadol
,
fentanyl
,
Methadone
,
Buprenorphine
,
Remifentanil
,
Levorphanol
,
Oxycodone
,
propoxyphene
,
Hydrocodone
,
Butorphanol
,
Oxymorphone
,
Opium
,
hydromorphone
,
nalbuphine
,
morphine
,
meperidine
,
codeine
,
Pentazocine
,
Sufentanil
,
Alfentanil