Drug information of Remifentanil
Remifentanil
Remifentanil is a potent ultra short-acting synthetic opioid analgesic drug. It is given to patients during surgery to relieve pain and as an adjunct to an anaesthetic. Remifentanil is a specific mu-type-opioid receptor agonist. Hence, it causes a reduction in sympathetic nervous system tone, respiratory depression and analgesia.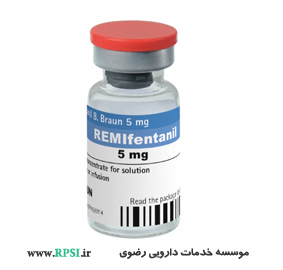 Mechanism of effect
Remifentanil is a µ-opioid agonist with rapid onset and peak effect, and short duration of action. The µ-opioid activity of remifentanil is antagonized by opioid antagonists such as naloxone.
Pharmacodynamic
Remifentanil is an opioid agonist with rapid onset and peak effect and ultra-short duration of action. The opioid activity of remifentanil is antagonized by opioid antagonists such as naloxone.
The analgesic effects of remifentanil are rapid in onset and offset. Its effects and side effects are dose dependent and similar to other opioids. Remifentanil in humans has a rapid blood-brain equilibration half-time of 1 ± 1 minutes (mean ± SD) and a rapid onset of action.
Pharmacokinetics
Absorption: Not Available
Volume of distribution: 350 mL/kg (452 ± 144 mL/kg [neonates] and 223 ± 30.6 mL/kg [adolescents])
Protein binding: 70% (bound to plasma proteins).
Metabolism: By hydrolysis of the propanoic acid-methyl ester linkage by nonspecific blood and tissue esterases.
Route of elimination: Remifentanil is an esterase-metabolized opioid. The carboxylic acid metabolite is essentially inactive (1/4600 as potent as remifentanil in dogs) and is excreted by the kidneys with an elimination half-life of approximately 90 minutes.
Half life: 1-20 minutes.
Dosage
Adults
Anesthesia, Induction
0.5-1 mcg/kg/min IV until after intubation; may give initial dose of 1 mcg/kg if intubation to occur less than 8 min after start of infusion
Anesthesia, Maintenance
0.25-0.5 mcg/kg/min IV; may bolus with 0.5-1 mcg/kg q2-5min in response to light anesthesia or transient episodes of intense surgical stress
Conscious Analgesia
1 mcg/kg IV bolus, followed by 0.05-0.2 mcg/kg/min IV
Analgesia, Immediate Post-Op Period
0.025-0.2 mcg/kg/min IV
Pediatrics
Anesthesia, Maintenance
Birth-2 month
With Nitrous Oxide: 0.4 mcg/kg/min IV
Range: 0.4-1 mcg/kg/min, may give supplemental dose 1 mcg/kg IV
1-12 years old
With Halothane, sevoflurane, isoflurane: 0.25 mcg/kg/min IV
Range: 0.05-1.3 mcg/kg/min IV, may give supplemental dose 1 mcg/kg over 30-60 sec IV
Interactions
Sibutramine
,
fentanyl
,
Tapentadol
,
Ondansetron
,
Isoniazid
,
Buspirone
,
Paroxetine
,
Trazodone
,
Duloxetine
,
escitalopram
,
lithium
,
Nefazodone
,
Tryptophan
,
Sertraline
,
Citalopram
,
Fluvoxamine
,
Fluoxetine
,
Granisetron
,
Venlafaxine
,
Dolasetron
,
Palonosetron
,
Promazine
,
Chloral hydrate
,
Desvenlafaxine
,
Dexfenfluramine
,
Molindone
,
Asenapine
,
Alvimopan
,
Paraldehyde
,
Acetaminophen and benzhydrocodone
,
Estazolam
,
Levomilnacipran
,
Ethchlorvynol
,
lasmiditan
Alerts
Hypotension: May cause hypotension; use with caution in patients with hypovolemia, cardiovascular disease (including acute MI), or drugs which may exaggerate hypotensive effects (including phenothiazines or general anesthetics). Monitor for symptoms of hypotension following initiation or dose titration.
Hypersensitivity: Anaphylaxis reactions may occur.
Respiratory depression: Serious, life-threatening, or fatal respiratory depression, even when used as recommended, may occur. Monitor closely for respiratory depression, especially during initiation or dose escalation. Carbon dioxide retention from opioid-induced respiratory depression can exacerbate the sedating effects of opioids.
Serotonin syndrome: Potentially life-threatening serotonin syndrome (SS) has occurred with concomitant use of remifentanil and serotonergic agents (eg, SSRIs, SNRIs, triptans, TCAs, 5-HT3 receptor antagonists, mirtazapine, trazodone, tramadol) and agents that impair metabolism of serotonin (eg, MAO inhibitors). Monitor patients closely for signs of SS such as mental status changes (eg, agitation, hallucinations, delirium, coma); autonomic instability (eg, tachycardia, labile blood pressure, diaphoresis); neuromuscular changes (eg, tremor, rigidity, myoclonus); GI symptoms (eg, nausea, vomiting, diarrhea); and/or seizures. Discontinue remifentanil if serotonin syndrome is suspected
Opioid agonist toxicities: Shares the toxic potentials of opioid agonists, and precautions of opioid agonist therapy should be observed.
Abuse/misuse/diversion: Remifentanil exposes users to the risks of opioid addiction, abuse, and misuse, which can lead to overdose and death. Assess each patient's risk prior to prescribing remifentanil and monitor all patients regularly for the development of these behaviors and conditions.
Discontinuation of therapy: Discontinue infusion at least 10 to 15 minutes prior to the end of surgery during general anesthesia; during administration for Monitored Anesthesia Care (MAC), infusions may be continued to the end of the procedure.
Trained individuals: Remifentanil should be administered health care providers specifically trained in the use of anesthetic agents and should not be used in diagnostic or therapeutic procedures outside the monitored anesthesia setting; opioid antagonist, resuscitative and intubation equipment should be readily available.
Points of recommendation
Consult with your doctor in these cases:
If you have an allergy to remifentanil or any other part of this medicine.
If you are allergic to any drugs like this one, any other drugs, foods, or other substances. Tell your doctor about the allergy and what signs you had, like rash; hives; itching; shortness of breath; wheezing; cough; swelling of face, lips, tongue, or throat; or any other signs.
If you have taken certain drugs used for low mood (depression) like isocarboxazid, phenelzine, or tranylcypromine or drugs used for Parkinson's disease like selegiline or rasagiline in the last 14 days. Taking remifentanil within 14 days of those drugs can cause very bad high blood pressure.
Avoid drinking alcohol for 24 hours after surgery.
This medicine may raise the chance of seizures in some people, including people who have had seizures in the past. Talk to your doctor to see if you have a greater chance of seizures while taking remifentanil.
This medicine has an opioid drug in it. The use of opioid drugs along with a benzodiazepine drug or other drugs that may make you drowsy or slow your actions has led to very bad side effects. Side effects that have happened include slowed or trouble breathing and deaths. Benzodiazepine drugs include drugs like alprazolam, diazepam, and lorazepam. Benzodiazepine drugs are used to treat many health problems like anxiety, trouble sleeping, or seizures. Talk with the doctor.
Many drugs interact with this medicine and can raise the chance of side effects like deadly breathing problems. Talk with your doctor and pharmacist to make sure it is safe to use remifentanil with all of your drugs.
If you are 65 or older, use this medicine with care. You could have more side effects.
Tell your doctor if you are pregnant or plan on getting pregnant. You will need to talk about the benefits and risks of using remifentanil while you are pregnant.
Using this medicine for a long time during pregnancy may lead to withdrawal in the newborn baby. This can be life-threatening. Talk with the doctor.
Tell your doctor if you are breast-feeding. You will need to talk about any risks to your baby.