Drug information of Ziprasidone
Ziprasidone
Ziprasidone is an atypical antipsychotic medication. It works by changing the effects of chemicals in the brain. Ziprasidone is used to treat schizophrenia and the manic symptoms of bipolar disorder (manic depression) in adults and children who are at least 10 years old. it's Contain 20,40,60,80 mg capsules and 20mg vial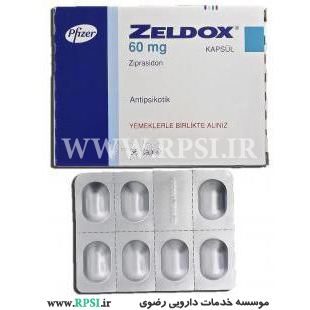 Mechanism of effect
Acts as antagonist at dopamine D2 and serotonin type 1 and 2 (5HT1D, 5HT2A) receptors; acts as agonist at serotonin 5HT1A receptor; moderately inhibits reuptake of norepinephrine and serotonin; has alpha-blocking and antihistaminic activity.
Pharmacodynamic
Ziprasidone is a psychotropic agent belonging to the chemical class of benzisoxazole derivatives and is indicated for the treatment of schizophrenia. Ziprasidone is a selective monoaminergic .
Pharmacokinetics
Absorption:
Peak plasma time: 6-8 hr (PO); ≤60 min (IM)
Distribution:
Protein bound: 99%
Metabolism:
Metabolized in liver
Elimination:
Half-life: 7 hr (PO); 2-5 hr (IM)
Excretion:Feces (66%), urine (20%)
Dosage
Schizophrenia:
20 mg PO q12hr with food initially; may be increased every other day PRN; not to exceed 80 mg q12hr
Periodically assess need for maintenance; clinical trials have documented no added benefit with doses above 20 mg q12hr
Acute Agitation With Schizophrenia:
IM: 10 mg q2hr or 20 mg q4hr; not to exceed 40 mg/day; use IM for up to 3 days, and switch to PO if continuing past this time
Bipolar I Disorder:
maintenance therapy as adjunct to lithium or valproate
Acute treatment: 40 mg PO q12hr with food initially; on day 2, may be increased if necessary to 60-80 mg PO q12hr; adjust dose according to tolerance and efficacy within range of 40-80 mg q12hr
Interactions
Acetylcholine
,
Methazolamide
,
Sodium Oxybate
,
Tapentadol
,
safinamide
,
Atomoxetine
,
Amphotericin B
,
Amitriptyline
,
Amiodarone
,
Adenosine
,
Acetazolamide
,
Efavirenz
,
Tamoxifen
,
Histrelin
,
Chloroquine
,
Goserelin
,
Anagrelide
,
Bumetanide
,
Granisetron
,
Vardenafil
,
Clarithromycin
,
Chlorpromazine
,
Clofazimine
,
astemizole
,
Ciprofloxacin
,
Cisapride
,
Cisplatin
,
Fluconazole
,
Furosemide
,
Fingolimod
,
Bupropion
,
Tramadol
,
Tizanidine
,
Daunorubicin
,
Doxorubicin
,
Zonisamide
,
saquinavir
,
Apomorphine
,
Dolasetron
,
Palonosetron
,
vandetanib
,
Droperidol
,
sparfloxacin
,
Mefloquine
,
Indapamide
,
Dofetilide
,
Promazine
,
Torsemide
,
Lorcaserin
,
Vasopressin
,
Chlorthalidone
,
Arsenic trioxide
,
Panitumumab
,
Halofantrine
,
Grepafloxacin
,
Terfenadine
,
Abarelix
,
Asenapine
,
Alfuzosin
,
Acetaminophen and benzhydrocodone
,
Perflutren
,
Pimavanserin
,
Apalutamide
,
Entrectinib
,
edetate disodium
,
Oxymorphone
,
gilteritinib
,
glasdegib
,
Bepridil
,
bedaquiline
,
Dasatinib
,
Gemtuzumab
,
vemurafenib
Alerts
Atypical antipsychotics have been associated with metabolic changes (eg, hyperglycemia, dyslipidemia, and body weight gain) that may increase cardiovascular/cerebrovascular risk
Hyperglycemia may occur and in some cases may be extreme, resulting in ketoacidosis, hyperosmolar coma, or death; monitor blood glucose of high-risk patients.
Neuroleptic malignant syndrome reported with antipsychotic drugs.
Tardive dyskinesia, acute dystonic reactions, pseudoparkinsonism, or akathisia may develop acutely or chronically.
Discontinue if rash develops without an identified cause
Drug reaction with eosinophilia and systemic symptoms (DRESS) reported; DRESS consists of combination of three or more of the following: cutaneous reaction (such as rash or exfoliative dermatitis), eosinophilia, fever, lymphadenopathy and one or more systemic complications such as hepatitis, nephritis, pneumonitis, myocarditis, and pericarditis; DRESS is sometimes fatal; discontinue therapy if DRESS suspected.
Cutaneous adverse reactions, such as Stevens-Johnson syndrome, reported; severe cutaneous adverse reactions are sometimes fatal; discontinue therapy if suspected.
May cause orthostatic hypotension.
Suicide attempt is inherent in psychotic illness or bipolar disorder, close supervision of high-risk patients should accompany drug therapy
Dopamine2 antagonists may elevate prolactin levels; long-standing hyperprolactinemia when associated with hypogonadism may lead to decreased bone density
Leukopenia/neutropenia and agranulocytosis reported; possible risk factors for leukopenia/neutropenia include preexisting low white blood cell (WBC) count and history of drug-induced leukopenia/neutropenia
If patient has history of clinically significant low WBC count or drug-induced leukopenia/neutropenia, monitor complete blood count (CBC) frequently during first few months of therapy; discontinue drug at first sign of clinically significant WBC decline <1000/μL in absence of other causative factors, and continue monitoring WBC count until recovery
Antipsychotic agents have been associated with esophageal dysmotility and aspiration; use caution in patients at risk of pneumonia
May cause QTc prolongation, which has been associated with development of malignant ventricular arrhythmias (torsade de pointes) and sudden death; discontinue therapy in patients with persistent QTc intervals >500 msec; avoid hypokalemia or hypomagnesemia
Moderate to highly sedative; use caution when required to operate heavy machinery
May cause core body temperature regulation impairment; use caution with heat exposure, strenuous exercise, dehydration, or taking medications with anticholinergic effects
Make electrolyte imbalance corrections, especially hypomagnesemia or hypokalemia before and throughout therapy
Use with caution in hepatic impairment
Seizure disorders; may cause hypotension, EPS, somnolence, and sensory instability.
Points of recommendation
You need to take the medicine exactly as prescribed by your doctor
Avoid working with dangerous equipment or driving until the effects of the medicine have been determined
Simultaneous use of drugs, diet, and herbal compounds and any co-morbidities (such as diabetes, seizure, dementia) should be reported to the doctor.
Avoid alcohol during treatment with Ziprasidone
Avoid increasing body heat or dehydration
You must inform your doctor if the patient is pregnant or intends to have a pregnancy or breastfeeding